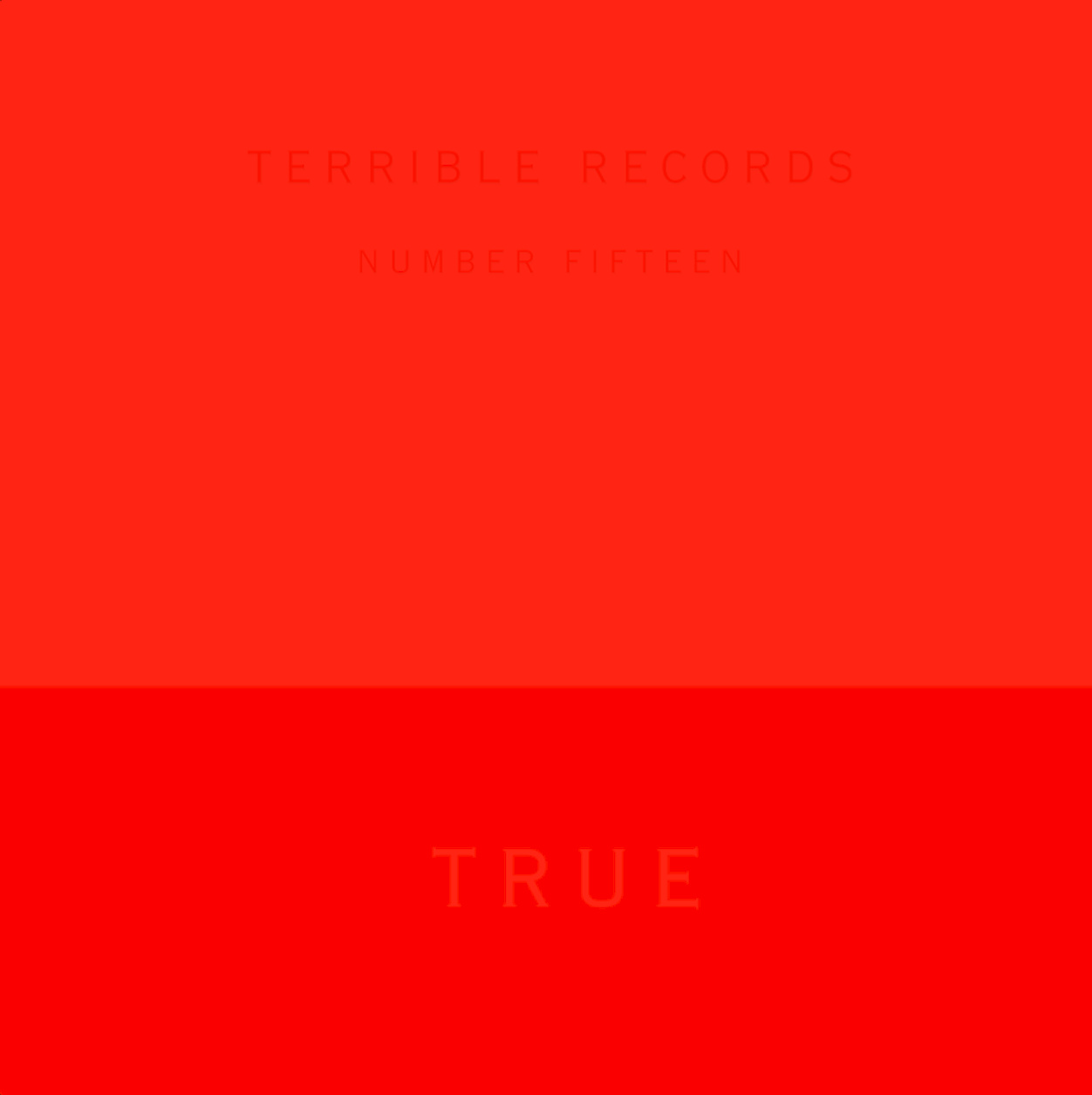 WHY LIKE 40% OF THESE JOINTS SOUND LIKE THE BAND IS PLAYING FISHER PRICE BABY XYLOPHONES & SHIT?
YOU KNOW WHEN YOU HAVE A SIBLING THATS MORE ATTRACTIVE AND POPPING THAN YOU AND YOU DO SOME WILD SHIT SO THAT NIGGAS WON'T BE LIKE "SHE'S THE WACK SISTER"? LIKE IF THE FAT KARDASHIAN SISTER BROKE UP WITH HER BOYFRIEND AND WAS LIKE "I'M A LESBIAN ICE SCULPTURE ARTIST NOW" AND GOT AN ICE CREAM CONE TATTOOED ON HER FACIAL. NIGGAS WOULD BE LIKE "OH SHIT SHE WILD" INSTEAD OF "SHE'S THE FAT KARDASHIAN B GET HER THE FUCK OUTTA HERE B."
THIS IS THAT IN AUDIO FORMAT. NAHMEAN SOLANGE CAN SING BUT INSTEAD OF DOING STRAIGHT R&B RADIO SHIT LIKE HER "BIG SIS" SHE DOES WEIRD THROWBACK ATARI BABYDICK SHIT THAT SOUNDS LIKE THIS "MADONNA" THAT EFFEMINATE NIGGAS ARE INTO. ALSO SHE'S OBVIOUSLY EDGIER THAN BEYONCÉ BECAUSE SHE PUT THE WORD "FUCK" IN A SONG TITLE *SARCASTIC GASP*...SOME OF THIS SHIT SOUNDS EXPERIMENTAL AS FUCK B WHICH IS COOL IF YOU'RE AT AN AFTER HOURS PARTY WILD COKED UP AND EVERYTHING SOUNDS LIKE MUSICAL GENIUS, BUT WHEN MY WIFE GOT PANDORA ON AGAINST MY WISHES WHILE SHE'S DOING THE DISHES AND THIS SHIT COMES ON? IT MAKES ME WANNA DO A HANDSPRING OFF THE COUCH AND KARATE KICK HER IN THE UTERUS CUZ I CAN'T HEAR CLYDE FRAZIER'S KNICKS COMMENTARY OVER THE HIGH PITCHED SIGHING & BABY INSTRUMENTS. WHY LIKE 40% OF THESE JOINTS SOUND LIKE THE BAND IS PLAYING FISHER PRICE BABY XYLOPHONES & SHIT? THE FUCK IS THIS B? YO GABBA GABBA? I GOT A 2 YEAR OLD B YOU KNOW HOW MANY FUCKIN BABY INSTRUMENTS I HEAR EVERY DAY? ENOUGH BABY INSTRUMENTS FOR A FUCKIN BABY PHILHARMONIC NIGGA. WHY WOULD I WANNA HEAR YOU SING OVER THE SHIT BEYONCÉ JR? ANYWAY THERE'S LIKE 2 PRETTY GOOD JOINTS ON HERE AS FAR AS BLOWJOB MUSIC GOES. ALSO IF YOU ARE FUCKIN WITH AN ARTSY GIRL YOU COULD TAKE A CHANCE AND THROW THIS ON WHILE YOU GUYS ARE SMOKING WEED AND IT MIGHT RESULT IN SPONTANEOUS ANAL, WHICH IS EXCITING AND DANGEROUS.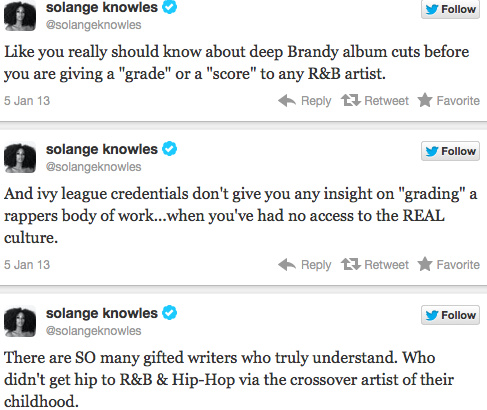 ALSO, SHORTY WENT ON A TWITTER TIRADE ABOUT WHITE PEOPLE (SHE AIN'T SAY WHITE PEOPLE BUT SHE MEANT WHITE PEOPLE) WRITING ABOUT RAP MUSIC AND GLORIFYING IGNORANCE BLAH BLAH BLAH. WHICH IS ILL CUZ NIGGA I'M WRITING ABOUT MUSIC AND I'M THE LEAST WHITE PERSON ON EARTH B. I DON'T EVEN KNOW ANY VEGANS IN REAL LIFE! YO SOLANGE YOUR IDEAS OR WHATEVER ARE COMENDABLE BUT MOST NIGGAS THAT WRITE ABOUT MUSIC THAT AREN'T 58 YEAR OLD JADED OUTTA TOUCH BLACK DUDES HAVE 0 HOOD MILEAGE EVEN IF THEY NOT WHITE. WHICH IS WHY Y'ALL SHOULD BE THANKING VICE FOR PUTTING ME ON TO THIS SHIT BECAUSE I DON'T HAVE A DEGREE IN JOURNALISM AND I ONLY GOT LIKE 8 WHITE PEOPLE IN MY PHONE BOOK CONTACTS. ALSO I'M FROM THE BRONX (BORN & RAISED) SO I'M "AUTHENTIC."
*PUTS ON "POP THAT"*
DROP THAT PUSSY BEEEITCH!!!
I GIVE THIS SHIT 2 PILES OF DUTCH GUTS OUTTA 5 BECAUSE OF THE STANDOUT JOINT...AND ALSO BECAUSE IT GIVES HOPE TO THE UNPOPULAR SQUARE JAWED LITTLE SISTERS OUT THERE THAT THEY CAN BE WEIRD AND NOT HAVE TO BE PRETTY. CELEBRATE YOUR NECESSARY WEIRDNESS MA.
STANDOUT JOINT: "LOOKS GOOD WITH TROUBLE" IS EXCELLENT ART GIRL BLOWJOB MUSIC B. IF YOU ARE ENTERTAINING SOMEONE WHO MAJORED IN PHOTOGRAPHY OR SOME OTHER THING YOU SHOULD NEVER PAY 100K FOR AN "EDUCATION" IN, THROW THIS ON CASUALLY.
NOTE: YOU GOTTA LOOP "LOOKS GOOD WITH TROUBLE" FOR THIS HYPOTHETICAL BLOWJOB SCENARIO CUZ IT'S LITERALLY 90 SECONDS LONG B. UNLESS 90 SECONDS IS ALL YOU NEED #HAUHAUHAU.
THE KID MERO dispenses #KNOWLEDGEDARTS and #COKEDREAMS on Twitter - @THEKIDMERO