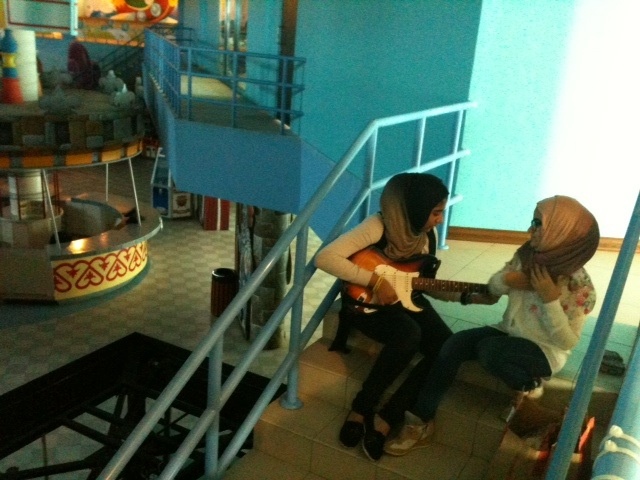 Portland musician Nadia Buyse flew to Manama, Bahrain to teach teenage girls how to rock.


A few weeks ago, a musician named Nadia Buyse from Portland got on a plane to teach the Rock 'n' Roll Camp for Girls in Manama, Bahrain for girls aged 12 to 17-years-old. Buyse and two fellow teachers from Portland, Beth Wootenand Sarah Dougher, taught a group of girls how to play guitar, bass, keys and drums (everyone was singing, as well). The summer program aimed at providing a non-competitive, supportive environment for budding female musicians. And according to Buyse, it was the first girl's rock camp ever in the Middle East.
While Scarlet Tear is the first all-girl rock band from Bahrain, now there are 10 other bands being started (thanks to the camp). We talked to Buyse about teaching at the Persian Gulf, the DIY scene, and the story of nine bands sharing one drum kit.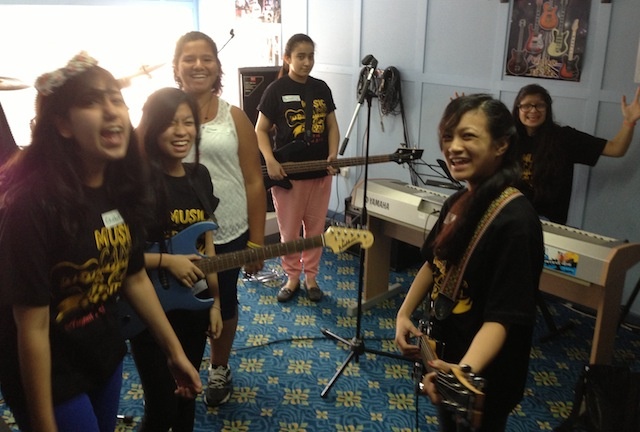 Noisey: So you went to Bahrain! What was it like teaching young Arabic girls to rock?
Nadia: Rock 'n' Roll Camp for Girls has its own unique culture, no matter which city it takes place in. Brooklyn, Manama, or Portland, whatevs. Girls come in ready and excited to make new friends, be loud, and be heard. So in that respect, it was kind of like every other Rock Camp I've ever worked at.
You were teaching the teens to use keys, guitars, drums, bass, and vocals. Did they pick up the instruments easily? Did they start bands?
Everyone started a band. Everyone wrote a song. This camp was very experimental when it comes to instrument instruction. Because we were working with limited equipment, we had less time for instruction and rehearsal. There were literally nine bands sharing a drum kit! But everyone had something at the end of the week.
I'd love to find out more about the songs they were writing. What were they singing about?
A lot of the songs girls were writing were about loving music and being empowered.



Do you have faith in the punk scene of Manama? Tell us more about what you saw and heard.
I think that Bahrain has the potential to have a really lively DIY scene there. A lot of people play instruments, but there are not a lot of venues for shows to happen. There are clubs and performance halls but there is not really any show spaces for bands just starting out or who do not fit into the traditional rock band zone. A lot of bands started the week we were there. Together the girls started nine bands, and then some of the interns started a band as well. So that equals 10 new bands, moving the all-girl Bahraini band count up to 11. [The first one being Scarlet Tear.]
How did all of this come about? I imagine this was a first-time thing.
Public Affairs officer Brad Niemann approached Beth Wooten, [the director of Rock Camp for Girls here in Portland] to start a girls music camp sponsored by the US Embassy in Manama. Beth asked myself and Sarah Dougher to collaborate with her in facilitating the camp. This was a first time thing, but incredibly successful and influential. We are trying to come back next year and to continue on with this project.
What do you think, will it happen again? I want a music festival on the Persian Gulf!
I think it will happen again. Not to mention, the same day we started Music Camp in Bahrain, another group of women started Rock Camp in Dubai. This is the first year where there are rock camps at all in the Middle East and now there are two!