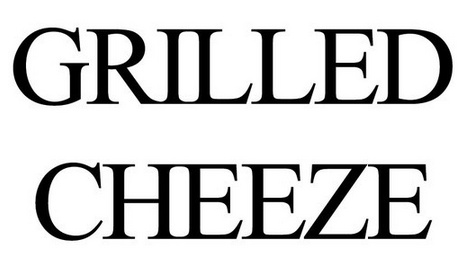 The week's hottest rap tunes, brought to you with rap jokes and vaguely insightful commentary.
I am proud to introduce Grilled Cheeze: a weekly rap mix series. Twenty or so minutes of new and kind of new rap from across the universe, plus a track list with context and dumb-ass jokes. Perfect for you to bump while biking home drunk from your favorite watering hole.
Snootie Wild + K.Camp - "Made Me"
Yo Gotti's protege made a splash with the insanely catchy "Yayo" and he's brought his spastic flow back for another potential hit. Sing along with Snootie as he creeps with your damn old lady.
K.Camp + Trina + Lil Mo - "Cut Her Off"
I'm happy for K.Camp, whose "Cut Her Off" is building a national buzz, but his hit single's core message is that women are worthless, interchangable non-people. So here comes Trina and Lil Mo to save the day, carrying on the long tradition of female response raps. Our gals turn "Cut Her Off" into an anthem for independance, solidarity and misandry. Because, really, none of us are worth a damn.
The Guys - "College Towns"
Chicago duo The Guys picked the only rap name more generic Young Thug, but they made up the difference by naming their tape IG: WeTheGuys_ (which is their instagram name). It's one of the best projects of the year. Smelly and Fya Man expertly handle pretty much everything that's been hot in Chi-town as of late. "Flee" is a legit bop hit, "Free Drugs" hits Z-Money levels of weirdness, and "College Towns" is straight up drill shit. As a bonus, the track is a primer on how to sell drugs in the various campuses across Illinois.
Murphy Lee - "Bring Da Bells In"
Murphy Lee deserves better than to be written off as Nelly's weed carrier. Not only was "What The Hook Gon Be" straight heat, dude really legitimately had bars. So the good news is Murph Derrty is still rapping and last month's No ID is solid. "Bring Da Bells In" is rad, but don't sleep on the DJ Mustard-esque "Wedgy" either.
Girl Talk + Freeway + Waka Flocka Flame - "Tolerated"
"Tolerated" is the best track on the actually pretty good Broken Ankles (read my interview with the pair here) because Girl Talk's brass-driven beat is some shit you could imagine Freeway threatening to blast you over around the turn of the millenium. Then along comes Waka Flocka on some real rap shit and says "I pull up like a workout / you better pull that work out." This cracks me up.
Nadus - "Nxwxrk"
Please enjoy this lush tribute to the largest city in New Jersey. Newark is a poor, broken down place which also lends its name to the most inconvenient airport in the United States. It gave us Redman, it gave us DJ Sliink, and now it has given us the Broke City EP (via Belgian bass label Pelican Fly), like some kind of combo breaker.
2 Chainz - "FREEBASE"
Tity Boi dropped a surprise EP last month called FREEBASE and the art was a home plate, like in baseball. Because it's a base. They kind of phoned that joke in because if they had gone all the way the EP would have been called Walk, which is an actual free base. I don't know man. Anyways, the title track is dark and produced by the reliable and underrated Honorable C-Note.
LStreetz - "Informants"
I don't know a lot about this track but female anti-social raps from Chicago still awesome.
Kolley - "Pills"
"Thank you for coming out tonight, my name is TM88 of 808 Mafia and I will be providing the music for Kolley's crazy pill party on my violin. Let us burn kush and dance the dances of our Mississipian ancestors."
Lil B - "Peyton On Broncos, Jordan On Wizards"
The first life lesson from Lil B's Hoop Life is that Kevin Durant has no bitches. From there, the over-long, somewhat plot-driven tape keeps on vaguely dropping gems as Based God quixotically tilts towards the NBA. "Peyton" is about loyalty. More or less.
You can't spell "Skinny Friedman" without the letters EDM. He's on Twitter - @skinny412
--
Want more rap? Here's @Seinfeld2000 talking to A-Trak about Dipset, an interview with a reunited G-Side, and a chat with J. Stalin.