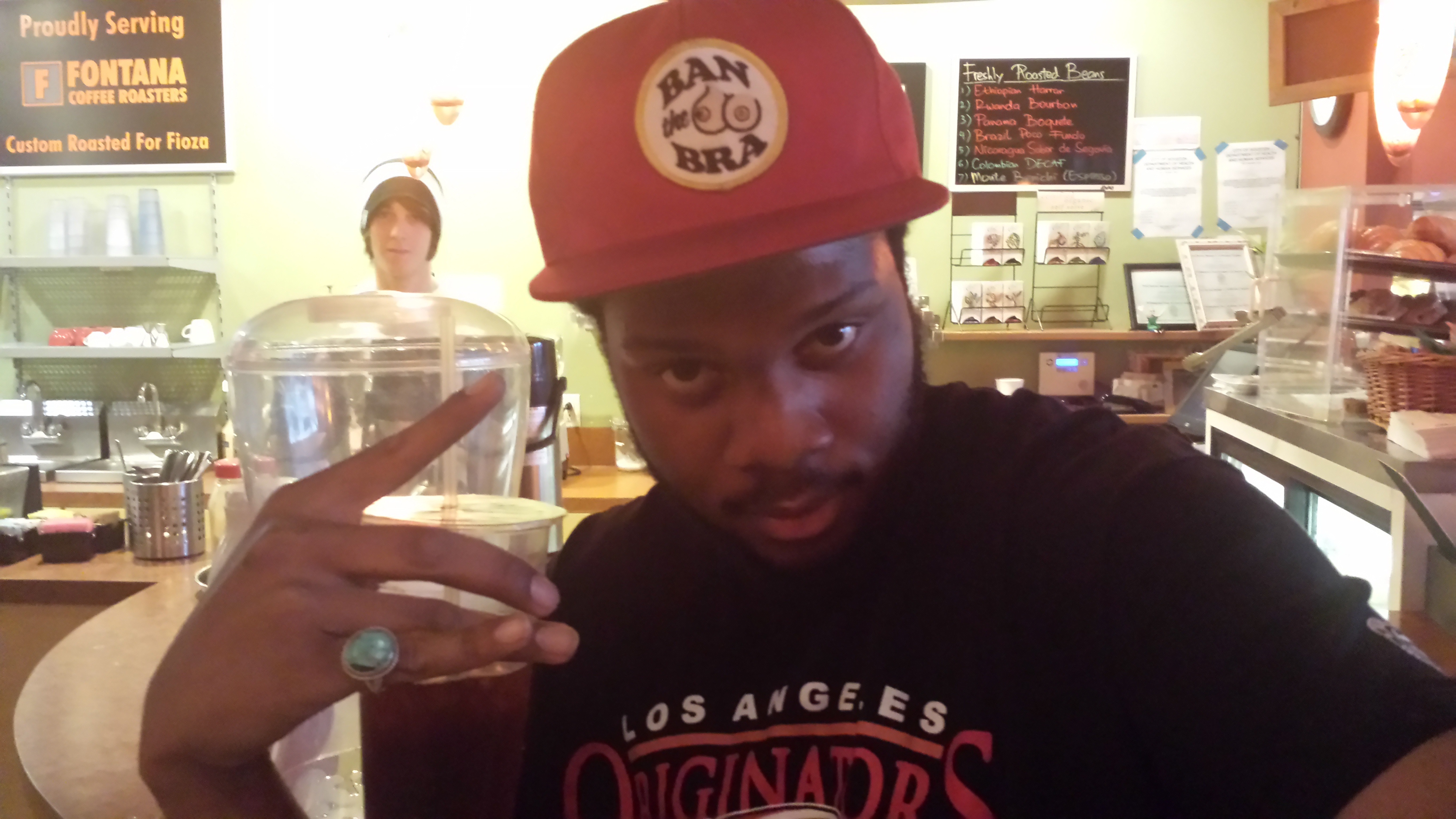 Ban the bra.
Welcome to The Selfie Files, a feature in which artists send us five selfies and explain them. Here we have rapper Fat Tony, who believes bras should be banned in the name of America.
CARLO ROSSI PAPI
Over the years, E-40 has laced me with some of the greatest game of all-time. I've learned a lot from the man but one of the best lessons ever bestowed upon me was the joys of Carlo Rossi. Eternally satisfying and inexplicably affordable. Simple, cheap, and plentiful. I had never heard of the stuff until I dug deep into 40's catalog around the time I lost my virginity. Once I found out, boy, it became a ritual. Each and every time I sought the "turn up" I'd hit CVS for that jug. Sangria was my favorite but lately I'm on the Burgundy. A gallon of Rossi is very shareable, tasty and does exactly what you'd expect it to: kill a nigga softly. Their website describes it as "good, honest wine of superior quality" and gotdamn it I couldn't agree more.
"BAN THE BRA"
Ban the motherfucking bra and let freedom ring. This hat was given to me by the genius who thunk it up: Lee Trice. It's a one of a kind sample hat that now defunct NYC brand Boundless was supposed to release but never did. Truly #rare. One hot summer night while staying with a buddy in Brooklyn I befriended Lee, a tall, gifted and talented young man that loves rap and Phish. He was my buddy's roomie who I never, ever saw in the daylight but soon as nightfall hit he was in the door, loading a bowl, and telling me all about the colorful bust of Wale that sits in his kitchen—and tales of his (and my) dude Despot. Just like the bust Wale commissioned and never picked up, this beauty of a cap was laying around collecting weed dust until he placed it in my hands and liberated it. He also gave me a piece of art and signed it, "Don't sweat the petty things, pet the sweaty things." Wisdom.
"THE DIFFERENCE BETWEEN LIGHT AND HARD IS THAT YOU CAN SLEEP WITH A LIGHT ON."
I'm all grown up and still hate getting out of bed as much as I did as a lil kid. The sun frightens me. This is a condition that I've been told is not rare or genetic but simply the symptoms of a lazy shithead. Well, lazy might be a bit harsh. I get a lot done but prefer to do it all after 11 AM. John Lennon liked sleeping and he was in the best band of all-time. Why can't I? Am I not the John Lennon of my time? Or at least the John Lennon of my time zone? Isn't there a little Lennon in all of us? Lennon, linen, Lennon, linen, Lennon, linen.
LOS LONELY SCRIMP
I spared the lil thing. Commend me. His homies met a much worse fate. I've prepared a haiku in remembrance of them.
The shrimps are spicy
My hunger yearns for their touch
We kissed, I swallowed
ME & MY BITCH
Every thug needs a lady. Why must I chase the cat? This panini is the answer. We are one. We are love. My relationship with this panini is kind of like that Spike Jonze movie about computer love. Except this panini speaks to me in a different way. This panini and I are linked together through a love that is as old as time. This panini was the baddest bitch in a past life and I was her mister. If I was a fork I'd dig into her ever so gently. Letting the vinaigrette of my salad drip all over her. Although I am merely a man my mouth will suffice as the pinnacle of our satisfaction. Baby, you complete me.
Fat Tony is a rapper from Houston and is the John Lennon of our time. He's on Twitter — @fattonyrap