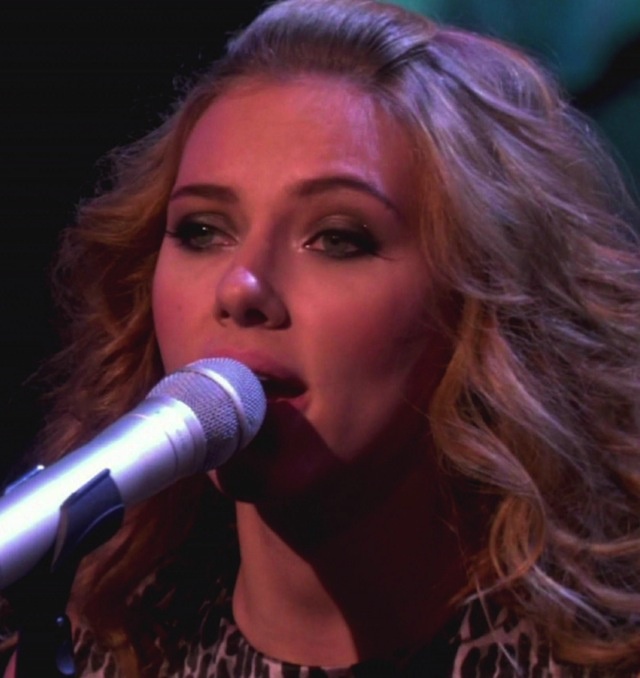 "We are called The One and Only Singles. We're kind of doing a Go-Go's thing."
Today, Scarlett Johansson was on Live with Kelly and Michael and revealed that she has started an all-girl band. "We are called The One and Only Singles. We're kind of doing a Go-Go's thing."
ScarJo has always let it be known that she would rather be singing and saying someone else's lines. Remember when she did that album of duets with Pete Yorn? They were trying to channel the spirit of Serge Gainsbourg and Brigitte Bardot. Then, there was her Tom Waits songbook, which she recorded back in 2007. When you are a powerful actress, you can get whoever you want. ScarJo got Bowie to guest star on this album. Cat Power asked Bowie to sing on Sun. Apparently, she had written a song for her ex's daughter who loved Bowie, and Cat thought it would make her day. Bowie turned down the job, so instead Cat Power got Iggy. But the important thing is that ScarJo got Bowie.
ScarJo also has performed onstage with the Jesus and Mary Chain. She recorded vocals for Chasing Ice theme "Before My Time." As a Pitchfork writer once pointed out, these are weird things to start your musical career doing. Yes, true. But, she is a huge Hollywood actress.
I'm sure ScarJo's band will play their first show to an audience of thousands, and you know what? I wouldn't expect anything less. Scarlett worked for her acting career. I just really hope that she's taken the time to learn her craft before trying her best Go-Go's impression in front of a small country's worth of people.
Mish Way has never been married to Ryan Reynolds, but she is Canadian. Follow her on Twitter - @myszkaway