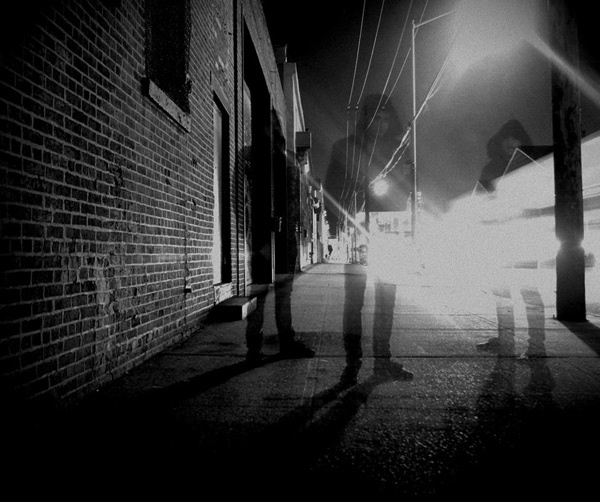 When so many labels are searching for the next best thing—or worse, only releasing albums by established bands—Sacrament Recordings will hopefully be a beacon in the dark. Excuse me, rainbow in the dark.
Yeah, it's pretty gross that people are making college rock in 2013. In this epoch of early 21st Century Western civilization, we should all be talking though vocoders just to chat to our space moms, and Buck Rogers-esque Twiki bots should have their own section in J Date. Yet people are still forming Buck Pet cover bands and calling themselves "Yeah, sort of a combination of The Replacements and The Boss, and no one is more bummed than me. "What's cheap on tap?" "Anachronism Plus Verb" or, inevitably, just "White Brooklyn." I can't keep all the terrible names straight. It is, if we weaken, to look to an empty sky and despair.
But let's not be crybabies in the unsexy sense. There's hope. There's men and women starting labels for dark music based on DisChordian principles; local, with deals tailor-made to the artist's needs, open-minded and free, wild and wooly as a Blashyrkh cave bear. Men and women who, operating in the long-forgotten and possibly-mythical NYC tradition of not particularly giving a fuck, have decided that selling records of instrumental black metal bands is a viable business model. What I'm saying is that the lil' Charles Dexter Wards who run the Greenpoint metal and—caution to the wind—goth club St.Vitus have started a record label! Rejoice, troglodytes. Weep, untucked button-down jerk-offs.
Sannhet - "Absecon Isle"
Sacrament is the new label run by David Castillo and Arthur "Arty" Shepherd. David is the events director and Arty the co-owner at St. Vitus, which, in its short time on Midgard, has quickly become the best venue for metal in the city, and one of the best for goth and hardcore. David is the singer in the excellent Primitive Weapons and Arty has been in too many bad ass bands to do justice in just one mortal article. I played a show with one of them, Gay for Jonny Depp. We only played to six people, but it was easily in my top 5 of the best shows played to six people I've ever attended.
It's a straw man to pretend that most labels are terrible people who don't care about music and just want to be liked. Even the labels that are tax write-offs for rich parents and are staffed by people who, in fact, do put a large premium on the number of people at their DJ night, do—to a certain extent, I guess—care about music. Otherwise, they'd indulge their end-time proclivities towards empty decadence with a nice food blog. But, as David and Arty's resumes indicate, they're lifers. Music—heavy, dark, whatever—is what they do and all that they do, and there's no option for artisanal cheese futures; only the grave. So that's nice. They are also avoiding the obvious pitfalls of liferdom: snobbery, pretentious tr00ism, general contempt for other people who might enjoy listening to songs. David took pains to make clear that they're as interested in Crowbar and Kendrick Lamar as they are Godflesh and Anicon. I'm going to Google "Anicon" today, or maybe tomorrow.
"I don't have any major aspirations other than promoting things we love. We definitely love the heavy music scene here in Brooklyn," Arty wrote me. And obviously, heavy is going to be the initial focus for Sacrament. They're releasing the debut album by aforementioned instrumental metal band Sannhet in February. Sannhet is officially the first instrumental band I've liked since the beginning of time. And the only instrumental metal band I'll ever like. I feel pretty confident in that. The summer will bring the release of Primitive Weapons' second release. After that, the world is open. They plan on putting out, in whatever format they feel is appropriate (not CD. Sorry, me.) and doing merch for whatever band tickles their (dark and/or heavy) fancy, without being limited to the size of said musician's battle axe. I like the notion of label as adventure and avenue for enthusiasm. It shouldn't seem strange, but it does. Both Arty and Castillo repeated over and over how fun this was going to be and how excited they were to expose unheard music to the world. When so many labels are searching for the next best thing—or worse, only releasing albums by established bands—Sacrament Recordings will hopefully be a beacon in the dark. Excuse me, rainbow in the dark. Fixed.
Zach Lipez has even more adult problems. He grumbles about them on Twitter - @zacharylipez
Previously: Chuck Eddy, Trolling, and the Best Heavy Metal Albums of All-Time