Listen to "No Beginner" From Serengeti AKA Kenny Dennis
The triumphant return of the man, the myth, the legend—Kenny Dennis.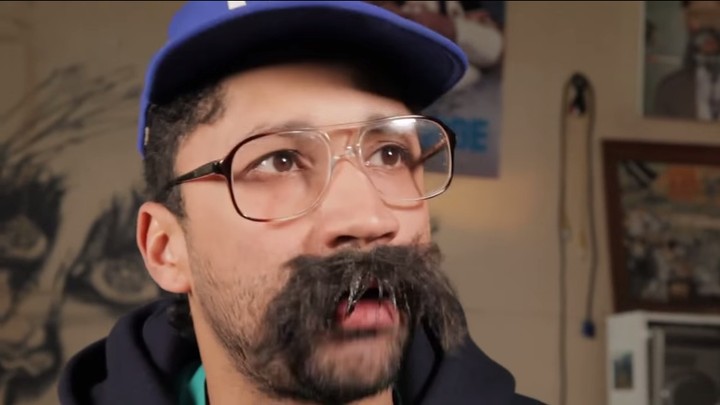 To understand the below track, off of Serengeti's upcoming album Kenny Dennis III, you need to know the story of Kenny Dennis, the anticon associate's alter-ego who in the past few years taken on a life of his own. Kenny was born in 2006, when Serengeti dropped "Dennehy," an underground classic that laid out the framework for Kenny Dennis. Kenny was an upstanding, softball-playin', middle-aged blue-collar dude who lived in Chicago, had a mustache, mainlined Brian Dennehy movies on LaserDisc, was married to a fine lady to Jules, drove a Buick, and pounded O'Doul's like there was no tomorrow. He rapped about middle-aged dude things in a comically thick accent as viscous as the O'Doul's grease in his mustache. After two albums as Kenny, Serengeti decided that his alter-ego needed a backstory. Enter Tha Grimm Teachaz, a Golden Age Afrocentric rap group fronted by Kenny (rapping as KDz) and his homies Prince Midnight Dark Force and DJ Khoufie. The group was signed to Jive and appeared on Yo! MTV Raps once. Their album was shelved following an altercation with Shaquille O'Neal at a Jive Records showcase in which Shaq made fun of Kenny's mustache, which led to Kenny recording a Shaq diss song called "Shazam," with a hook of, "Shazam! Shaq don't want none!" Meanwhile, his Kenny Dennis LP featured Anders Holm of Workaholics as his sidekick Ders, rambling about Chicago and his childhood friend, the rap legend Kenny Dennis, on every other track. On every release you get a fuller and richer picture of who Kenny Dennis the character is, and the hilarious, hermerically sealed world he comes from.
Noisey proudly presents the Odd Nosdam-produced "No Beginner," the first track from Kenny Dennis III, the newest chapter in Kenny's journey of life and love, in which the aging rap legend succumbs to a mid-life crisis and relapses in his addiction to Benzadrine. Ders returns, and we learn the tale of their hip-house troupe Perfecto, who wore Abercrombie and rocked malls throughout the midwest. You can pre-order it on iTunes here, and grab the album on vinyl here.