Trailblazing Rapper and Alt-Metal Queen Tairrie B Is Back with a New Hip-Hop Single, "Beware the Crone"

Photo by Philip Goddard of PG Photography
I worshipped Tairrie B. Murphy as a young teenager. As a child of the 2000s, before I discovered Bolt Thrower, or Electric Wizard, or even Arch Enemy, I looked to women like her to assure me that metal did indeed have a place for me. Alongside Kittie, Walls of Jericho, and to a lesser extent, Lacuna Coil, her alt-metal band My Ruin was a blazing signal to a lil' Kim that there were lots of badass women involved in metal and hardcore—a fact that mattered a whole hell of a lot to a kid in rural South Jersey who'd never even met another metal fan at that point.
Tairrie's vocals cut like a knife, her full-throated roar and venomous snarls propelling lyrics that made all the sense in the world to an angry fourteen-year-old and still hold up a decade hence. I was far from the only one to find them resonant—My Ruin's been active since 1999, and continues to release critically lauded new music and tour the world. That's not enough for the divine Ms. B, though. Those familiar with her history might not be too surprised by her latest project, but it's still as ballsy a move as anything she's ever done in a career defined by ballsy moves.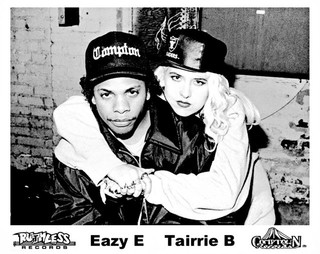 Since the release of My Ruin's most recent album, 2013's Southern Gothic heavy rock stomper The Sacred Mood, Tairrie's placed the band she co-helms with her husband, Mick Murphy, on hiatus, and has been working on a top secret project that she recently decided to share with fans on her 50th birthday. Decades after her explosive debut onto the West Coast hip-hop scene, she's gearing up to drop her first hip-hop album since 1990's rallying cry Power of a Woman. Aside from some problematic verses, her debut generally boasted a strong feminist undercurrent that often becomes downright overt when she calls out chauvinists and owns the word "bitch," spitting "'cause a bitch means "being in total control of herself," I'm not your baby doll, you juiceless, the bitch is back and this bitch is ruthless." The new record, titled Vintage Curses, promises to follow in the same vein.
Tairrie's musical career has always been chameleonic. After a brief flirtation with dance music in the group Bardeux, Tairrie burst onto the rap scene as a protégé of NWA don Eazy-E, signing to his imprint Comptown Records for her debut (which would end up as the label's sole release). That deal went sour fast after NWA's Dr. Dre allegedly assaulted Tairrie at the 1990 Grammys, purportedly due to a diss track called "Ain't Your Bitch" that had appeared on Power of a Woman. She stuck to her guns and in a high-level bad bitch move, even re-recorded her profanity- and slur-smeared track "Ruthless Bitch" to highlight the assault.
After that, her hip-hop career fizzled, and she switched genres to pursue her interest in heavy metal and the occult. Rap-metal hybrid Manhole and then the purely metal-oriented My Ruin were the result, and up until now, Tairrie's focus has lain squarely on that world. Her new single "Beware the Crone" is a complete about-face, though, and wouldn't sound out of place next to her older hip-hop recordings. It's very old-school, very West Coast, and very witchy—there's a darkness to it that makes a whole lot of sense when Tairrie's heavy metal bonafides are taken into consideration.
As she told Skin Back Alley in a recent interview, "I am a West Coast woman at heart and I respect the architects such as Ice T, Ice Cube, MC Ren, WC, Mack 10, King T, Low Profile, The D.O.C. and NWA. I wanted my album to reflect what I love and have listened to since the mid 80s as well as who I am today as an artist. It has an old school feel to it because I'm old school. The influence is honest. Just like I don't listen to much modern metal, I don't really listen to much modern hip hop except for a few. I prefer the classics and that goes for rock as well. I can't stand auto tune. It makes me cringe whenever I hear someone using it. I'd rather sound like myself and have some raw grit and natural texture to my voice as I rap over beats that are heavy with real drums instead of the over-processed, watered down lightweight crap being played on the radio most of the time."
"Beware the Crone" is available to stream and download for free on Tairrie's Bandcamp page and her new House of Capricorn website; watch the lyric video here, and keep an eye out for her new album Vintage Curses, on August 14.

Kim Kelly is made to measure on Twitter: @grimkim