With Very Little Warning, No Warning Are Back
The hardcore antagonizers have returned for planet earth's mid-life crisis.
Here's the score on reunions in hardcore: there are more now than ever. It has almost turned into a gross game of Reunion Bingo. Despite the flow of reunions, there are always the few holdouts that people say "it will never happen." For the longest time it was American Nightmare, who ended up reuniting in 2011. Before that, it was Harley / JJ's Cro-Mags who reunited in 2000 (and broke up again shortly after; they're back on the "it will never happen" list). Then there was No Warning, who broke up in 2005 and, without question, the people responded to the idea of a reunion with "it will never happen".
No Warning antagonized people. That was their thing. They were aloof. They were confrontational. Most of all, they were damn good at what they did, which was fucking with people and writing cool music. In the years from 2002 to 2004, they went from being one of hardcore's most revered acts with the release of the seminal Ill Blood to one of hardcore's most derided with the major label released Suffer Survive.
Here's what was problematic about the backlash against Suffer Survive and No Warning. Kids who had been die hard supporters of the band going back to their self-titled debut and Ill Blood were spitting on the name No Warning for selling out and "betraying" hardcore. The kids felt No Warning owed them.
What's stupid about that logic is if you ever listened to No Warning, heard the lyrics, and saw them live, you knew that their entire philosophy was predicated on not owing anyone anything and not giving a fuck about anyone but themselves. Even by the hardcore subculture's standards, they were relative outsiders because of their notorious reputation for not being terribly personable. It was this quality that those kids, now the band's critics, ate up. That's why they loved No Warning to begin with. In a subculture of bad attitudes and icy personalities, No Warning managed to be better at both than everyone else. The kids turned on No Warning for being No Warning. Their fallacy believed that the band was defined simply by music and not by their personality.
In 2005, No Warning quietly and unceremoniously broke up. There was no last show, no final tour. When they left, the kids were the first to say that a No Warning reunion would never happen. Since then though, almost every hardcore band that could reunite, has reunited. By 2014, it almost seemed like a No Warning reunion was a matter of waiting for the other shoe to drop. First, in the spring of 2014, No Warning released the "Resurrection of the Wolf" single. In the early summer, they played Belgium's Ieperfest (their first show since 2005). Finally, just in time for the end of the year, No Warning announced their first US show in almost a decade for April 10 in Howell, NJ at Gamechanger World, where they will be playing with the NYHC greats Breakdown ('87 Demo lineup), Atlanta straight-edge's Foundation, Boston's Think I Care, New Jersey's Suburban Scum, and Long Island's King Nine. That show sold out in less than a day so a second show has been added for April 11 at the same spot with a completely different line up. The second show's lineup will be announced and tickets made available for it on January 3 at 12:00 PM (EST). Tickets will be available here.
With all this being said, I contacted vocalist Ben Cook to get his thoughts about No Warning's reunion, feelings about the reaction to it, and what it feels like to finally be back officially.
Noisey: So the news broke today that you guys are playing your first US gig in a decade. You're out in England right now; did your phone just explode today? How have you felt about the initial reaction about the show in the first day?
Cook: It was cool, yeah. It was nice to see friends sharing the image for the show and generally seeing people excited. It's a little nerve racking for us as a band because we always held ourselves to a certain standard, but we will live up to it. Other than that, we feel grateful that people still get down with our music. It's not easy being a musician going into 2015. I'm trying not to take it for granted. The very fact that people are willing to spend their dollars to see us and the other bands on the bill is both sobering and flattering. We gonna bring the house down, no doubt.
You guys broke up ten years ago and in that time, a lot has happened. What was life like for you after No Warning's breakup? You started a couple of non-hardcore projects, the '77 punk Marvelous Darlings (along with No Warning bandmate Matt Delong) and the indie rock Young Governor and eventually you joined the hardcore act Fucked Up. What kind of a journey was that like for you after exiting No Warning and starting two markedly different projects and eventually returning to the fold of another hardcore band?
Matt and I from No Warning have always written all kinds of songs together so Marvelous Darlings weren't a far stretch from the stuff we'd been doing on the side from No Warning during the band's time. We are big music fans, he's always been very into rock 'n' roll and glammy stuff and I like to do pop music on the side so The Darlings were a natural thing. It wasn't a full time gig or anything, just a fun project so it felt easy.
Young Guv was just me being bored in my bedroom and wanting to experiment. Still is. It's not indie rock, that genre passed me by. Not a fan. I've still never really even heard Sonic Youth.
Joining Fucked Up was also a natural step. I was working at a tea company after No Warning, packing tea in some empty apartment and listening to cassettes doing bands "for fun," and Fucked Up emailed me to join on third guitar because their band was about to take on full-time life. I was into it. Still am. I've experienced a lot with Fucked Up, and I owe a lot to them. Jordan has had a similar go of it jumping in with Terror years back. They are still holding their torch high and killing it. A very natural step for Jord as well. It's been an interesting path for us all—this music life.
A lot has been said about Ill Blood's follow-up album, Suffer Survive. When it was released a lot of people criticized for a variety of reasons, claiming that No Warning had "sold out." Over the years, it has seen a resurgence of love from fans. It even got the vinyl treatment from hardcore label Six Feet Under Records this year. It seems like the more that time goes by, the more supporters the album gets. Would you agree with the statement that Suffer Survive is this generation's Best Wishes?
By definition, it was definitely a "sell out" album. But I still think it's an interesting step for us to have taken, and makes for a cool turn in our band's story. We knew people were going to criticize, we knew it was a complete departure from Ill Blood. We'd play those songs and watch hardcore kids straight up groan and roll their eyes. Sometimes they would actually leave. It kind of just egged us on to just continue to do whatever we wanted. I haven't paid much attention to the kind of love it has started to get; I've seen some Suffer Survive tattoos and people often tell me "they actually love it." That's cool. Thanks. I pretty much hate it except for like, three songs. I think "Dirtier Than The Next" is one of our hardest songs. It's filthy. I still like tuned-down grimy ass heavy music. So that one has really stayed with me.
Back then, when a real hardcore band sang actual melody it would be met with a very negative response. Now you see bands doing that and headlining shows at Wembley, and what not. People called "Short Fuse" nu-metal when we dropped it on the internet before Ill Blood came out. Releasing music can be a funny thing.
Another thing that happened after the breakup of the band was the almost immediate arrival of a parade of bands that tried to—sometimes shamelessly—parrot the music that No Warning was playing only a few years earlier. For you guys, having just broke up, watching all of these bands come along and make a name and living off your style and your sound, what was your going through your head?
To be honest, I've never heard any of those bands really but if anyone copped what we were doing, that's cool. That's what music is about. Taking what you like and putting your own spin on it. "Ripping us off" musically is the same vibe as the dude with the Ill Blood tattoo on his face. It means you have superior taste, but generally are a little off in the head. Mucho respect!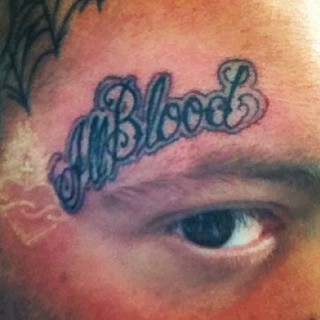 When the Resurrection of the Wolf record dropped, two of the more common praises people had for it were "No Warning just put every rip-off band in their place" and "No Warning just showed everyone how it's done." Going into recording, were you mindful of the rip-off bands? Did you want to shut them up?
Nah, we weren't really thinking about other bands or copy cat stuff. That's kind of a whack mentality and I'd like to think we are bigger than that as people. Like I said, I haven't heard too many of the rip-off stuff and anytime I did, it just sounded soft and I turned it off. Going into recording Resurrection of the Wolf, we were only thinking, "Let's make a great single and release it and make some money for a friend who is locked up, and if the song turns out shit, we'll just can this whole idea." We heard the opening riff idea of Jord's, and an hour later, we had the song. No Warning songs need to evoke the same feeling every time and reach the standards for brutality and heavy groove we set for ourselves. We don't aim to shut up other bands with our music, it just happens naturally.
Speaking of Resurrection of the Wolf, what was the story about that record and really, the whole No Warning reunion coming together? A lot of people know it was done to help raise money for a friend in need. I guess my question is, why a No Warning reunion to do it? You guys have other ventures and bands, but chose to go back to No Warning. Was it just the right time to revisit it?
The Resurrection of the Wolf seven-inch was a benefit to throw Zach, our old bass player, money for the time he was spending in jail—and to his wife and daughter. He's our close friend and family and he helped this band along all those years from our first tour to our last. He's had a weird path in life, and he is an amazing person. No Warning helping him only made sense. Matt dreamed that we wrote a song called "Resurrection Of The Wolf," so we did it. The wolf theme is tied into Zach's wolf imagery obsession during his Violent Minds period of music, who are one of my favorite bands. It all just seemed to fit. The reunion shows aren't a benefit for him, but a chance for us to continue forward in our story as a band and express ourselves in that way. We aren't rich kids, we are all still working musicians, we do projects and help other people and young musicians avoid the industry mistakes we did. I'd be lying if I said reunion money isn't helping us in our real lives, but I have a longer term plan for it all. I want to do my part in expressing disgust for what's going on right now. This is really the only way we know how.
In an interview promoting Resurrection of the Wolf, you made it abundantly clear that No Warning would never play a show again. I think you said something to the effect of "I don't want people jumping all over me." Obviously that policy wasn't set in stone and you guys have since played Belgium's Ieperfest. By the time you hit the stage, what was going through your head? You can see the crowd, you can turn to see Jordan and Matt flanking you and you realize that you guys are really back at it after a decade of dormancy. How did all of that make you feel?
Yeah, when I said that I was lying, straight up. Every time I ever do a No Warning interview, I like to throw in a few lies here and there. That's what the internet is for, right? I've always liked it when bands have a little attitude, even if it's just part of an embellished character or public personality of theirs... or when a show feels a little dangerous. I guess that doesn't happen much anymore. What a snore. Belgium was fun; I don't remember much of the show to be honest because I was too busy "turning up" as it were. All I remember is some stagehand got secretly wasted before our set and instead of working the show, he lost his mind during the first note of our set and snapped Matt's pedals and guitar cord while running like a berzerker off the other end of the stage. Shout outs to that dude.
Post by No Warning.

Last question: You have the Jersey gig in April. That's something for the future. More than that, we have this cryptic message from the official No Warning Facebook attached to a picture of you guys playing: "this world is too disgusting of a place to live not be to be doing our music again." This was posted on December 4, a day after the Eric Garner killer wasn't indicted and protests in New York City started happening. The part about the world being disgusting makes sense, but as far as you guys doing your music again. What can people expect from No Warning in the future? More shows? More recordings?
I'm truly sick of the modern system of life. I want to live in a hole. From what's going on in the news, and beyond, down to close friends of mine barely being able to get by or pay their rent—and it ain't even their fault. This shit isn't working, and everybody is lost. My best friend and another old and dear friend died this year—both from addiction issues. Life feels more raw and realer than ever. Mid-life crisis? Yeah, maybe for planet earth. We'll see what happens. I have no answers.
James Khubiar is a Texas-based writer and runs the blog Justified Arrogance. Follow him on Twitter - @JamesKSays