Austin Noise-Punks Xetas Think Fun Fun Fun Fest is "A Double-Edged Sword"
Love the players, hate the game (and the traffic).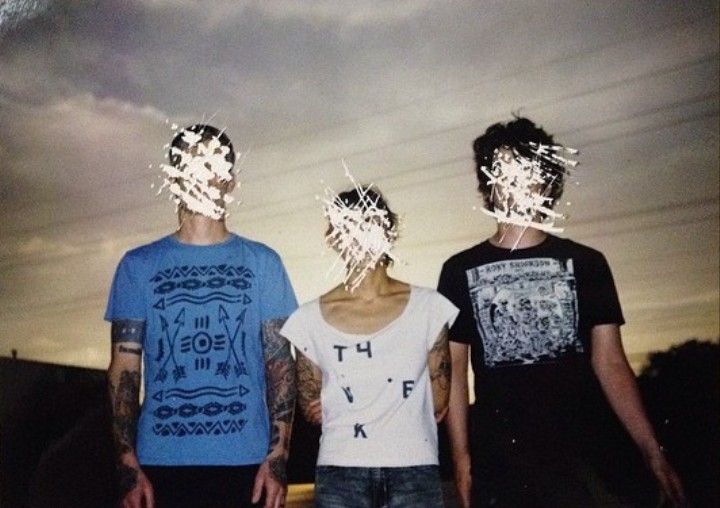 Photo courtesy of XETAS

If you cattle-prodded me into recalling my fondest memories from this year's Fun Fun Fun Fest in Austin, TX, I'd have to tell you it happened a whole night before the actual festival officially took place. It happened on Thursday night at Red 7, whilst I was half in the bag on Lone Stars. I watched the town's own XETAS plow through an ass-chafing set in front of a gaggle of local friends, plus a creepy old dude in the back. Surprise, surprise…that creepy old dude was me.
I was so bowled over by their display of angular discord that I asked them to buy me a small coffee post set. I then duct-taped the trio together, dragged them down to the Colorado River, and made them tell me everything I needed to know about their band. After I untaped them and had them promise not to tell the local authorities (who wouldn't have given a shit anyway), we started the interview:
Noisey: Run me through the logistics of how three people from three great Austin bands (Brain Attack, The Gospel Truth and Foreign Mothers) got together
XETAS: D and K met around five years ago, just before K started up Foreign Mothers. D was in a band called Neighbor at the time (not to be confused with the band from Louisville). We admired one another's style and work ethic, and had wanted to work on something for a long time, but never really had the time to do so. M and D had been in a band called Debt together for a while, and when the bassist moved away in the fall of last year, the opportunity to bring K into the mix presented itself. Foreign Mothers was winding down, D's other band, The Gospel Truth, and M's band, Brain Attack, weren't touring or recording, so we all got together to see if things clicked. Luckily, we all work really well together and the group quickly became our main focus.
What attracts us to music is sincerity. We've never been about the image of punk or that uniformity. We prefer not to show our faces or go by our full names, because we don't want our personalities to influence how people listen to the music. We hope that our sincerity comes through. The songs are written about things that are acutely personal, and I think that actually makes them more relatable than trying to address huge issues or be political or espouse some agenda.

So are any of these bands still operating?
Foreign Mothers are no more. Brain Attack and Gospel Truth are still playing, but it doesn't interfere or detract from XETAS. We run a tight ship. XETAS have our allotted days of the week that we always dedicate to working on songs, booking shows or creating merch and artwork. None of us drink, so we aren't easily distracted or unmotivated. We work hard to stay on track, and are constantly creating something.
Since an asshole like me is here, I got to ask: Are things like Fun Fun Fun hindrances or blessings for the Austin music scene?
It's a double edged sword, because it's great for the town, and it's definitely fun to have fresh faces to play for, but it definitely disrupts the normal machinations of the scene. It's fun to be a part of, but it's also a pain in the ass when all the venues are booked up, and regulars can't get in, and the whole town is congested with traffic and drunk tourists and things. We don't mind it, and we enjoy playing those things when we get the chance, but it can make everyday life more frustrating.
What's the one band you compared to that you don't understand why?
We've gotten everything from Janitor Joe to Dillinger Four, and none of us listen to either of those bands. We get Marked Men a lot, and that baffles me a bit, but I guess all the down strumming and the fact that some of our songs have pretty pronounced hooks invites the comparison. We each have our own set of influences, from the more obvious stuff like the Wipers, Drive Like Jehu and Naked Raygun to things that inform our sound maybe more subtly, like Lilliput/Kleenex or the Police. D and K are huge Kate Bush fans, and M grew up seeing a lot of early AmRep and Touch & Go stuff. We've been compared to some other locals like OBN III's and Flesh Lights, too, and while I don't see too much similarity, you can't help but be inspired by awesome bands that you see and play with on a regular basis, and I think that's great company to keep
What is up with the upcoming LP?
We recorded it with Ian Rundell, who also did our 7". It should be out on 12XU in early 2015 – late February ideally—and it's called The Redeemer. A three-week tour is planned in support of that for April. We've had people reviewing the 7" and wondering if the LP would go more in the darker direction of "The Silence" or the more melodic, up-tempo sound of "The Knife," but honestly, the LP does both and goes to some places that we think people wouldn't expect. It captures the energy we try to create live as well as any studio recording can. We think it will showcase a lot of what we're capable of, but we're still growing. We've only been playing for a little under a year, so we're always expanding our sound and trying new things. We're very excited to get it out and start working on the next one.
In your opinion, what's worse than a Porta Potty at Fun Fun Fun Fest?
A Porta Potty at the Gathering of the Juggalos? I don't know…what do Juggalos eat?