Woah! Waterstrider's Video for "Frayed" Is Made Up of 40,000 Photographs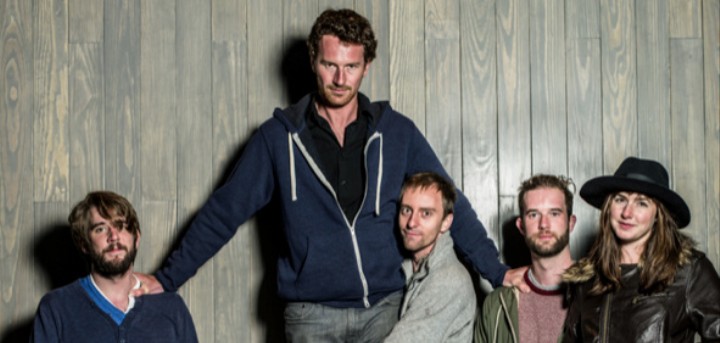 It doesn't happen often these days, but the video for Waterstrider's song "Frayed" will make you sit up and go WOAH. Musically the Oakland-based quintet combine palm-slapped beats and a lithe falsetto melody with fuzzed up synths. Please note that bassline—fuggedabout root notes—these guys know what's up. But back to the video: the vibe is dislocating and surreal, thanks to a spotlight swinging like a pendulum and what seems to be stop motion, the two dancers' naturally fluid moves imbued with a jerky awkwardness. How was this effect achieved? Well it turns out this isn't a video in the traditional sense, but rather it's 40,000 photos stitched together. Sounds like an insane task and it was.
Director Marta Dymek had this to say about the video: "From the moment I first heard "Frayed" I could tell that it was telling a story of trying to get something one can't have. Being in the presence of something unattainable. It reminded me of those dreams where something amazing almost happens with someone, but then the mind interrupts it and puts all these obstacles in the way. My dreams rarely have any satisfying ending to them. Using only photographs in the form of stop motion and not your regular video, I wanted to show that broken dreamlike feeling of longing—illustrated beautifully through the choreography by Zander Brown. I teamed up with an amazing photographer Anastasiia Sapon, knowing that she could fully convey that emotion through her photography.
"We shot for two days, shooting only photos and no video. After we were done with shooting, I had close to 40,000 pictures to look through. It was a doozy. Normally, I edit the video and I do color grading at the very end, but for this project I did the color grading first in Lightroom taking advantage of the fact that it's photos. It took me two days to export all the images in the right dimension and with all the color grading applied to them. From there, I made little nested sequences of each scene and started the editing process from there. It was much more time consuming than just shooting regular video, but it definitely paid off in the end."
Waterstrider Tour Dates

5/28 Oakland - Leo's
6/6 Los Angeles - The Bootleg HiFi
6/7 Phoenix - Valley Bar
6/9 Austin - Red 7
6/10 Dallas - Club Dada
6/12 Atlanta - 529
6/13 Chapel Hill - Local 506
6/14 Washington, D.C. - DC9
6/16 Philadelphia - Kung Fu Necktie
6/18 New York City - Mercury Lounge
6/19 Boston - Red Room @ Cafe 939
6/20 Brooklyn - Palisades
6/22 Cleveland - Beachland Tavern
6/23 Chicago - Schubas Tavern
6/24 St. Paul - Turf Club
6/26 Denver - Larimer Lounge
6/27 Salt Lake City - Kilby Court
7/10 San Francisco - Great American Music Hall
"Frayed" will be released as part of the compilation OIM: Vol I out via OIM Records on 6.23.