Here's the premiere of his new video, plus the Milwaukee artist answers some pretty pertinent firsties and faves.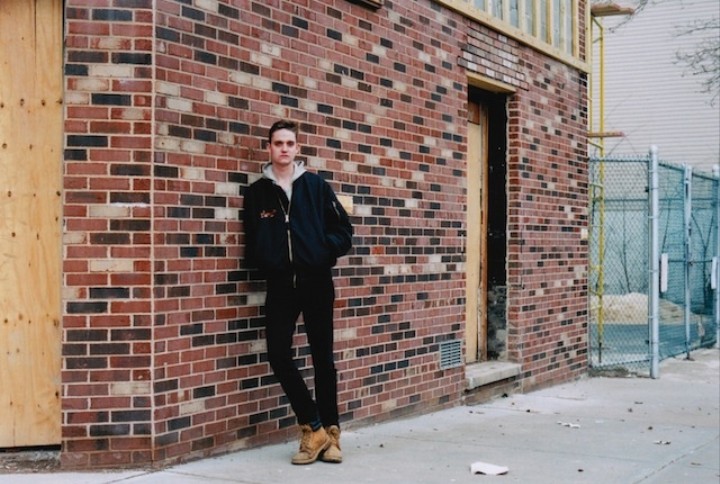 Directed by Guy Koza.
Cock rock is an elemental property, like math—it takes the right renegade to source fist-pumps, crotch thrusts, and motorcycle riots from the ether. Enter Juiceboxxx, potentially this nation's last best shot at bringing rock and roll back from the decrepit clutch of history. If life in the land of "DJ Windows 98" and "the streaming wars" gets you down, if sex, danger, and the Beastie Boys feel like distant memories, then look no further.
In his video for "Open Up Your Life"—premiering above—the Milwaukee rap-rock phenomenon throws his weight against the onslaught of wackness. All he needs is riffs, a hook, and a look in his eye as if he might kiss you, or break a window, jump in a beat-up Mustang, and leave this dead-end town forever. Pump up the volume, and check out our man's contribution to our Firsties And Faves series below. He's also on tour, so that's something to do.
First time you felt the kiss of the open road?
My first tour I was 16 with my band The Boolean Condition. A lot of blast beats and screaming and distortion. There may or may not have been masks involved.
Favorite unorthodox place you've slept on tour?
Sometimes I splurge for a Motel 6. Nothing beats watching cable on tour.
Favorite rare groove?
Gotta be Ashley's Roachclip. Fuck it.
First act of rebellion?
Rapping at punk shows and annoying the shit out of a bunch of straight edge hardcore kids.
First psychedelic experience?
Fatboy Slim.
First celebrity crush?
Springsteen.
First song that changed your life?
Fatboy Slim.
Favorite dream luxury purchase?
I wanna live in a Motel 6.
Favorite dark corner of the internet?
YouTube rips of Milwaukee pop radio from the mid 90s.
Favorite diva?
Springsteen.
Juiceboxxx Tour Dates
k and to use these tour dates instead

JULY 24 PROVIDENCE @ SPARK CITY WITH WAY OUT, I EAT ROCKS, VICTORM PERM AND DJ MANDY COWGIRL

JULY 25 BOSTON @ OUT OF THE BLUE GALLERY WITH BANNED BOOKS AND WHIP APPEAL

JULY 27 MILWAUKEE @ RIVERWEST PUBLIC HOUSE WITH HOLY SHIT!, NEW BOYZ CLUB AND AIRO KWIL

JULY 28 CHICAGO @ SITUATIONS WITH DR. MORALES PHALLUS 420, ULTRADEMON AND TBA

JULY 29 CINCINATTI @ APARTMENT 23 WITH WITH BETA IS DEAD, EUGENIUS, MAVIS CONCAVE AND DECIDE TODAY

JULY 30 COLUMBUS @ CAFE BOURBON STREET WITH MODERN CONVENIENCE, PMS AND THE P00LS

JULY 31 BALTIMORE @ THE CROWN WITH ED SCHRADER'S MUSIC BEAT, TRNSGNDR/VHS AND DJ MARK BROWN
AUGUST 1 BROOKLYN @ SHEA STADIUM WITH WITH DJ DOG DICK, TIPPWERK, ACE MO AND DADRAS