Osh Kosh Presents Lamb$' Music Video for "Digi Scale" (Remix), Featuring Key!, Reese, and Tezo
It's Ohio against the world.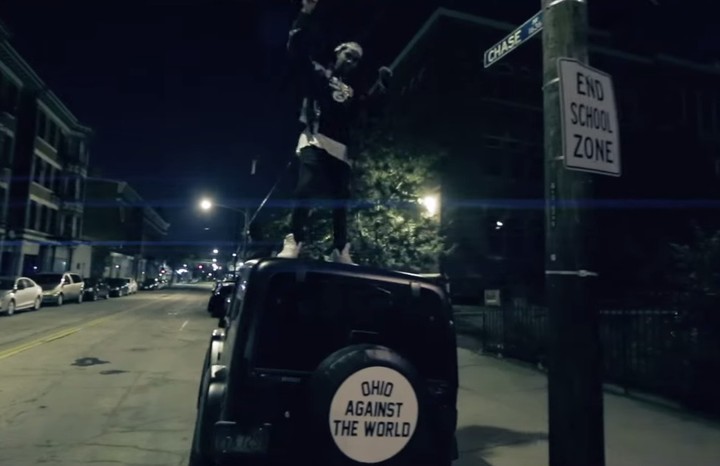 Everybody loves to rag on Ohio. "I was in Dayton, Ohio recently," a Dave Attell joke goes. "You know what's a fun thing to do there? Pack up and get the fuck out." 30 Rock poked fun at Cleveland's aggressive average-ness. Hawthorne Heights' "Ohio Is for Lovers" is a song about wanting to kill yourself. Because of its status as the nation's de facto punchline, people from Ohio tend to have a gigantic chip on their shoulder. Rappers from there don't just rap; they tend to fling words their out of their mouths, like they're trying to get some spit on you. Enter Lamb$, whose video for the remix of "Digi Scale" begins with a shot of a lone Jeep on a street, its back emblazoned with a huge fuck-you to the universe: "Ohio Against the World."
And though Ohio may indeed be against the world, Lamb$ has found some spiritual brethren in Atlanta, where Osh Kosh, the DJ for the venerable ATL click Two-9, has laced him with a whirring beat that bangs from of the dungeons of Area 51 and up to the UFOs in the heavens. The star of this video, however, may very well be Atlanta's Key!, whose oddball charisma is best captured by the fact that he bookends his verses by opening and closing the door of a goddamn minivan. If that's not a sign that Key! is destined for greatness, I'm not sure what is.
If you're in New York tonight, you should come to Santos Party House, where Key! will be performing along with Dej Loaf.