What Ever Happened to the Best Music Writing Series?
A Kickstarter to release a 2012 edition of Best Music Writing was successfully crowd-funded with $17,000. So why did it never come out?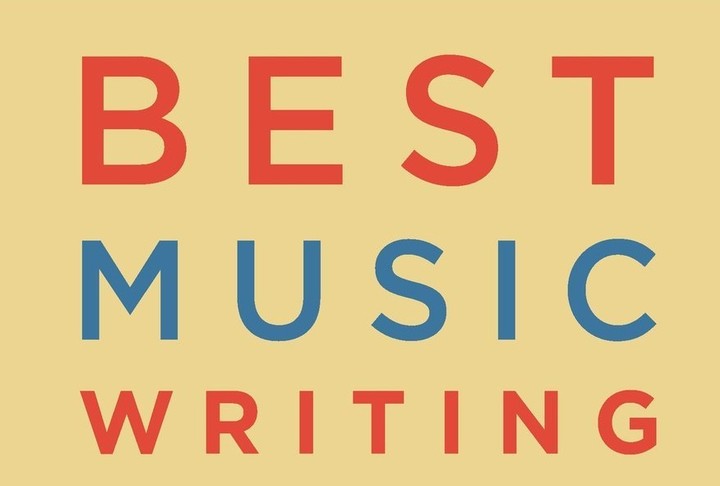 Starting in 2000, Da Capo Press published the Best Music Writing series, eventually dropping it in 2011. Shortly thereafter, long-time editor and decorated music critic Daphne Carr responded by founding a music-centric publishing house called Feedback Press, with Best Music Writing as the flagship title. As you probably recall, a successful Kickstarter campaign that raked in $17,337 on January 31st, 2012, made way for a book that would yet again help celebrate outstanding achievement in the field of music writing excellence. In an undeniable coup, it was to be guest edited by ?uestlove.
However, despite a scheduled release date for early Fall 2012, Best Music Writing 2012 has yet to be released, quietly becoming the music writing equivalent of Dr. Dre's Detox. The Facebook page hasn't been updated since Jan 29, 2012, the Twitter account has been inactive since October 2012. The website itself has seemingly been abandoned, and repeated inquiries from backers about where the book is have been ignored.
Jonathan Bernstein, former research assistant at Feedback Press said that he is unsure about the status of the book and so are his old co-workers: "This Feedback Press independent project seems to be dead. I could see it coming back, surely, because there are clearly enough people who care about the series to somehow make it happen," he said. "But, I think if it comes back, it would have to be in different hands, or in a different form. There's zero trust with Feedback Press now that there have been no updates in over a year."
The "zero trust" could be a result of $17,337 that is unaccounted for and the matter of Daphne Carr being unreachable. Bernstein has tried to field questions to Carr about the project to no avail. Managing Editor of Vol. 1 Brooklyn, Tobias Carroll, who was asked to join the Feedback Press team by Carr after the Kickstarter victory, hasn't heard from her in some time either. Recently, Carr seems to have been working closely with the Occupy Movement. To wit, in her 2,500 word manifesto Carr comments on taking part in a 99-mile march from Philadelphia to New York City, helping recovery efforts with Hurricane Sandy and co-founding Occupy Musicians. Interestingly, Carr cited the creative momentum of Occupy Wall Street as an inspiration to create Feedback Press. After numerous attempts to reach Carr by email, she responded to me. "This is Daphne Carr. I have no comment."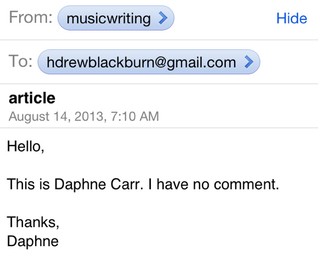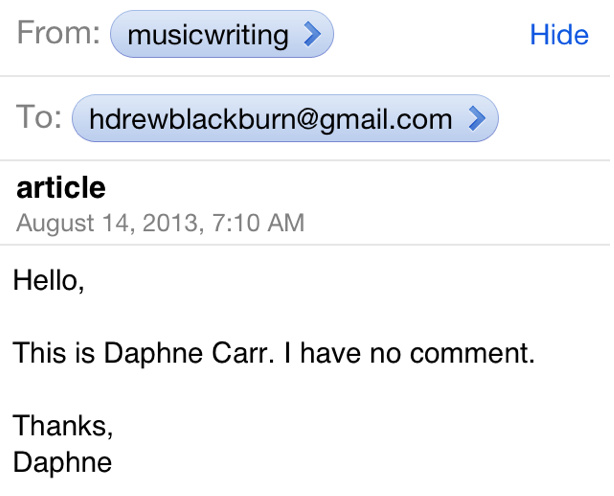 Most backers donated between $15 to $30, a smallish sum that buys a lunch today, but as time goes by is easily forgettable. "I think I pledged $25," New York Magazine contributing editor Joe Hagan said. He appeared in the 2011 edition of Best Music Writing for this piece. "So, I'm not among the most highly aggrieved if it all fell through and she ran off to Honduras." However, one dedicated backer donated $1,000 to the cause and two dropped $500 or more.
Others feel significantly more slighted than Hagan. The Feedback Press Facebook page bears a string of tenacious and inquisitive posts by Greg Pratt, whose piece about Donnie Wahlberg was included in Best Music Writing 2010.
An excerpt from one of Pratt's comments on Facebook reads: "Again, that's $17,000, then, nothing. Not one piece of communication keeping supporters in the loop. No explanations of the silence." And there's the curt, "if you donated $20 or something, it might not seem like much. But remember, according to their Kickstarter site, they have $17,000 of ours. Some accountability is way overdue here."
As an administrator of the Facebook page, Carroll is well aware of some concerns. "It's frustrating to be unable to do too much to respond," he said. "I do not have access to any of the funds that were raised, and I've been reluctant to become the public face of the project if I'm not able to report on what the status of the book is."
Carroll stated that Carr—since she was at the helm of the Kickstarter—would be the person with access to the funds.
Any sense of accountability on Kickstarter's end is nil at best. They have the five percent cut required, and view problems that arise from projects as the responsibility of parties involved. Each project creator for Kickstarter is shown this disclaimer before they can start raising money: "If your project is successfully funded, you are required to fulfil all rewards or refund any backer whose reward you do not or cannot fulfill. A failure to do so can result in a damage to your reputation or even legal action on behalf of your backers."
Bernstein believed that the original conversations about the future of the books far exceeded Best Music Writing. "The broader concept was starting an independent publishing press for music writing, by music writers," Bernstein said. "Daphne was talking big. She wanted to develop a peer-editing support system for music writers, there were some really cool—if grand—ideas" like fostering the music writer's equivalent to the Sportswriters Association of America. "It's been, or was, a big disappointment," he said. "I think everyone was tremendously excited to be a part of this book coming out in the way that it was supposed to."
H. Drew Blackburn is on Twitter - @hdrewblackburn