Check Spray Paint's New Track, but Only in a Foggy, Dimly Lit Downtown Club
Noisy but funky post-punk that is equal-parts danceable and anti-social. It rules, doy.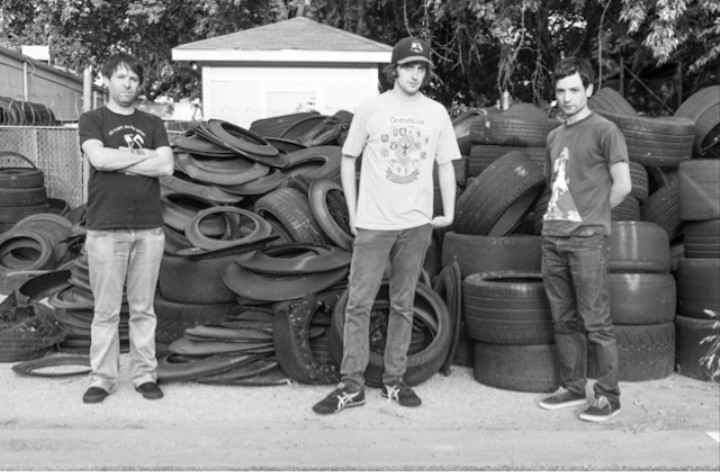 Somewhere between the Fall, This Heat, Brainbombs, and Gang of Four lies Spray Paint, an Austin crew who create noise-inflected yet melodic post-punk on their forthcoming LP Clean Blood, Regular Acid. Due on Sept 23 via Monofunus Press, the first single is "Rust Versus Rust," a droning yet funky track that sounds like it would be perfect to rage to at 5:30 AM in a foggy goth club. Check it out for the first time below.
SPRAY PAINT on TOUR
7/25 - AUSTIN, TX @ HOTEL VEGAS
8/1 - ALBUQUERQUE, NM @ BURTS TIKI LOUNGE
8/2 - TEMPE, AZ @ YUCCA TAP ROOM
8/8 - SEATTLE, WA @ BLACK LODGE
8/9 - PORTLAND, OR @ THE KNOW
8/15 - SAN FRANCISCO, CA @ HEMLOCK TAVERN
8/16 - LOS ANGELES, CA @ LOS GLOBOS
8/17 - SAN DIEGO, CA @ TIL TWO CLUB
8/18 - TUCSON, AZ @ SOLAR CULTURE
8/19 - LAS CRUCES, NM @ TRAINYARD
8/23 - AUSTIN, TX @ BEERLAND
9/19 - AUSTIN, TX @ HOTEL VEGAS #
9/20 - MCALLEN, TX @ CINE EL RAY #
9/21 - HOUSTON, TX @ WALTERS DOWNTOWN #
9/24 - CHICAGO, IL @ EMPTY BOTTLE #
9/25 - DETROIT, MI @ PJ'S LAGER HOUSE #
9/26 - LOUISVILLE, KY @ CROPPED OUT #
9/27 - MEMPHIS, TN @ GONERFEST #
# - w/ The Rebel (Ben Wallers from Country Teasers)
% - w/ Hoax, Global Threat