Can We Pretend We're Still on Vacation? Here's Beach Day's Video for "Don't Call Me On The Phone"
The lesson here is don't be a bummer.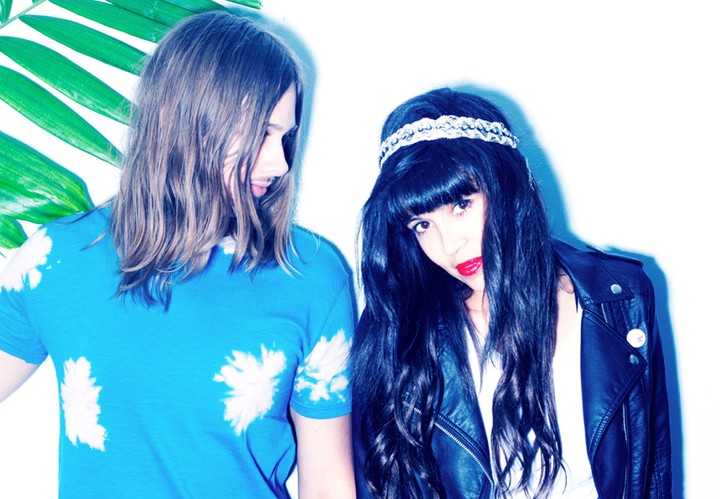 Director: Jacques de Beaufort, cinematography: Don Fils
If you want to watch other people having an adorable, great time, watch Beach Day's new video "Don't Call Me On The Phone." While the lyrics are melancholy, they're counteracted by a heady dose of sun, sand, and partying.
The entire video is a #throwbackthursday celebration of style. Lead singer Kimmy Drake rocks a 90s plaid dress (a la Cher Horowitz), with guitars reminiscent of a 50s-era cruiser. Elsewhere drummer Skyler Black's long hair and tie dye place him firmly in the 60s. They make the pilgrimage from the beach to a gig, and then the real party starts—a kaleidoscopic shimmer of streamers and partiers with DayGlo hair. A game of spin the bottle never seemed more appropriate.
Kimmy had this to say about the inspiration behind the song: "It's about saying to someone who just calls to make you feel bad, please don't call until you have something better to say. Sometimes people are really unsupportive in your life. And you're just trying to do what you love, but they want to keep you and the way they try to keep you is by making you feel bad. But that eventually backfires and you just go crazy and rebel and have fun."
So what's the lesson here? Don't be a bummer.
Beach Day Tour Dates
08.11 - Houston, TX @ Mango's
08.12 - Austin, TX @The Mohawk
08.17 - Los Angeles, CA @ The Echo
08.19 - San Francisco, CA @ The Hemlock
08.20 - Oakland, CA @ The Night Light
08.22 - Portland, OR @ The Know
08.23 - Vancouver, BC @ The Electric Owl
08.24 - Seattle, WA @ Rendezvous
Beach Day's album Native Echoes is out on 8.19 via Kanine Records. Pre-order it here.
Aliza rules. Follow her on Twitter OK? - @AlizaAbarbanel.

Related:
Beach Day Grew up in a Town Full of Old People

Noisey Meets: Bret Easton Ellis on Set with the Dum Dum Girls