Cash, Money, Records - Designer/Artist Rob Carmichael
If you've heard new music from Animal Collective, Dan Deacon, or Real Estate, chances are you've seen Rob Carmichael's design work on a record sleeve.
There's more to indie rock finances than file sharing debates. In Cash, Money, Records, I'll be asking record labels, designers, and musicians to explain how they make their living in the music industry.
If you've heard new music from Animal Collective, Dan Deacon, or Real Estate, chances are you've seen Rob Carmichael's design work on a record sleeve. He's designed a laundry list of major indie releases for labels like Domino, Captured Tracks, and Carpark, and a large sampling of his work is available on his site, SEEN Studio. I spoke with Rob in his Williamsburg studio about getting his start designing CD-Rs for a tech startup, the difference between designing for a digital or physical releases, and how record covers affect sales.
What's one of your favorite album sleeves of all time?
Rob: I'm obsessed with the UK version of Happy Mondays' Pills 'n' Thrills and Bellyaches. It's a collage made from food packaging wrappers. But in the US, they were worried about copyright violations, so they re-created it.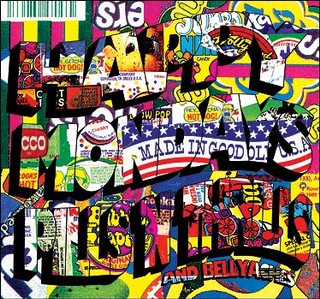 Did you go to art school?
No, I went to Swarthmore College for English Lit. I got into design because of [my label] Catsup Plate. Concurrently, the day job I had out of school was working at a software company in the shipping department. One day they decided they wanted to do a CD-R, which was the hot new thing at this point, and they needed some packaging. So we had a meeting of the ten employees and the owner said, "Does anybody know how to use Photoshop?" which I thought at the time is what you would want to do layout in. It's actually not. So I lied and said yes.
Tell me about getting new clients. Do you ever make pitches?
I've been burned by pitches. There are a couple of bands who have taken things I've done, really preliminary stuff, [and] it's ended up on final albums. Ideally, a record cover is specific to what the artist and I think about the music and the general aesthetic. I really feel like I need to talk to the person and know where they're coming from. There's a difference between being an artist and being a commercial artist. As a commercial artist, you are trying to solve a problem—something the band thinks, but can't express. All of the stuff I'm most proud of is in dialog with the bands.
So you would say most covers are collaborations?
I would say so. A lot of bands come with a photo. They'll be like, "This photo is important. We looked at this photo throughout the entire recording process." And maybe the photo's not good, but I have to figure out what makes it good. Usually, bands have a starting direction. For Animal Collective's Merriweather Post Pavilion, they were looking through this science magazine that had all this op art stuff. And they were like, "How can we figure out a way to do this?"
What's your relationship with labels like? You've done a lot with Domino recently.
I'm not 100 percent sure what they say to the artists. Hopefully, my work is to the point where someone sees they can get a result that would be appropriate wherever they are coming from. For instance, when Real Estate got in touch, they knew they wanted that Dan Graham photo. They were really into his totally banal pictures of New Jersey. Hopefully, Domino and other labels know that I can start from wherever the band wants to start visually.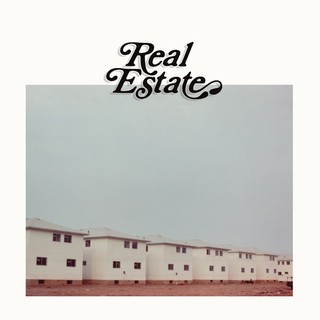 What's the timeline for the promotion cycle for a record? What happens after the agreement?
Usually, the label wants the album cover as a digital thing to send out. The album announcement is important to do as early as possible. That's usually three months ahead of time. Usually after the cover is square, there are three or four weeks to get the rest of the art done. I try to do it quicker. I try to keep the process going, because the longer it drags on, the less interested the artists are. There's an excitement when things are aesthetically coming together. So I usually have anywhere from between a couple of days to three weeks to come up with a cover.
Do you design differently knowing that most covers will be seen on computers and iPhones? Jason Pierce said he designed the new Spiritualized album for a one-inch screen.
Larger labels are concerned about stuff looking good for digital. I just don't think that people buy digital music based on the art.
But physical music is a different story?
There's no flipping through the racks on iTunes. You don't stumble across something. It's been on a blog, where in fact, it's a much bigger image. The basic thing is that a record cover or a CD cover is packaging. It's incentive for someone to buy. A lot of people hate [the cover for] Merriweather Post Pavilion, a lot of people love it. But everybody was like, "What the hell is this?" even if they were like, "What the hell is this? This sucks." That's great, I don't care. You've already interacted with it, and you now know there's a new Animal Collective. A record cover isn't there for continuous usage.
What about the process of designing merchandise versus a record cover?
Putting on a band shirt feels like a very potent gesture. It feels like you want to take all of the meaning that's wrapped up in this musician and apply it to yourself. Like saying, "I agree with everything about Metallica," or whatever. That feels overwhelming to me. Graphic design is about the subtle meanings of so many things. A typeface carries a lot of meaning, and it feels so aesthetically intense. I try to make band shirts where it's hard to read [the band name] purposefully. I was really influenced by my friends in Black Dice. It's really rare a Black Dice shirt will actually say Black Dice. I always thought that was cool, you know what it is, but it's not a billboard.