Happy Birthday, Mom!
It's my mom's birthday, so we celebrated by testing her musical knowledge.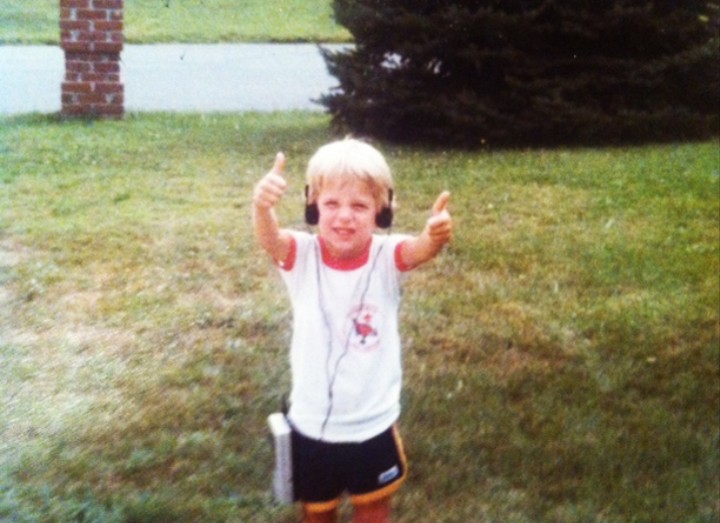 This picture says it all.
Today is my mom's birthday, so I decided to surprise her by swinging by her house with an ice cream cake and some questions about her life and her love for music. Although her preference for Carol King over Lydia Lunch sort of sets us apart, her love of music has always made our conversations super fun. Here's what just happened at the old kitchen table.
Noisey: Who are you and what do you do?
Maryo: My name is "mom." I'm your mother; who do you think I am?
Just tell people your name. They will be reading this, not hanging out in the kitchen with us.
Mary Ogiba. Mary King Ogiba. I'm a registered nurse for 39 years now.
Okay, well I'm gonna call you "Maryo" like everyone does, if you don't mind. Where did you grow up?
That's fine, honey. I grew up in Dayton, Ohio, surrounded by other kids, many of whom had parents in the Air Force. There were always zillions of kids to play with.
Name one musician or group from Ohio.
The Isley Brothers.
Ahh. Well done. Tell me some of the most important memories you have about music.
I played clarinet for almost ten years, was in the marching band, did the band camp thing. My father played big band all the time and constantly kept the house alive with that sort of music. I remember when the Beatles came on Ed Sullivan. I was in about 6th or 7th grade. I was screaming and yelling at the television and my father told me to quiet down and go to my room. That was probably the biggest moment in music that I can remember...Well, that or the time my mom told me that I wasn't old enough to take the bus into the city to see Herman's Hermits. I was crushed.
I'd be pissed if you kept me from seeing Herman's Hermits. That's just wrong. That's right, you actually have an album of you and your band performing way back then. How do you feel about the fact that your son lives and breathes records, yet he has never been in a band that has released an LP, while you've been on an LP?
OH PLEASE. You are like a savant honey.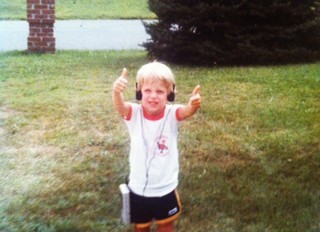 MP3s used to be a lot heavier. Here's one of the times mom sent me off listening to her Mousercise cassette. She had me prancing around suburban New Jersey like a little carefree pixie.
Well, thanks, I guess. Can you remember a song that an ex-boyfriend (or Dad) tried to woo you with?
Your father constantly played "Knights in White Satin" by the Moody Blues for me when we first met. Other than that…nothing or no one important comes to mind..
Dad sounds like a real pimp.
You should have seen his flashing psychedelic lights and reel-to-reel player.
Like father like son. Moving along. Do you remember in the early 90's when you told me that grunge singers like Eddie Vedder wouldn't last because "no one wants to hear a man who sings like he's having trouble on the toilet?"
YEAH! You remember that?
Well, I just prepared that question, so yeah. I also asked you what Billy Corgan was singing about when the Smashing Pumpkins came on the radio around that same time. Remember telling me that "it doesn't seem like anyone even means what they sing about anymore. As long and it rhymes or sounds good"? That was upsetting. Did you think four and a half million depressed kids could possibly be wrong?
Yup.
Remember the time you caught me singing along to Guns N' Roses in my bedroom and you came in and yelled at me and took the tape away for screaming "THIS ONE IS FOR ALL YOU MOTHERFUCKERSSS!!"?
Oh yeah, I remember that.
I found the tape in your closet, like, the next day, in a shoe box along with some Playboys you confiscated.
Nice, Jeff. Nice.
T.L.C. or M.I.A. ?
I'm not familiar with either of them.
I've heard you sing along to both.
Yeah, I don't know, sorry.
Finish this line: "I don't wanna be buried in a _________"
In a box?
Nah. Hint: Ramones…Think Stephen King.
PET CEMETERY.
Impressive. Kinda. How about this one: "I wear black on the outside 'cause black is how I feel ______"
"On the inside." I don't know who sings that, but you used to say it all the time when I told you about your morbid all-black outfits.
I'm sensitive. You know this. Here's another one: "The Sharif don't like it, rockin' the _____"
CASBAAAHH!
Nice.
Did I get it??!!
That's the one, you're doing great.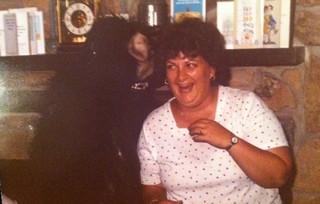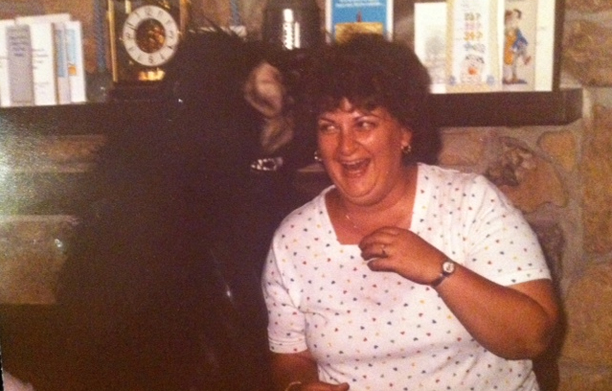 My carefree mother enjoyed random visits, such as this visit from an unknown masked man during one of her birthdays in the mid-80's.
Try this: "What's your name, who's your daddy? _______"
"Is he rich like meeee?"
Nice. I figured, with all your Herman's Hermits knowledge, that would be right up your alley. Okay, here's another: "Don't forget the struggle/ Don't forget the _____"
Fight? I dunno.
Not bad, but it's actually "Streets."...Warzone lyrics, NYC hardcore. I didn't expect you to get it.
I have no idea what any of that means.
Yeah, it's fine. It's all part of the experiment. "____ Eyes, they're watching you/ They see your every move"
What the hell's the word, Jeff (hums actual song). Private Eyes? Hall and Oates. You used to love "Maneater." Remember that?
Yeah, totally. Did you hear the news about Adele?
She's pregnant.
Is she?
Yeah. I keep up. I know you don't think I know what's going on out there, but I do.
I swear to you, I had no idea and just figured that was a constant stream of news with that lady. That's great. So, on a similar topic, what do you think about contemporary popular music versus the popular music you grew up with?
Some of the new stuff is better, because I feel like they've improved the sound quality, but they're still all about love and all that crap. I think they'll always be about love, but I hope it'll get better. I don't think I'll ever get too old to enjoy the good stuff. I mean, the good stuff should be timeless, right?
You used to blast an album around the same time every year. I hated it. Do you remember what it was?
Umm...the ummm...Neil Diamond. I love it.
Yeah, but there was something really wrong with that dude singing Christmas songs. I don't know. I dig him now. I think it was just that "Little Drummer Boy" rendition. Kill me. Do you know who the I.C.P. are?
Nope.
Good.
Previously - A Brief History of Musical Waves, From "New" to "Next"