Stream: Melbourne Pub Rockers Power Debut Their Album 'Electric Glitter Boogie'
A conversation over the classic Australian 70s pub rock band the Coloured Balls laid the foundation for Power.
This article originally appeared on Noisey Australia.
A couple of years ago, while sitting in a beer garden during a Melbourne punk show, Matt 'Penky' Penkethman, Nathan Williams, and Isaac Ishadi shared their mutual love of the Coloured Balls, the legendary Aussie rock band known for their raw and ragged bluesy energy.
Jokes about forming a power trio in tribute to the Coloured Balls and Aussie rock heroes the Aztecs and Chain, quickly escalated into drunken band promo shots. A band was born in a beer garden.
Now, after earning a reputation for a balls out live show and a much talked about tape, Power are set to release their debut album Electric Glitter Boogie. Stream it below.
Released on Cool Death, the label behind a new wave of Australian hardcore sounds, the embossed gatefold record is full of menacing and snarling rock played with chests puffed.
Though members have spent time in punk and hardcore bands such as Kromosom, Dribble, and Soma Coma, Power is pure raw rock that draws parallels with the first Stooges album, the boogie of the Coloured Balls and the Aztecs 1970 album The Hoax is Over. It's rough, loud and very Aussie.
I caught up with the band over some beers to talk about the new album.
Noisey: Why Electric Glitter Boogie?
Nathan Williams: The name has three elements; tough, sexy and fun.
Who's who?
Nathan: I'm sexy, Penky's tough and Isaac's fun (laughter).
Isaac Ishadi: I'm not fun but I don't qualify for the other two either (laughter). If I'm fun god help you all.
Nathan: The title is actually from T. Rex's "Raw Amp" where halfway through the song he's singing "Electric boogie, boogie on". I just thought "Electric Glitter Boogie" would have been better.
You get a big sound from just three people. What's it like playing as a trio?
Penky: I like it. It makes everything so easy. The only thing is that you have to pay more for practice space.
Nathan: It was hard at the start because I didn't want to sing. I had to learn to sing and play guitar and I was pretty much yelling. It's super physical for me it's what I imagine drumming must be like. I have to put everything into it.
Isaac: Yeah it kind has come to dictate how we write songs because it can be hard on his voice.
Nathan: The shortest song we have now is four minutes. The songs need to develop around singing and guitar parts.
Your sound, both in style and Nathan's vocal delivery, reminds me of another great Melbourne three piece the Powder Monkeys.
Nathan: It's funny I've never listened to the Powder Monkeys.
Isaac: His vocals have changed. I remember when we started you were changing stuff around.
Nathan: I can now switch between singing higher and lower rather than just screaming like a banshee.
Obviously the Coloured Balls have been a big influence.
Penky: Totally. It's why we started. Boogie rock is so mad. Coming from punk and stuff I like that it has real guts. There is an Australian way of playing it.
Isaac: It still has that aggression, so coming from a punk and hardcore background it had a lot of appeal. Growing up you can only listen to hardcore and punk so long before you venture into other stuff. You can identity with the ballsy sound. The lead guitar is a driving force.
Nathan: Another thing I like about that whole pub rock thing is that there was no posturing or rock star shit. It was for working class people who liked to drink and who liked rock and roll. I have a lot of respect for that. It's more a feeling. That kick drum is like a heartbeat. We all come from hardcore bands. We all have these silly little haircuts. Most of us are strappy and we like to drink a lot. So it's this dichotomy of this tough dangerous persona - which doesn't really exist - and then this really over the top campy and glammy thing. It's al dente.
Isaac: You make it sound like the New York Dolls!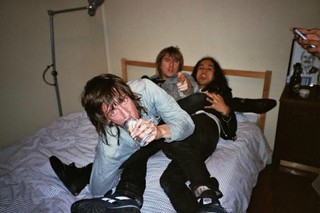 Who designed the Power logo?
Penky: I drew it real crudely and then my girlfriend designed it. She designs her own fonts.
Nathan: I wanted to do comic sans (laughter). The logo is cool though. It reminds me of The Slider, that old Marc Bolan record.
What's your favourte track to play?
Nathan: Probably "Electric Glitter Boogie". It's about being really high on drugs and being a fucking idiot and feeling like you are starting to die.
Isaac: I'm not sure about you but when I'm on drugs I'm definitely not an idiot. I'm just really witty and fun.
Nathan: I was writing about someone else obviously.
Isaac: Me! (laughter).
Nathan: It's still supposed to be a dance song as it goes, "Do you want to jive with me man?" I thought saying that in a song is hilarious.
'Electric Glitter Boogie' is available Oct 28 through Cool Death Records and digitally Oct 30.
Catch Power:
Oct 30 – Melbourne at Maggot Fest
Dec 11 – Meredith Music Festival
Dec 31 – Melbourne at the Tote