The Time Lord Is on His Travels: R.I.P. Terry Jones of Pagan Altar
Paying our respects to one of heavy metal's finest.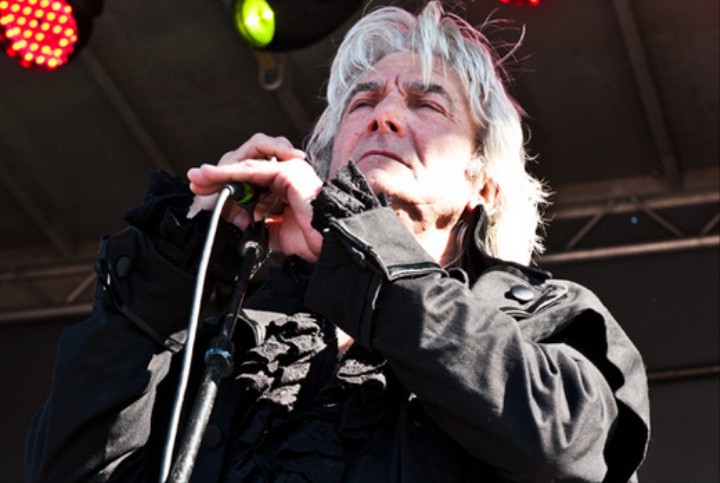 Photo by Fred Pessaro
Yesterday morning, Terry Jones lost his battle with cancer. The news of his passing wasn't splashed across newspaper pages or eulogized by many major media outlets, but it did hit one particular community with brutal force. As the vocalist and lyricist for venerated British doom band Pagan Altar, Terry's musical footprint is incalcuable. Heartfelt (and heartbreaking) goodbyes from his bandmates adorn the Pagan Altar Facebook page, while fan tributes continue to surface on social media, and Terry's family—including his son, Alan, with whom he started the band—are left to process their grief. His legacy of doom—the genre he helped to create—will reverberate through countless amps for many years to come.
In interviews, Terry came across as humble and kind; onstage, his flair for the dramatic and penchant for the occult made each performance shine. "I personally am extremely proud of everything we have ever done," Terry told the Metal Crypt zine in 2006. "There are very few songs written by Al and I that we haven't used in some way shape or form. I can still listen to early-recorded tracks and think "I really love that bit" or "That has come out exactly how I had envisaged it at the time and it still stands up"! It's usually a case that many artists in different fields secretly feel that their work is never quite finished and just needs a few more slight alterations. I have never felt that with ours, I wouldn't change anything so that has got to say something about how I feel about it."
His passion for Pagan Altar's music showed in the care he took writing his artful, evocative lyrics and cultivating his then-unorthodox vocal delivery; bear in mind that Pagan Altar first materialized in the late Seventies, at the crossroads of witchy 70s rock and what would become the New Wave of British Heavy metal. While their peers were preoccupied with bombastic harmonies, punk rock energy, and air raid vocals, Pagan Altar trod a less-traveled path. Much like their kindred spirits Witchfinder General or sonic forebears Black Sabbath, their emphasis lay on the slow-burning power of the riffs themselves. Heavy with eldritch folk vibes and guided by Terry's nasal wail, the slow, grandiose songs they wrote were a perfect bridge between 70s proto-doom and gritty 80s NWOBHM, and hold up beautifully decades after their inception. There's a timeless quality to Pagan Altar, and it's easy to understand how a bootlegged demo tape of their earliest rumblings could inspire a whole new generation of doom lovers.
Though the kind of "classic" doom sound that Pagan Altar has always sworn by is now fairly commonplace, its widespread appeal shows how much they've influenced the evolution of doom and heavy metal in general. In a perverse echo of Saint Vitus' much-loved misfit anthem, Pagan Altar was born too early. The band was formed by Terry and Alan in 1978, and only managed to release a single self-titled cassette tape before disbanding in 1985, but that was enough to make an impact. The Pagan Altar tape proliferated thanks to eager tape traders and bootleggers, and was given a proper release (newly christened Volume I ) by Oracle Records in 1998. The band's 2004 reformation was a direct—and incredulous—response to Terry and Alan's discovery that copies of their recordings were being sold online for insane prices. The reunion yielded several highly-regarded releases: 2004's Time Lord EP and the Lords of Hypocrisy album, which consisted of re-recorded, previously unreleased material, 2005's Judgement of the Dead, and 2006's Mythical and Magical. Though Terry was hit with several serious medical issues over the years, he and the rest of the band kept their spirits high, seemingly delighted at winning a second chance at glory.
That enthisiasm manifested onstage when Pagan Altar began performing live at select festivals in the UK and Europe—I first saw them in 2009, at London's British Steel IV—and finally made it over to North America to play Noctis Metal Fest and Maryland Deathfest in 2013. During that period, they released two splits—one with Jex Thoth, and another with Mirror of Deception—and a seven-inch single featuring two new songs. At that point in time, Pagan Altar had begun work on a new album, offering an update in 2014 that hinted towards its completion. The band have not offered any updates since, but it stands to reason that we'll soon be given the chance to hear Terry Jones' voice one last time.
Our sincerest condolences to his family, friends, and fans. May he rest in peace.