The multi-talented pop-punk frontman talks about his passion for analog and why perfection is boring.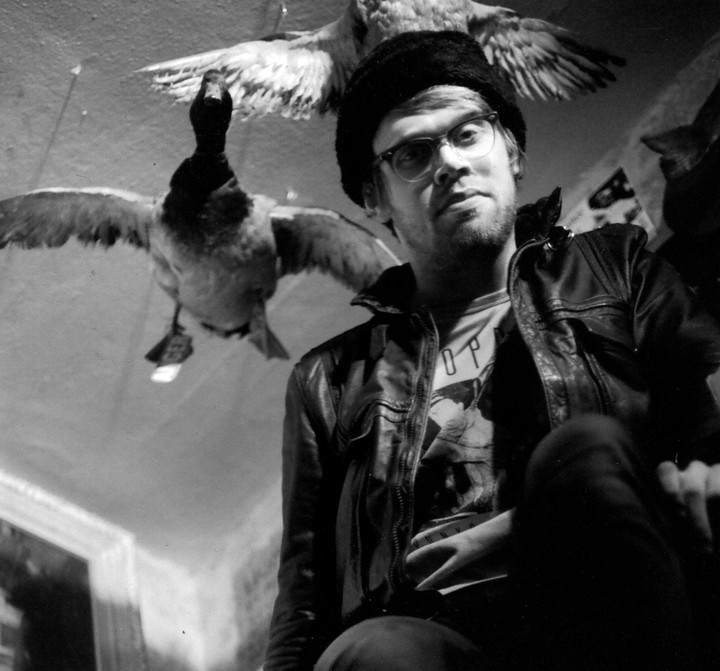 Photo by Wilde Stranger.
Appleton, Wisconsin natives Tenement are probably one of the best pop-punk bands out there. They've been releasing tons of solid lo-fi, noisy jams since 2009, and all the while, vocalist/guitarist Amos Pitsch has been creating sweet collages for their own album artwork, as well as for those of their friends.
Amos' vast musical talents are not easily boxed; his CV ranges from power pop acts Tim Schweiger and the Middle Men and Paul Collins Beat, psychedelic shoegaze outfit Technicolor Teeth, and punk band Chinese Telephones. His collages, on the other hand, have plenty to do with boxes (heyo!). Geometric shapes and magazine cut-outs combine with interests in mixed media, imperfection, and Henry Darger to produce Amos' distinctive artistic style. Pitsch let us in on the history of the work he's done, as well as what's in store for the future.

Tenement's Napalm Dream album cover
Where do you find the material you use in your collages? Do you go looking/searching for them? Or do you already own these materials?

I tend to accumulate material almost daily and it usually takes the form of teetering piles of aging, moldy books that were meant to be thrown out or forgotten about. Little dusty worlds that are ripped apart and integrated with other ones to create a display of colors, textures, and faces in which a sobbing old man from Cancer of the Face and Mouth can be found mingling with a manic depressive housewife from the pages of Collier's Magazine. There's one particular antique store in town where I not only supply myself with probably a quarter of all the images I use, but also all of the taxidermy animals, framed religious prints, and soul records I surround myself with at home. It's a real dream-like place.
There seems to be a '60s theme for some of your art. What does this have to say about Tenement as a band?
Tenement is an infinite possibility and it's in the here-and-now. The time period that the subjects in our artwork are drawn from is irrelevant to our music, but the colors and composition I can only hope walk hand in hand with it.
Art for a Tenement/Cheeky split EP
Who took the photo for The Blind Wink insert? Why did you choose to print the lyrics using a typewriter?
We took it ourselves; it's a composite of three photos taken in my bedroom at night using four 375 watt bulbs as the light source rather than a flash. Like staring into the high beams of an old vehicle, or something. Computer-generated fonts are obnoxious to my eye most of the time due to their zero percent rate for mistake. Perfection is boring. Everyone knows that by now. NOISE. Typewriter noise. High-contrast Xerox typewriter noise. Not quite The Gerogerigegege, but more like the Teengenerate of typesetting. Orderly and kind of pretty, but still abrasive, stained, and imperfect, right down to the pubic hair stuck to the piece of tape holding down the scrap of paper that's covering up a spelling error.

Album cover for Tenement's second full-length, The Blind Wink
A lot of people have compared your artwork to that of Winston Smith's collages. Are you a fan of his? Did he influence you at all?
Of course I'm a fan of Winston Smith, who isn't? He created some really vibrant, filthy, and beautiful little worlds. But when it comes to collage, Henry Darger was always a deep fascination due to his mixed media, noise, and disregard for proportion. I think, due to the fact that I work with collage out of necessity (my skill at brush control is like dragging a wet noodle across sandpaper), I'm more directly influenced by visual artists that use film as a medium, like Jack Cardiff, Stan Brakhage, Mark Cohen, William Eggleston, and Shimon + Lindemann. My mind is more drawn to color, texture, and composition, and less to a literal scenario played out with pictures.
Two panels from a six panel insert Amos is currently working on for a split 6 inch SFN/In Disgust record that Drugged Conscience is releasing.
How was your show at Chaos in Tejas? Did you see any bands you wanted to see? Best band you saw?
My own personal reason to attend the festival was to see Church of Misery, from Japan. I've been a fan of theirs since high school, and it turns out they're a thrill to see live, as I hoped. Dawn of Humans was the pleasant surprise for me for the weekend, and Lemuria are some of the most talented and inspiring musicians I know. Brain Killer was really good, too. The sun was a red-hot belt whip to every inch of your body, and it was a paralyzing heat, but the punx still covered the concrete like the roaches that they step on. Beer and piss and litter and vomit ensured it to be a festival hell like every other, but now I sit on my bedroom floor in Wisconsin, staring at my sleeping feline and broken box fan. A still and quiet paradise.
Check out one of Tenement's killer shows:
June 22nd – Subvert City 8pm with Akkolyte, Scaphe, Lets Play God, and Boss Keloid
August 1st – Quarters 8pm with Rational Animals, and Static Eyes