Chromeo: The Timeless Art of Seduction
We went in the studio with the band to preview their new LP 'White Women.'
All photos by Justin Staple
Chromeo has been sticking up for the little guy ever since the Bush administration. For ten years, they've been throwing all the best parts of the 80s (Talkboxes, levity, cheesy synth lines, disco, Hall & Oates) into a blender and coming up with something they've dubbed "Larry David funk," the band's singer/guitarist Dave 1 says. "So much music glorifies the 'Playboy' personality but most of us are just schmucky dudes, you know?" By paving this lane and planting themselves firmly in it, Dave 1 and P-Thugg have found themselves in the position of elder statesmen of sorts in indie music, playing goofy, relatable 80's-inspired funk tunes with the tenacity of a pair of cockroaches. "There was like four different waves of different music, and we were on the side doing the same thing," P-Thugg says.
"When it's your fourth album, you have to push yourself otherwise you're gonna get bored," Dave says. "It's rare that you have a band on its fourth album that's more enthusiastic than ever about making music, but that's also because when we started we sucked. I'm kind of proud of that in a way, because hopefully new fans will look back and listen to our early shit and see how far we've come."
We're in The Cutting Room, the Manhattan recording studio where Chromeo have been putting the finishing touches on their upcoming record White Women. Dave is the more vocal of the two, giving me a guided tour of the record as P diddles with his phone on the couch, joking that they've spent so much time in the studio working on the record that his butt is permanently imprinted into it at this point. Both P and Dave hail from Montreal, and their accents are distinctly French-Canadian. They are kind, accommodating people, displaying the very specific brand of politeness that seems to only come from people who grew up above America's borders.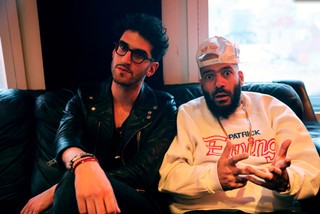 "Our last record was a little more serious and moody," Dave says, "and with this one we wanted to take it back to the real careless dance party vibes. [White Women] is more intricate than what we did before, but almost easier to swallow."
If the record feels a bit more thought out, a bit more organic than those that preceded it, that's due to the circumstances under which the record was created. "This was the first record P-Thugg and I did full-time, both in the same city. He used to live in Montreal. But for this record, a year and a half ago P relocated to New York and we spent every single day together." As a result, songs were fleshed out to their logical conclusions, rather than being constrained by the amount of time the pair might have together at any given juncture.
As the music plays, Dave 1 bobs in his chair, bouncing like the world's most enthusiastic preying mantis, his eyebrows dancing in time to the music. He's tall, wearing all black, in stark visual contrast to P-Thugg, who's compact and bearded, today sporting colorful streetwear. The pair are clearly close, to the point of finishing each other's sentences. "It's gotta be postmodern," Dave says of what elevates Chromeo beyond the realm of pastiche. "It's not funny if it's just an 80s record. A lot of people do the 80s reference thing, but—"
"It's too referential," P-Thugg says.
This idea, using the past as a vehicle to move into the future, is this time reflected in their choice of engineers. The pair's previous albums were made with Philippe Zdar, the French production wizard who's worked with the likes of Phoenix and Kanye West.This time around, they brought in Dave Bascombe, the British engineer who mixed, among other records, Tears for Fears' Songs from the Big Chair. "Those are some of the biggest drums you've ever heard," Dave gushes. Bascombe helped the band achieve their ultimate goal for the record. "We just wanted it to be big. [Dave] was the dude from the 80s who knew how to mix synths and all kinds of different stuff with live drums and drum machines. It was cool experience for him as well, because he could flex some of his older chops, but with modern tools as well. Most of the stuff he does today is like, in the box, meaning in the computer with plugins. And we got him to mix on the classic SSL 4000 board, which he mixed all those 80s records on, and with a bunch of outboard gear."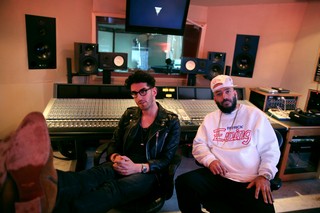 The results of that intense care are there. "Over Your Shoulder," the record's first single, feels beamed in from some reality in which Pete Rock produced for Hall & Oates. The forthcoming "Sexy Socialite," featuring drumming by LCD Soundsystem's Pat Mahoney, adds a dose of levity to the coked-out funk-punk Early 80s New York groove of ESG and their ilk. "Jealous," meanwhile, sounds like that would happen if Zapp had happened to be transformers masquerading as a funk band. Perhaps the most Chromeo-ish of the batch is "Something Good," which Dave aptly describes as "Real Chromeo funk." The group invite Toro Y Moi into their world to guest on "Come Alive," and he fits in so well that one starts to realize that Chromeo might just be the unsung godfathers of the lite-funk/R&B revivalism permeating the indiesphere at the moment. "We've got sons," Dave says, "but we wouldn't wanna sit there and name them because it's—"
"Tacky," P-Thugg finishes.
Dave 1 continues, "One thing I will say is that we took the risks first, and people respect us for that. We've never changed. And now people are saying 'Oh my god, disco, great!' In four years when everyone's listening to death metal, we'll still be doing this."
Overtly goofy as their music might be, it's clear that Chromeo are two deadly smart dudes who take their craft seriously. When I jokingly ask P-Thugg to pantomime what he did while recording the album, he goes to the computer, moving the mouse around and clicking frantically, saying he spent hours a day getting the mixes just right. Later, Dave has an assistant bring in his newest toy, a see-through Flying V guitar with an aluminum neck. It's custom-made, and before they head out on tour, P will get a complementary aluminum keyboard.
Such is the ballad of Chromeo. They have always been quintessentially themselves, a hermetically sealed satellite orbiting Planet Indie, never touching down, but never leaving its gravitational pull. "The idea for us was always recontextualizing things," Dave says. With White Women, the band may just recontextualize themselves as contemporaries with the legends they pay homage to.
Drew Millard's funk is more Jerry Seinfeld than George Costanza. He's on Twitter - @drewmillard