Superchunk Hates Music
We interrupted Mac McCaughan's family vacation in the mountains to talk about the awesomeness of the Misfits, going hardcore, and whether or not his favorite hockey team has a chance this season.
When Superchunk returned in 2010 with a brand new album after a nine-year hiatus, it wasn't big money offers or the result of members burying the hatchet that brought them back together like it often is for countless other band; they came back simply because they missed rock 'n' roll. When you're operating one of the most successful indie labels in the world—Mac McCaughan and Laura Balance co-founded and operate Merge Records—you tend to get a little busy. When you're responsible for releasing records by Arcade Fire, Spoon, Destroyer, She & Him, and The Mountain Goats (among others), you're entitled to a break. And so after a lengthy hiatus, Mac, Laura, Jim Wilbur, and Jon Wurster got back into the game and released Majesty Shredding, an album so good the music even outshined its rad title.
The album was so well-received that it inspired them to keep going. And though some of us would have preferred an album in a shorter timespan than three years, Superchunk now have a tenth album, which they peculiarly named I Hate Music. No, it's not some Moby-style, grand declaration about the sad state of music. It's simply a lyric from "Me and You and Jackie Mittoo" that sounded good as a title (though Mac has a good explanation for why they chose it). If anything, this is an album about the complete opposite: "It's love of life, love of living, love of people, and yeah, love of music," says the label. It's also a testament to the band's reliability; Superchunk have never released a stinker.
I interrupted Mac McCaughan's family vacation in the mountains to talk about hating music, the awesomeness of the Misfits, going hardcore, and whether or not his favorite hockey team has a chance this season.
Noisey: I've been a Superchunk fan for 20 years and just realized your real first name is Ralph!
Mac McCaughan: Yes. It's the same name as my dad. No one's ever called me that except a teacher on the first day of school. When I was born, my parents called me "Mac" to avoid confusion with my dad.
So where did this new album title, I Hate Music, come from?
Well, it's the first line in one of the songs ["Me & You & Jackie Mittoo"]. And when we were trying to come up with a title for the record, which was pretty much done, I kind of just went through and pulled out different lyrics. I made a list of possible album titles. Once I Hate Music was on there, it was hard to go in a different direction, because it's such an attention-grabber. We questioned it a little because it's the name of a Replacements song, which Jon and I really like, and I knew that when I wrote the lyric, but once that was on the list, it was hard to ignore. Coming up with an album title is hard because you don't want to be too specific, because then people will think it's about "this" or sound like "this." You also don't want to be so vague that it's meaningless. So we put a lot of thought into it, and I think we came up with a good one. It grabs your attention but doesn't give too much away. It kinda just makes you go, "Why would someone name their album that?" [Laughs]
What music do you hate?
There's not one genre of music that I hate, but I guess that line of the song describes that feeling where… people who have made music the center of their life like I have, you can still have that feeling at times. Maybe if you're just inundated with so much music that isn't very good and want to get away from all music, or this idea that at a certain point in your life where your girlfriend breaks up with you or you hate your job, music can be a refuge or change your mood or solve your problem, there is a record that can help you get out of that funk. That song is kind of talking about how, as you get older, your life is more complicated and stressful to the point where that doesn't work anymore. Obviously, I don't hate music—it's more of a passing feeling. But even if that's just a passing feeling, if you've gone your whole life without ever having that feeling, it's one that you should think about. Like, what do you when your favorite records, in some moments, don't do what they used to do?
How was making this record different from Majesty Shredding? Was there less pressure on you because you had put out that last record and saw that your fans were still there?
Yeah… Well, it's weird, because there wasn't much pressure when Majesty came out simply because I don't think a lot of people were expecting anything or us to even make a record period. I guess there was more pressure with this one, because we were trying to follow up a record that was well-received. People seemed to like Majesty Shredding, and our fans were excited that we'd actually made a record and that it was actually good. So then the pressure was "Do we do it again, or do we just accept that it worked out well?" But it was really to us that we figured out a way to work in terms of recording with everyone's schedule, and make a record everyone was happy with, and tour where we didn't want to kill ourselves at the end of it. The experience was very encouraging and led to us… it's been three years, so I wouldn't say we rushed out another record, but I certainly started working on songs once we finished touring.
I think the new album is awesome, but that's what I always say when people ask me what I think of a Superchunk album. You guys are one of the most consistent bands I can think of.
I appreciate that, it's very nice. But there are certainly fans who have favorite records and don't like other records of ours. It's a good policy to never read comments on any site. If someone posts the single from the new record and there's a comments section, people will write, "I never heard of this band back in the '90s and I still don't like them." Or something like, "They'd be good if the guy could sing." So, you can't really cater to people's tastes when you're making your own record. You have to do what works for you, which is what we've always done and gained fans along the way.
Consistency is a double-edged sword. You don't want to be boring, like, "Oh, another Superchunk record! I like it like the other ones." You want to do something that is surprising to the person making the record and also the person buying the record. They may like it even if it sounds like one of your other records, but you don't want to rely on that. You want to change things and an element of surprise is important in a song or album because it keeps you coming back to that. Otherwise, someone can be like, "Oh, if it's like these other two records that I have, I guess I don't need this one. It's good, but I don't need it." To me, it's more interesting to write a song or a record where, halfway through, something interesting happens, even if it seems small, it still makes someone want to hear it again.
That song for me on I Hate Music is "Staying Home." What made you go all hardcore on that track? Since you guys often cover old punk songs, would you guys ever consider doing something like that?
Well, it's interesting, because I think a whole album of those songs might be too much of the same thing, but since the band started we've done hardcore covers in our sets. Like, we used to cover Government Issue's "Blending In," which we recorded when we did On the Mouth. So we've always done that, and did even more on the Majesty Shredding tour. I think part of the idea was that it's fun to cover these songs, but if it's so fun to play music with that kind of energy, so why not write one of our own? But I didn't want it to just be, "Oh this is funny, they have a fast song on the record. It's like a hardcore song!" I wanted it to be a real song that's good. The songs that we cover by Negative Approach or Misfits are really good songs—they're not just genre exercises—so I wanted to write a really good song in that style.
You mentioned the Misfits. You have covered a bunch of Misfits songs over time. I think they were the greatest punk band. What is it that you love so much about their music?
I just remember the first Misfits record I got, and they're like templates of songs because they're so catchy. A song like "Hybrid Moments" or "Children in Heat," it's like this crazy combination of total goofiness and stupidity with just awesomely catchy choruses and riffs. It's just so timeless. A song like that is so great to cover because it can sound like it's from any time.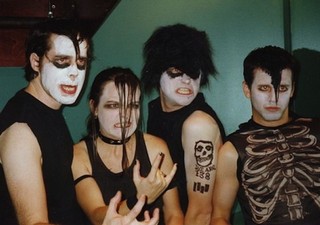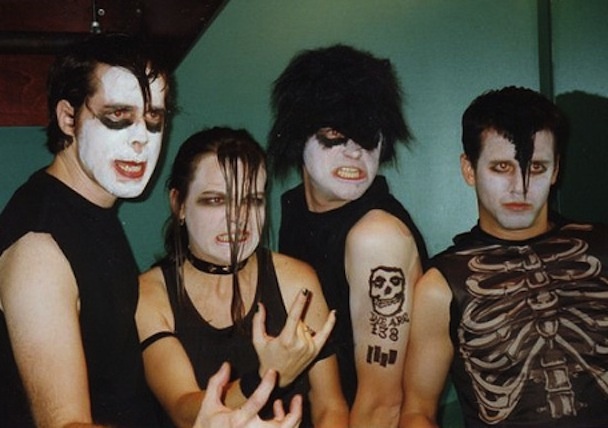 That old photo of Superchunk dressed up as the Misfits is so great.
We were the Misfits for Halloween at a show we did at the 9:30 Club. It's funny because I put it up as our Twitter avatar just for Halloween, and then everyone was telling us, "That's the best picture of you guys!" So I've never taken it down.
I always hoped Superchunk would do a Misfits covers record, though I guess you've released some. Two of my favorite records I own are Ted Leo's TV Casualty seven-inch and David Pajo's Scream With Me, where he does these hushed acoustic Misfits covers.
Oh, I don't know about that. I really like Dave Pajo's records. I really want to get that.
Have you ever met Glenn Danzig?
No, I never have. I'm fine with keeping my distance and just enjoying the records. [Laughs]
Let me ask you about Laura Ballance deciding not to tour this record. How has it been playing without her?
We've only done one so far—a show in Calgary. And y'know, it's obviously weird not having Laura on stage with us, but in terms of her own hearing health, I think she understood while we were making the record, and she and I owning a record label, that you have to tour to support that. We have such a good time playing shows, that we just had to figure out a way to deal with it now. I just feel that we're lucky to have Jason, someone who can play bass for us. He toured with Jon when they were in both Bob Mould and Bob Pollard's bands. So he already had a good rapport. Jason's amazing to play with. We sent him a ton of songs to learn, and had one rehearsal before that Calgary show and it went really well.
Were you guys affected by that huge flood they had in Calgary during Sled Island?
Yeah. Our show got moved but not canceled. We happened to play on the Thursday, when everyone else was playing on the weekend and had their shows canceled. I feel like we got lucky and just barely got out of there. It was a pretty crazy scene flooding wise, which I'm sure you saw pictures of. I felt really bad for the festival organizers, who were super helpful with us through the whole thing while they were dealing with a lot of shit.
You guys played a venue called Flames Central, and I know you're a huge hockey fan. Was that exciting for you?
I was pretty psyched that we got moved there because it was so weird! This place is an old theater that sounds good, but there are all these giant statues of old Flames players.
Lanny McDonald?
I can't remember who exactly they were, but there was also all of these TVs and Flames stuff everywhere—a giant Flames logo on the ceiling. It's pretty wild. I think everyone else in the band was like, "What the fuck?" But I was pretty into it.
How do you feel about your Caroline Hurricanes this season?
I don't know. I felt like last season, if it was a full season, we may have been able to get into the hunt, but Cam Ward, the goalie, is such a key part of the team. Him going out for half the season was like, what are you gonna do? You feel bad watching the other goalie struggle, but they're not meant to be doing that every night. And they didn't have a great defense, so if they don't have Cam, they lose games. It was pretty frustrating, but they have a lot of good young players and obviously, I don't have unrealistic hopes, but it would be nice to get to the playoffs.
Next year is the band's 25th anniversary. Do you have anything special planned?
Yeah, we've started talking about the 25-year celebration already, and we're still formulating what shape it will take, but it's definitely something we're thinking about.
Like, maybe playing an album from front to back?
Probably not. I've thought about doing it for fun but not announcing it. At the same time, on every record there are a few songs where we'd be saying, "Holy shit, we've never played that song. How do I learn that song?" So I don't think that's on the horizon for us. I much prefer seeing a band play a set where they mix it up, which is what we've always done.
So you're a dad. What do your kids think of your music?
I think that they like it, but they aren't particularly interested in it. They like music in general, but I think if you asked my daughter which record she'd rather listen to, Majesty Shredding or Adele's 21, she'd pick Adele. But they're supportive, they're nice about it. I just think they feel it's more like, "That's what dad does." It's not exotic to them.
Finally, and this is purely a selfish question, but how on earth would I track down the "Teenage Rockin' Road Trip" shirt you guys sold in the mid-90s?
Wow, that's a good question. Y'know, we've been making some of the old shirts again recently because we still work with our same t-shirt people, Tannisroot in Raleigh. They have the screens for those old designs, some of which you can buy on the Merge site, so maybe we'll do one of those.
I really hope you mean it.
That shirt was pretty popular and very different from our other shirts, so it's a good idea. We should get back into printing that one. Or maybe we should get Wurster to design a new one since he did the "Teenage Rockin' Road Trip."