Hell Fuck Yeah: Violent Soho Return to America to Party Harder Than Ever
Listen to their album 'Hungry Ghost' as it finally makes its way to the US.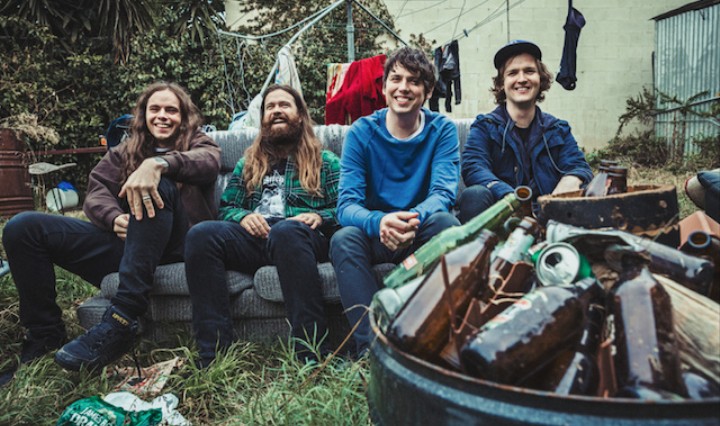 Let Violent Soho be a lesson to you: Party hard and never give up.
Four years years ago, the Brisbane band seemed like they were in prime position to take over the world. Their second album was just released in the United States on Thurston Moore's record label, Ecstatic Peace, they relocated to Brooklyn, NY, and toured the country with their musical heroes in bands like Dinosaur Jr., Built to Spill, and The Bronx. Everything seemed to be on the right track for the Australia four-piece. And then, well, nothing really happened.
Violent Soho's time in America took its toll. They got burned out on over-touring and returned to Australia questioning their desire to go on as a band. But back at home, they regrouped, reprioritized, and it paid off. Now, armed with a huge and rabid Australian fanbase, spawned partly from the success of their second album which earned a nomination for an ARIA Music Award (sort of like Australia's equivalent to a Grammy), Violent Soho are making their triumphant return to the United States. But they're smarter this time around and have a new label home at SideOneDummy. Their album Hungry Ghost, which was released in September 2013 in Australia—and was recently certified gold in there—is now seeing a proper release in America.
We recently caught up with singer/vocalist James Tidswell on the phone across a horrible time difference. Stream Hungry Ghost below and pre-order it here.
Noisey: Good morning. I don't know if you saw, but while you were sleeping, Mark Hoppus tweeted about your band.
James Tidswell: Yeah, I was up at 7:30 heading to the skate park, and was going through my tweets, and it was pretty crazy that everyone linked it.
It feels like you're finally getting an audience here in the US, which was kind of hard for you the first go around, yeah?
Yeah, I've got mates and stuff that live over there and they were saying more people know of us since we've left. But yeah, someone like Mark Hoppus even hearing our band is amazing. "Dammit" was the first thing I've ever learned on guitar. They've always been a massive band here in Australia, and I've been to every single show. I went and saw them on support for Dude Ranch when I was 16.
How does it feel finally having a moment here in the United States? Because you tried that a few years ago and it was a tough go around, right?
I mean, it wasn't tough, we just didn't know what it was all about. We were just playing music and weren't even doing press releases and all that stuff in Australia, and next minute we're in America at these big radio rock festivals. It was just this massive jump. We really enjoyed it and loved being in America, but we weren't ready. After 200-something shows in a year, we weren't ready for that. In Australia, you can pretty much only do five shows in a row, and then take off a few months. So it's a big difference after three weeks playing back-to-back shows every night, coming in and playing with The Bronx for three weeks straight. I think we had one Sunday off in three weeks, so it was a massive change for us.
And you guys caught fire—I don't want to say quickly because you've been around for a while—but it did seem like you did blow up in Australia. What do you attribute that to?
It definitely did happen, and I can remember the moment that we realized it. When we walked out at stage at a festival and we were playing two hours earlier than what we played three years before, so we were expecting a very small crowd but there were thousands of people and they knew all the words. I don't know, honestly we just kept our heads down and kept making the music we wanted to. People wanted to say we wanted to do a particular sound or thing, and all of a sudden we kept to ourselves and it all came together. I can't really attribute it to much more than not listening others... or try to do what others were doing.
And now you got hooked up with SideOneDummy. Are you guys coming back to tour at all?
Yeah, I'd say so. We want to, we're just making sure it's going to be right. We don't want to play in-stores at Best Buy to try and sell CDs. We just don't have that in is. Just making sure it's all going to be done the way we want to, at least touring with bands we'd like to tour with. Which is always quite hard, finding bands you like that are willing to put you on their shows.
Do you stay up to date on the music scene in the States?
I guess so? It's pretty big here in Australia. I just love it all but punk rock's pretty big in Australia. I think it always has been since Fat Wreck Chords and all that sort of stuff and it's just kept going. At the moment, I'm into Solids from Canada, I think they're really cool and a bit of psyche-rock as well, which seems to be big in San Diego. One of my favorite bands is Drive Like Jehu.
You guys have seem to really blown up in Australia, but why is it so important that a band in Australia have a presence in the States? I mean, obviously, fuck yeah, America rules but why is it necessary to be here?
I don't know, man, it's interesting. I'd simply say because growing up in Australia, especially Brisbane where it's very Americanized, you think there's a general alternative culture over there. Here, alternative culture is more mainstream than what it is in America, which isn't necessarily a good thing, but it's not a buzz or a vibe or a scene. A good way to describe it is if you've seen All This Mayhem, with Tas and Ben Pappas, when they were like, 16, they had to head over to the States even though they were sponsored here. But they wanted to go over there because that's where Danny Way is from and all this kind of stuff. It's the same thing playing music. You want to go over and play in the towns and the bars and with the bands you admire. Not to say you don't admire them here in Australia, but again, you can only play five shows here and that's it. Even though it's a massive country, it's pretty hard to get around and there's not a lot of people here.
I love the video for "Covered in Chrome."
[Laughs] Yeah, we're stoked.
I know it's one shot, how many takes did it take to get right?
We did four. And then there was no sun. The one before that one I reckon had better lighting, but the clothesline didn't light on fire as well. So we doused the clothes with lighter fluid and metho and all that kind of stuff and it obviously went up way better.
You seem like a band that enjoys a good party.
Yeah, that's what we do here in Australia. [Laughs] Backyard barbies and parties, and they lead to that sort of mayhem, I guess.
How do Australian parties differ from American parties?
Not a lot, really. It seems Australians are looser from the start, but at any American party we've gone to, it's ended up pretty gnarly.
A couple of weeks ago, I wrote about this kid who somebody spotted in Australia at a Trash Talk show who was pissing in his own mouth, and then VICE did a story about how that's a thing in Australia, I think it's called bubbling or something. Is that a real thing in Australia—people pissing in their own mouths?
[Laughs] Yeah, it is, I guess. It's called doing a bubbler. I actually did one when we were on tour in America, but I got paid 60 bucks and we were so poor so I was stoked. I did it outside a Steak 'n Shake in Indiana or something, and we walked outside and somehow it came up and they paid me 55 bucks, and everyone in my band chipped in. And I pissed in my—I did a bubbler. I guess it is a thing, it's been going on for a while now. Yeah that's awesome. Actually, I saw Black Lips' DVD from like, 2007—it was a bootleg copy—and the guitarist did it on stage, pissed in his mouth, and then sprayed it all over the camera. That was the first time I ever saw of it, so to be honest, it may be a thing here, but that's what I mean—alternative in America seems to filter through to become the mainstream here in Australia. So Black Lips, alternative culture over there, whereas over here, it's a thing we're now known for—pissing in our mouths.
What are you most looking forward to when you get back to the States?
Taking my time and going to skate parks. And having a few more days off rather than playing back-to-back shows. Or finishing up tour and spending some time there, actually getting to cruise around. But it's always awesome getting to play in America. But also the weed there, definitely. California is the mecca, man. So that. In fact, definitely that. One hundred percent.
What if Mark Hoppus asks you to go on tour with Blink-182?
[Laughs] Dude, I wouldn't believe it. That would be crazy. I can't even explain it, they're like, bigger than the Foo Fighters here in Australia and we just grew up with them. They've been around in this country forever, they have mega amounts of support. I guess it's because they don't take themselves seriously.
Dan Ozzi has never been to Australia but has seen 'Crocodile Dundee' 16 times. Follow him on Twitter - @danozzi