Non Phixion's Beloved Debut 'The Future Is Now' Just Got the Badass Box Set It Deserves
They pioneered dope packaging, and now they're pioneering it again.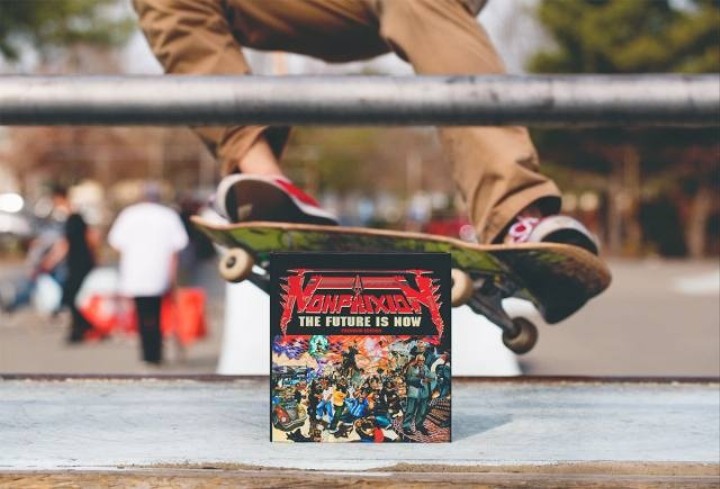 A dozen years ago, a quartet of light-on-the-melanin New Yorkers—emcees ILL BILL, Sabac Red, and Goretex, along with DJ Eclipse—known as Non Phixion unleashed a colossal debut many consider one of hip-hop's absolute game-changers, The Future is Now. Born out of the heralded East Coast underground, the four dudes comprising Non Phixion had tricks up their sleeves most could only fantasize about. And Non Phixion fantasized a whole lot deeper than many of their supposed peers. To say Non Phixion were on another level, especially for the time, doesn't really even scratch the surface. These guys were real hip-hop, that terroristic boom-bap shit that riled listeners up with emotions potent enough to place any seemingly "normal" person on the brink of combustion.
"Back even before we started as Non Phixion, we wanted to do some different shit," Goretex tells me. "Something we hadn't heard before. We were definitely ahead of the curve to the point where people are just now starting to understand what we were doing; especially topically. Whether it was about nuclear war…paranoia…drugs…destruction... The way we had our beats, or the imagery… People are still trying to catch up to that now."
Accompanied by stellar production courtesy of the likes of DJ Premier, Pete Rock, Large Professor, Necro, and JuJu (Beatnuts), Non Phixion took the hip-hop game to the type of fantastical creative zenith that Iron Maiden brought to heavy metal. Their overflowing lyrical arsenal was chock full of twisted perspectives, and their imagery and packaging was totally distinct. Their logo was even conceived by underground Canadian metal weirdo Away (of Voivod fame).
"Hip-hop packaging in comparison to metal and punk and hardcore—all the rock-oriented stuff always beat out the hip-hop stuff, and I wanted Non Phixion to beat THAT stuff," ILL BILL recalls. "I wanted to out-cool the metal and punk packaging."
Now, 12 years later, The Future is Now is getting an excellently constructed new box set to beat the stuff that beat the stuff that beat the other stuff. Premiere online boutique label Get on Down has been helping a number of rap greats like Raekwon, Nas, BDP, and Kool G Rap get some newfangled recognition with high-quality re-issues. They're handling the Non Phixion re-release, and the package for The Future is Now might be the best one they've put together yet.
Compiled and constructed in full collaboration with the group, there are two different versions of the box, making up a total print run of 1,000 worldwide. Along with two CDs containing the original album, vocals, and instrumentals, the boxes include 7-inch singles of "Black Helicopters," "Drug Music," and "Rock Stars" with the original 12-inch artwork. There's also a full reproduction of the group's press-only sampler cassette from 2000 (with early singles, demos, freestyles and promos), The Past, The Present and The Future Is Now, as well as expanded artwork from Mear One's original album visuals. The liner notes come in the form of an 80-page book featuring dozens of group-sourced photos and archival images, plus in-depth interviews with all group members by author Chris Faraone. The ultra-limited edition version of 200 uses all colored vinyl instead of black vinyl and includes a fourth 7-inch, "I Shot Reagan" (previously released on black vinyl by Get On Down for Record Store Day 2013).
"As a group, we left prematurely at the pinnacle of our career," Sabac Red says of the release. "We think about our fans. We know for a fact that folks want (more) stuff, and we know we might not have given them all of the albums they wanted, so why not give them something extra for one of their favorite albums? Any fan of any artist—whether it be Non Phixion or whoever—deserves that."
"As consumers and collectors, we love packaging, so it was like 'what can we do to create the most exquisite piece of product on the market that our fans will love,'" DJ Eclipse says. "It serves the need of wanting to own something that's special, and also give the fans something that's truly worth spending their money on."
The result is kid-in-a-candy-store-level great and an absolute must for any fan. It's actually the future, and this box set is available now.
Howie Abrams loves real hip-hop. He's on Twitter - @hownice
--
Want more sort-of old school hip-hop? Check these out:
Pandora's Bag: Rap Snacks Are Proof That Time Is a Flat Circle
Things That Are More Real Hip-Hop than Papoose's New Video for "Real Hip-Hop"