Time to Party with Koo Koo Kanga Roo and Their New Album about Pizza, Cake, and Fanny Packs
Listen to 'Whoopty Whoop' and check out our interview with the duo where they ask you, the readers, to rank their butts.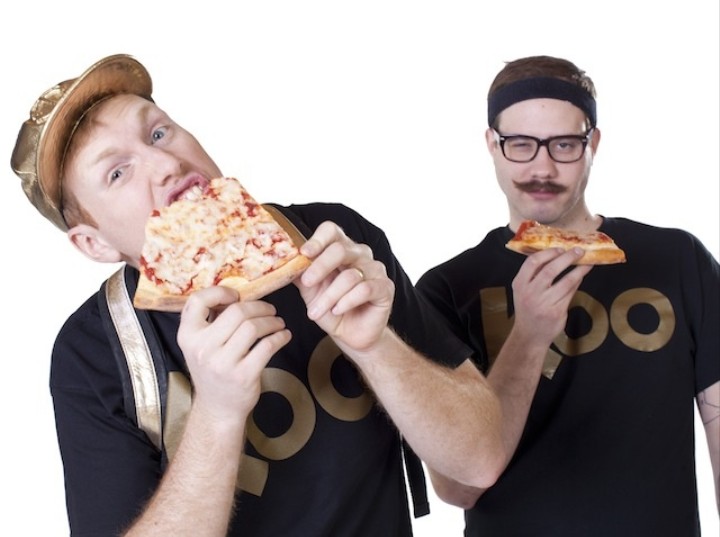 Koo Koo Kanga Roo will make a fan out of you. It might be a hard sell at first if you're hung up on asking yourself why two grown men would be playing children's songs for adults. But sooner or later, your skepticism will wash away as you're won over by the overwhelming positive vibes that come from singing and dancing along to songs about dinosaurs, cat parties, and peanut butter and jelly sandwiches.
On their new album, Whoopty Whoop, the loveable Minnesota duo are back with ten more reasons to stop questioning and start dancing. With songs about pizza, fanny packs, and cake, they prove that they are the undisputed kings of having a good time.

You can instantly improve your day by listening to Whoopty Whoop below. It's out soon from Asian Man Records. We recently caught up with Bryan and Neil about their new album and their butts, which they would like you to rate...
Noisey: Hi, guys! What are you guys doing today?
Bryan: Drove back from Winona, MN where we played Midwest Music Fest in a tent. Headed to an elementary school today to play a show in a cafeteria. You?
Just hanging around, listening to your new album.
Bryan: That's sad. There are better things to do in life.
Like what?
Neil: Like climbing a mountain or doing some sit-ups. I think the best idea is to listen to the new album while you climb the mountain.
I'll try. There are a lot of songs about food on the album—cake, juice, and of course, pizza. Is pizza/juice/cake your ultimate meal?
Neil: Totally. You can't go wrong nutritionally with that meal right there. When we first started playing shows, we would have cake eating contests right in the middle of the set—drop everything and pick people from the crowd to compete against us. Then we would dance more.
How did that go?
Neil: Theres a reason we stopped and that reason is vomit.
You also say on the album that all you eat is pizza. What are the physical repercussions of eating nothing but pizza?
Neil: You feel great for the vast majority of the day, invincible almost. All of this is followed by a huge crash, where you feel terrible, but that can be quickly remedied by more pizza.
Is there such a thing as too much pizza?
Neil: I can't see a situation where too much pizza is a real problem.
I also want to talk about fanny packs.
Bryan: What would you like to know?
You're very pro-fanny pack on the new album.
Bryan: I was a long time backpack guy. Thought that would never change, but since we wear sweatpants so much these days, I made the fanny pack switch when we wrote the song. I am now a daily fanny pack-wearing man in the most non-ironic way. Their functionality is incredible.
What's in your fanny pack right now?
Neil: Bus pass, Chapstick, chocolate gold coins, real gold coins, a banana, Rubix cube. not much.
Bryan: I have five dollars for merch money, ear plugs, Pokemon cards, Star Wars cards (first generation, no Clone crap), clementines, iPod nano with the new One Direction album, and a small bag of protein powder.
Do you worry that taking a hard political stance on fanny packs will alienate some of your fans?
Neil: Yeah, we have lots of fans who might choose to take a strong "anti-fanny" stance, but the song serves to ease the tension there. If you don't understand the wonders of the fanny pack, we're here to help guide you down a new path.
You guys get a lot of people in general who don't really "get" what you're doing. What do you say to them?
Neil: We never have to say anything. In most situations, they are surrounded by people who do "get" it and those people are smiling and having a great time.
I've seen you win skeptical audiences over before. How do you do that?
Neil: So, if that is happening all around you and you still are checked out, that's your decision. One time, we played a show and someone in the crowd was giving us the finger the entire set. So we just let everyone else in the room know that this guy needed a hug. He had 200 people hugging him after that.
How'd that go over?
Neil: He wasn't happy. But everyone else enjoyed it! So most audiences we play in front of, for the first time at least, are skeptical audiences. It usually takes a few songs for people to understand what is happening and get acclimated. We just put as much energy and effort into the show as possible, I think when people see that, it makes it easier for them to get into the show. We're going to be the most ridiculous looking dudes in the room.
So what else is in store for you guys in the near future?
Bryan: Tour, tour, tour, Elementary school tour, trying our hardest to get to the UK, gonna do three more sing-a-long books, working on the second workout DVD, trying to create the world's most amazing activity book, and making TV pilots.
That sounds like a lot.
Bryan: We love what we do and really want to spread it. Sometimes it takes a book for you to get into our band.
Here's my last question and I'm hesitant to even ask for fear that it splits the band up. Who has the nicest butt in the band?
Bryan: You choose or do a readers poll. We will send pictures. A booty poll.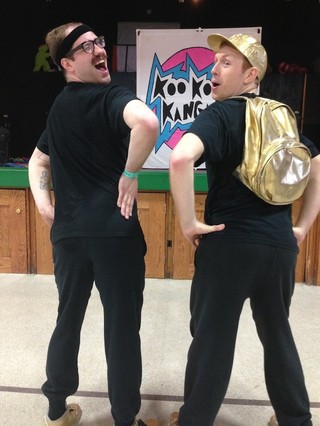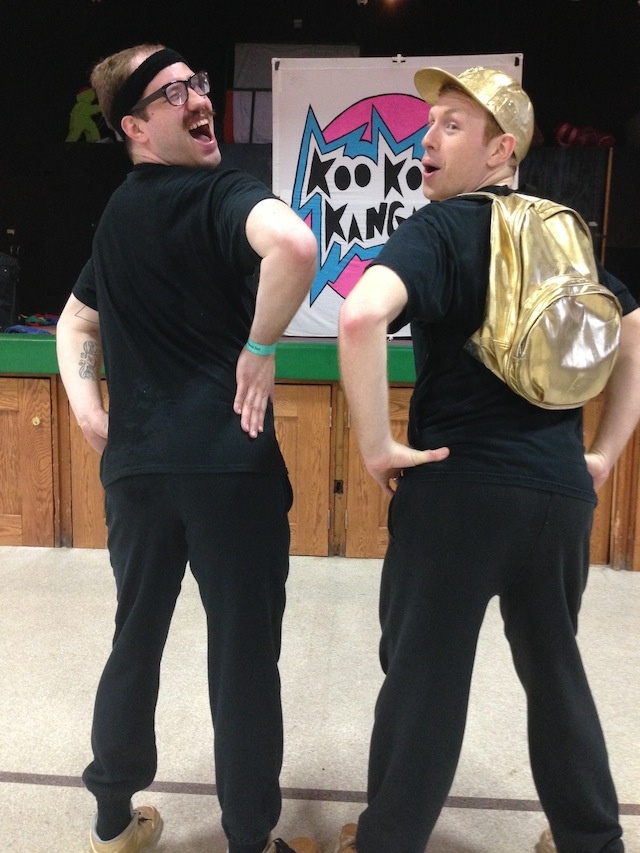 Go ahead, internet, cast your vote to the guys on Twitter. (Neil on the left. Bryan on the right.)
Also check out this wonderful story about Koo Koo Kanga Roo playing in a basement with a bunch of weirdos.