Gold Panda Knows a Thing or Two About Penis Pumps and Other Things
We talked to the London electronic composer about his rad new record, being bullied at school and being a virgin rapping about sex.
Before we Skype, Gold Panda fires off an IM: "I'm just making a cup of tea." The London-born musician currently lives in Berlin and according to Derwin (his real name!), the milk in Germany makes the tea go funny. Bummer. But at least the food is cheap and really, really good. I tell him I'm surprised he hasn't turned into a fat man. "Well, I'm getting there." (The visual on Skype suggests he is not.) As Gold Panda, Derwin makes record-crackled, cut-and-paste electronica that manages to be both breezy and hypnotically happy-sad. Half of Where You Live—the follow-up to 2010's Lucky Shiner—has a similarly dusty, just discovered vibe to it, with plenty of deftly layered samples and a strong Asian influence pulling through. It's out on June 11, on Ghostly International, and you can listen to his new track, "Brazil," below. After the tea talk, we discussed being bullied at school, penis pumps, and being a virgin rapping about sex. The usual.
You spent some time as an English teacher in Japan. Were you any good at it?
I was shit, which I'm glad about because if I'd been good then I'd have ended up a frustrated English teacher who can't get a Western girlfriend, living in Japan watching pervy animation, and not wanting to go back. So I was saved from that life by my hobby, luckily.
Do you think the Japanese have a particularly fetishistic relationship with sex?
I think there's a lot of pervy people in the world, and Germans aren't much better! The Japanese are just less shy about it in popular culture, whereas we [British people] tend not to talk about our perversions. In Japan it comes out in Manga and anime and TV shows. There was this weird show I saw once where people would throw girls, like a karate kind of throw. It was pre-recorded, so they would pause it and the panel would have to guess what color knickers [underwear] the girls had on before they were thrown. That would never be acceptable in England. But there it's tongue-in-cheek. We see it as a perverted, but I think it's less serious than that. It's just different cultures dealing with sex and stuff.
Would you ever move back?
I'd like to collaborate with a Japanese rapper, or a South Korean rapper. Those countries are so focused on J-rap and K-pop, and all this stuff that's so fake. There must be some underground artists who are doing some real weird stuff. Especially young people who are into hip-hop, there must be a definite reaction to that.
What's the strangest bit of field recording on this new record?
It's not really strange, but on "The Most Liveable City", my girlfriend—who's Peruvian—was in Peru, and I was talking to her on Skype at the same time as watching a program about the Peruvian jungle. I recorded the sound of the jungle off the TV and then her on Skype."
You also have a new song called "My Father In Hong Kong In 1961." Was that title taken from a picture?
He was there in 1961 and we regularly get drunk and talk about Asia. I've never been there, so I really wanna go. I wanted to make a track that was almost a stereotypical. You know how you get these documentaries in the 90s and it'd be about something like, people who work ridiculous hours in Tokyo. The soundtrack would always be this really bad, stereotypical Asian scale, you know? Just a typical Asian thing done by a Westerner. So I wanted to make it bad like that because I thought that music was good.
What was your dad doing out there?
He was doing service for the army, which just means drinking.
What was it like doing a show in the Philippines?
I ended up playing on a beach in a thunderstorm. The table was made of bamboo and the roof was made of big leaves. Eventually the table got wet and I had to move to another table and my back was to the audience. There was about 50 people there and I'd say 20 of them were lady boys in bikinis. They had muscular chests because they don't have the money to have implants or whatever. I don't want to know what they do with the rest of their stuff. Tuck it in somewhere, I guess.
What's the most surreal experience you've had since releasing Lucky Shiner?
There's so many because I've come so far in what I'm doing. Before this I was working in a sex shop in Soho [London].
What were your top sellers there?
A leopard print dildo and anything that helps enlarge your penis size just flies out.
The penis pump is a total myth though, right?
They are because if they actually worked people would just be wandering around with massive penises. The amount of men that worry about it is pretty sad. They'll do anything. They come in and buy this cream and then you go, "Hey man, you know you're buying this cream? It's not gonna work without the pump, you've gotta get the pump as well. And the pill."
So you were upselling them? Penis enlargement fraud!
Yeah. You make them buy the set. Some of them are hilarious: they've got a danger release valve. It's brilliant. Always a fun job. And no one was really pervy; just normal people paying bills and having a job. They were good fun sometimes too. That was a low point! Now I've done shows with Four Tet, been round the world a bunch of times, and done all these festivals, so to name one thing that's been the best and one that's been the worst is really hard because it just blurs together.
You said that when you were a kid you were bullied at school. What were you picked on for?
I went to school in South London, which wasn't a good place in the late 80s and mid-90s. To the point where coming home from secondary school I'd have to change my route so I wouldn't get mugged by older kids. Then at school, people you think are your friends are not really your friends. You'd hang out with someone who was a bit of a bully so you wouldn't get bullied. It was not a good time. Because Peckham [South London] is now becoming gentrified, the people who move in don't see what you saw growing up, they think, "Oh, it's fine." But it wasn't, and it probably still isn't in certain places. I basically got the same shit as everyone else, except I was really short and really wimpy and I'd just cry rather than fight back.
Was it better when you moved to Chelmsford in Essex?
Yeah. People weren't throwing chairs at teachers or stabbing each other. It was way better! But I missed the culture of London. I went from having friends who were from Somalia, Nigeria, and Jamaica, to having all white friends. And at that time Britpop was big. I moved from listening to like Choice FM and reggae and dancehall, to Chelmsford where people were listening to Pulp and Blur. I'd never heard any of that stuff. Weird experiences give you these things that in the end all make sense.
Was the music you made prior to Gold Panda electronic as well?
Yeah, I couldn't play any instruments and growing up in London, hearing jungle on the radio, I started getting interested in sampled music and learning that a drum & bass break would come from a funk record. My uncle was making music and he gave me a sampler and an Atari computer that I still use. I started making tunes sampling my dad's records because I didn't have anything else to sample. Eventually I met people who were also into hip-hop in Chelmsford. I learned how to make beats on hardware and then I'd get annoyed that I couldn't really afford any of the rare records which had all the cool samples. I also realized I couldn't rap even if I wanted to.
What did you used to rap about?
Mainly about sex, because when you're a teenager, it's all about fucking, killing, and weed. At the time I was a virgin, so going back and listening to those songs is hilarious. There's like 100 tunes with me and my mates rapping on it. We used to get a record and take a hip-hop beat, and loop it on a tape deck to have a four minute track with just that loop. You'd play that off the hi-fi, then record on a portable stereo, standing next to the speaker and rap all live and in one take. It was so much fun.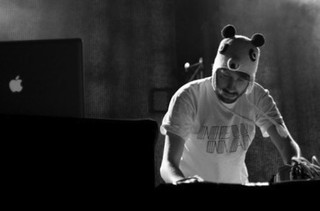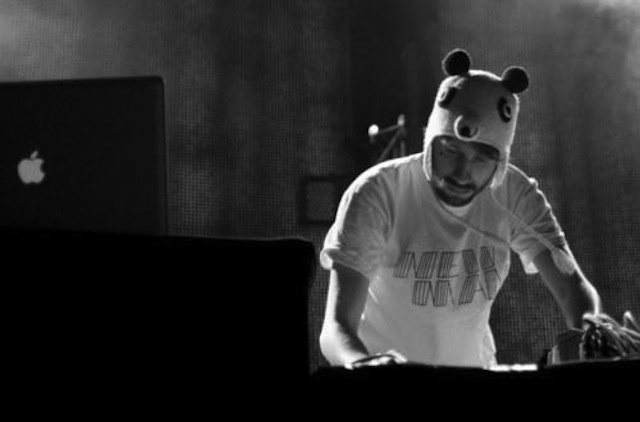 Do you regret wearing a panda hat onstage?
Fucking yes! I did wanna be taken seriously and obviously if I'm gonna wear a knitted panda hat onstage, no one is taking me seriously! So I stopped that pretty quick. People still say to me [adopts New Jersey accent], "Yo dude, that was sick man, but you know what you should get? A Gold Panda mask! That'd be dope!" Are you fucking mad? It'd be shit!
Gold Panda Tour Dates
6/1 - Neustrelitz - Immergut Festival
6/12 - London - The Electric, Brixton
6/13 - Barcelona - Sonar Festival
6/20 - Paris - La Trabendo
6/21 - Amsterdam - Melkweg
6/22 - Berlin - Fetsaal Kreuzberg
6/28 - Somerset - Glastonbury Festival
8/12 - Portugal - Optimus Alive Festival
8/16 - Padova - Radar Festival
8/18 - Brussels - Dour Festival
8/19 - London - Lovebox Festival
8/20 - Ireland - Longitude Festival
8/8 - Rees-Haldern, Haldern Pop Festival
8/17 - Yorkshire, Beacons Festival
9/11 - Atlanta, GA - The Basement
9/12 - New Orleans, LA - Hi Ho Lounge
9/13 - Dallas, TX - Loft, Palladium Ballroom
9/14 - Austin, TX - The Mohawk
9/17 - Tucson, AZ - Club Congress
9/18 - Phoenix, AZ - The Crescent Ballroom
9/19 - San Diego, CA- Casbah
9/20 - Los Angeles, CA - The Fonda Theater
9/21 - San Francisco, CA - The Independent
9/22 - Arcata, CA - Humboldt State University, Kate Buchanan Room
9/25 - Eugene, OR - WOW Hall
9/26 - Portland, OR - Branx
9/27 - Vancouver, BC - Electric Owl
9/28 - Seattle, WA - Neumo's (Decibel Festival)
9/29 - Boise, ID - Reef
10/1- Salt Lake City, UT - Urban Lounge
10/2 - Denver, CO - Bluebird Theater
10/3 - Lawrence, KS - Granada Theatre
10/4 - Minneapolis, MN - Triple Rock Social Club
10/5 - Chicago, IL - Metro
10/6 - Ann Arbor, MI - Blind Pig
10/8 - Toronto, ON - Lee's Palace
10/9 - Montreal, QC - S.A.T.
10/10 - Cambridge, MA - The Sinclair
10/11 - New York, NY - Webster Hall
10/12 - Washington, DC - Black Cat
10/13 - Philadelphia, PA - Union Transfer
Kim is trying to convince Gold Panda to release his post-pubescent rap tapes. She's on Twitter - @theKTB.