A Rap Beef Is Threatening to Tear Apart Western Canada
We talked to Madchild and Snak the Ripper about their explosive feud, and got Pimpton, Tre Nyce, and Organik to weigh in.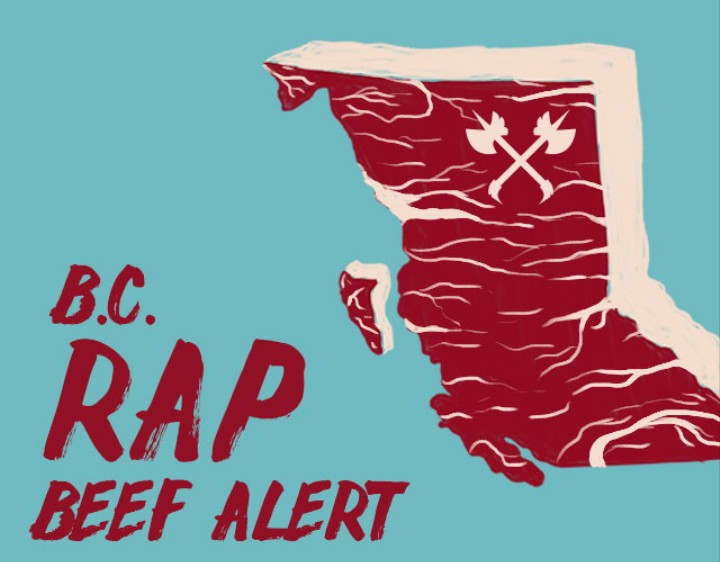 This story originally appeared on Noisey Canada.
A rap beef began brewing on Canada's west coast over the Halloween weekend between British Columbia-based rappers Snak the Ripper and Madchild. The internet is alight with fire from both sides of Snak's collective of Stompdown Killaz (SDK) and Madchild's Battleaxe Warriors movements.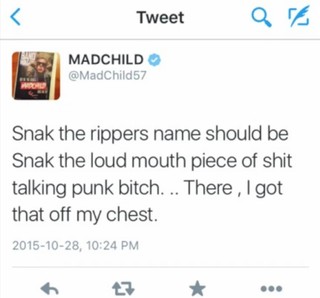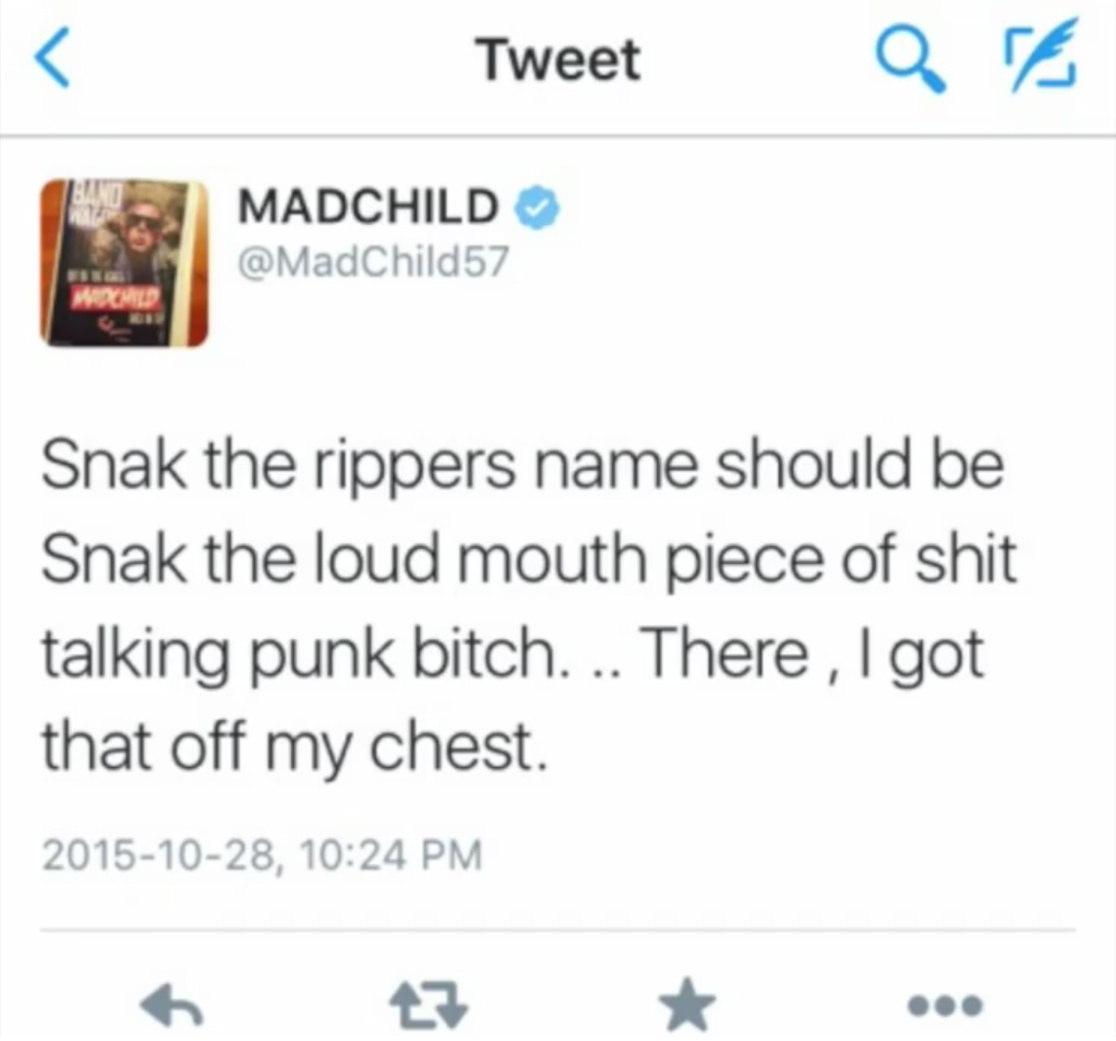 A tweet from Madchild was the alleged spark that started it all. Two days after the Swollen Member posted the since-deleted tweet, Snak dropped the burner diss track "Assisted Suicide," complete with a video. In his verses, Snak declares Madchild—real name Shane Bunting—is a relapsed drug addict who takes advantage of artists and fans. Most damning of all Snak says Madchild is 45-years-old.
This is not a feud like what we saw between Drake and Meek Mill earlier this summer. This is personal and direct. Snak not only displays the tweet that launched the beef in his video, he also features an apparent voicemail from Madchild. In the voicemail, Madchild asks for forgiveness for his tweet. When questioned about the beef, Snak provided Noisey with a list of allegations against Madchild via email. The two met in 2011, during what he called Madchild's "drug years when he was trying to rebuild his career as a rapper." Snak says Madchild's people contacted him to join the MADE tour.
"Once the tour started this mother fucker didn't pay me a single cent I was promised, and that's when I realized guy was a total asshole. After that, I didn't say anything as I watched this guy steal fans from me and completely bite my style," claims Snak. "Don't believe me? Listen to Madchild before 2012. Then compare Madchild's style to after 2012. He was never grimey until he heard my shit. My White Dynamite album changed this mother fucker's life."
Snak claimed he kept his distance from Madchild, saying, "I kept my mouth shut to avoid conflict." He explained that conflict was difficult to avoid, since the two rappers work with the same talent buyers and in the same industry circles.
"The amount of people this guy has fucked over and owes money to is neverending. I started to really dislike this mother fucker with a passion a few months ago when I heard about him talking shit about me … Then finally, last Wednesday, in a burst of cocaine-fuelled confidence, this guy decides to tweet about me for thousands of fans to see."
Saskatchewan rapper Pimpton recently finished traveling on Madchild's Silver Tongue Devil tour this October. Pimpton can also be seen standing in the background of one of Madchild's Snak call-out videos the emcee posted on Facebook.
Pimpton wrote to Noisey about his take on the situation: "It's two grown men that have issues with each other. Either they'll handle it artistically/verbally or it will end physical. But what I know is [Snak] was also a Battleaxe Warrior up until recently. And he's sour. And now every kid and their mother is using this beef as an opportunity to make themselves relevant. Honestly me and my team [CJE are] over here laughing. We gettin' shine and haven't had to do or say shit. This is the biggest event in Canadian hip-hop of our generation. Which is funny in itself that it's headlined by two white kids from the suburbs."
Supporters, critics, and confused parents on both sides have been enjoying the bountiful beef feast that followed Snak's diss track. Since uploading, it has received over 150,000 YouTube views, but the comments on social media are perhaps the most damning for Madchild's reputation.
As Snak said, "I didn't know that so many people all around the world hated this guy so much. The response has actually been very surprising. Although the support for me has been crazy, I still get the occasional death threat from the delusional Madchild fan. But that's the internet. Everyone has an opinion and they are free to share it in the comments section. You go girl."
Madchild has been having a rough go after Snak's diss track came out on the heels of some legal troubles. According to a case filed against Madchild and the Battleaxe Warriors company, he owes the founding partner, David Waltho, up to $30,000 in purported unpaid debts. That dispute remains before the courts. Back in entertainment land, as per the Rappers' Code of Chivalry, Madchild is expected to retaliate against Snak with a diss track. As of this writing, three days later, there is still no counter diss. Madchild has opted to instead share his thoughts on social media and challenge Snak to a battle at KOTD.
The founder of King of the Dot, Organik, clarified to Noisey that both rappers reached out to him independently, but neither has been in contact with him since Saturday. However, Organik notes that he's open to hosting the battle at a KOTD event.
Madchild spoke to us on the phone from LAX during a layover on his Silver Tongue Devil tour. He said he wrote his aggressive tweet because Snak had been goading him, "pulling [him] into trap," for the last year and half. Madchild said he had been in touch with Snak multiple times by phone to "call him out" for negative comments made online and at shows about Battleaxe Warriors. According to Madchild, Snak would apologize and say he was in a "bad spot in life" when he made attacking comments. Madchild said he would forgive the other rapper. He didn't want to see Battleaxe Warriors and SDK members rival. At one particular show, about two or three months ago, Madchild claims Snak and another rapper, Merkules, said, "Fuck Baxwar" on stage. Again, Madchild said the west-coast controller for Battleaxe Warriors, Rocco Dipopolo, accepted Snak's apology for this incident.
Continued below…

Snak's offences toward Battleaxe Warriors continued, according to Madchild, ultimately prompting the tweet. As for Snak's motivation, Madchild doubted the other rapper responded to the tweet with a diss track for the love of hip-hop. "It's a complete and total business tactic," he explained, "If anyone actually thinks that Snak the Ripper wrote that verse that night and put it out, they're out of their frickin' mind. I guarantee you he changed a couple lines at the beginning [but] he's been sitting there with those lines waiting for this opportunity for a long time. I know this in my heart."
When asked when his diss track response is coming and how he's holding up, Madchild said, "I'm fine. It's just hip-hop. There's no point in even thinking about it until I respond. There's no point in trying to explain to 15-year-old kids that I'm on tour." He then elaborated on his long days on the road after 57 shows straight. "I'm not sitting at home like Snak the Ripper is right now. I cannot wait to get home and get this response out. It was the same thing with Drake and Meek Mill. Maybe Meek Mill could have—well that was a different situation. He probably had a studio on the bus for friggin' sakes. Someone at my level—I'm doing shows every night. I haven't had time to get into a studio. I'm going home right now and a response is on the way."
As for his social media posts during this time, Madchild said everything he says is going to be attacked by commenters. He attributed this dilemma to his success, saying, "For a long time I have been, I think it would be fair to say, the successful underground rapper of Canada. When you're successful, there's people who love to see you go up, and then there are those who can't wait to see you go down."
Addressing some of Snak's diss lyrics, Madchild maintained he has not relapsed as a drug addict and he is "terribly offended" by the suggestion. He countered, "When I was on tour with [Snak,] he was on cocaine every night. He's an alcoholic. You know what? I'll save some of that stuff for the battle."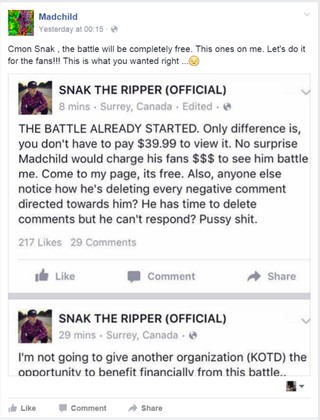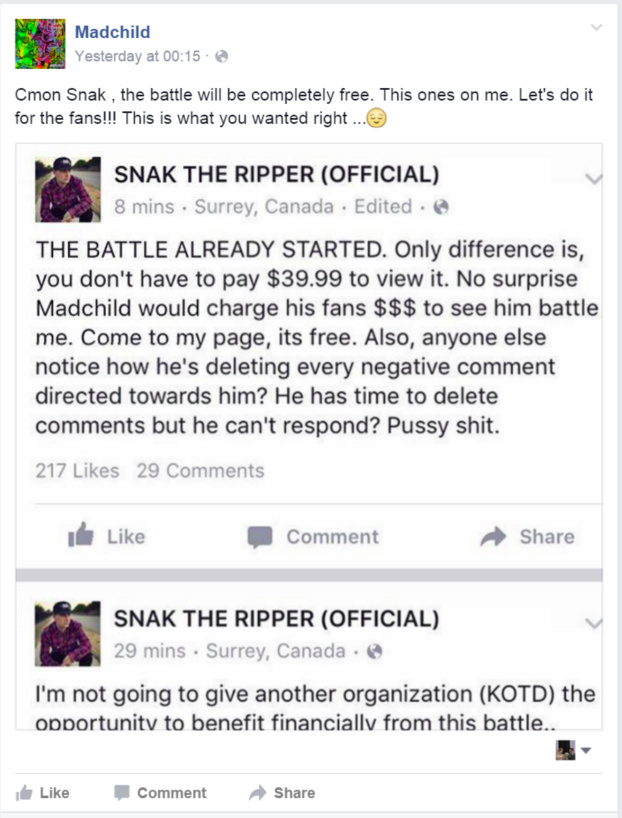 As for his age, Madchild maintained he is not 45-years-old, as Snak says in "Assisted Suicide." "My age is my business," Madchild retorted, "I am younger than 45-years-old." According to additional research based on a video posted this year in which Pimpton can be seen wishing Madchild a happy birthday, Madchild is either 40 or 41-years-old. Google results say 40.
Madchild also said he is proud to have younger girlfriends, another one of Snak's topics. "Having 24-year-old girlfriends? What the fuck is wrong with that? I'm going to have 24 [and] 25-year-old girlfriends for as long as humanly possible." In the heat of this west-coast beef, Vancouver-based artist Tre Nyce, posted a Facebook video which, among other things, calls out Madchild on his alleged misconduct, the quality of his rap, and even his crew.
Message to all BAX WAR X SDK
Posted by
Trumaine De-Antonio
on Sunday, November 1, 2015
In an instant message statement, Nyce told Noisey, "Madchild hurt my pockets and my career simultaneously when he lied about giving me money and never did. He was so far into debt he pleaded with us about being about to take the lion's share of the tour money to stay alive. We all have big hearts and cared about the guy, so we agreed. The issue arose when it was time to go to Europe [for the Armed to the Teeth Europe tour in 2010,] and he told me I had to stay back so him and [Swollen Member Prevail could] make [money.] That tour was supposed to pay me back for my patience, not to mention mechanical royalties and such."
When pressed about his affiliation with Nyce, Madchild called him an "angry rapper."
"He's still trying to rap and he's achieved absolutely nothing," he said, "I was still active in Swollen Members—when I was a drug addict by the way—and we took [Nyce on tour. We] gave him the biggest opportunity of his career up till this point, and I'm the bad guy? For the record, anyone who has been on our albums or my albums have been paid their mechanicals. It's as simple as that."
Supposedly, Madchild had been heading the Battleaxe Warriors business through a partnership with Kevin Zinger, also named in Waltho's ongoing civil claim. Zinger owns California's Suburban Noize Records in California. Madchild (Shane Bunting) and Rocco Dipopolo, mentioned above, were both cited by the Vancouver Sun in 2008 for having ties to Hell's Angels' activity in British Columbia. Noisey asked Madchild if he currently has Hell's Angels connections.
He responded, "It is well known—I'm not going to speak to a particular group of people—but it is well known that I have been associated or have socialized with that side of the fence. I'm not going to say a particular group of people because I have found it is better to leave the past in the past. It is very well documented how I lived a large portion of my life."
As for moving forward, Madchild maintained he has been "completely unaffiliated" with gang activity. "I made a complete life-changing choice when I got off oxycontin. That's why I'm allowed to live in America and why I'm cool with the police—which I'm not embarrassed to say. [This] is why I started a positive movement for kids to join. People like to be a part of movements. The whole point of starting Battleaxe Warriors was to create something where there are no devils behind the curtain. [I wanted] to create something where there's no peer pressure [and] that is completely positive and safe. And that's what has me worried with all this craziness going on on the internet ... I've warned the [leaders and members] of Stompdown Killaz and Battleaxe Warriors that going against each other would be the absolute worst possible thing that could happen, not only for our country's hip-hop, but underground hip-hop."
Meanwhile, in the vacuum of Madchild's non-musical reply to Snak the Ripper, other artists have filled the void with their own songs. Vancouver's Matt Brevner posted the track "Waterloo (The Jitters Story)" on November 1, and a video to boot the next day. The title is a reference to Madchild's song "Jitters" (which features Brevner) off the 2012 Dope Sick album. Brevner, like Snak, lays out similar accusations against Madchild regarding owed money and creative credits. Oh, and Snak is also in the video.
We will continue to monitor this story as it develops.
Devin Pacholik is a writer living in Saskatchewan. Follow him on Twitter.