Fifteen More Records That Look Exactly Like Fifteen Other Records
Imitation is supposed to be the highest form of flattery, but sometimes it's just a plain rip-off.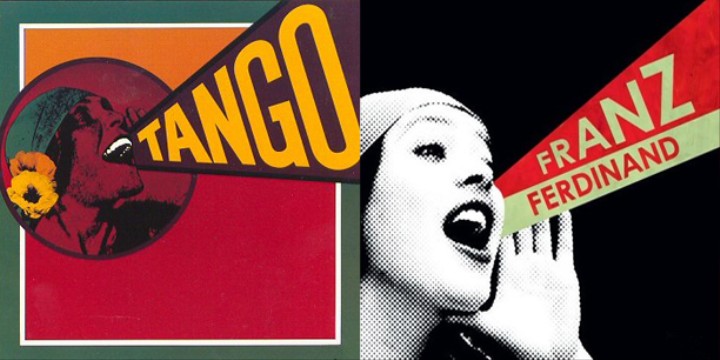 Imitation is supposed to be the highest form of flattery, but sometimes it's just a plain rip-off. A few months ago, I put together this little round up of album covers that look almost exactly like other, older albums. Tribute, coincidence, or parody, I can't stop finding more examples, so here's another batch. Swindle or salute? You decide.
1. Francoise Hardy - Francoise (1966) / David Crosby - If I Could Only Remember My Name (1971)
Come on, David. Francoise not only remembered her name when she had this idea five years earlier, but she even went as far as to title her album after it: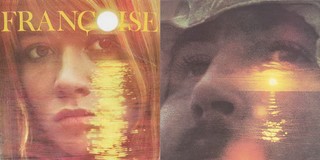 2. The Smiths - This Charming Man single (1983) / Cyndi Lauper - True Colors single (1986)
Oh, life is so devastating. At least Morrissey and Cyndi Lauper know you can find comfort in your own reflection when the pain throws you face first in a puddle: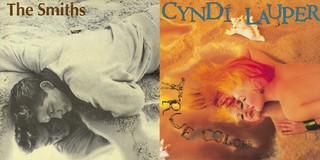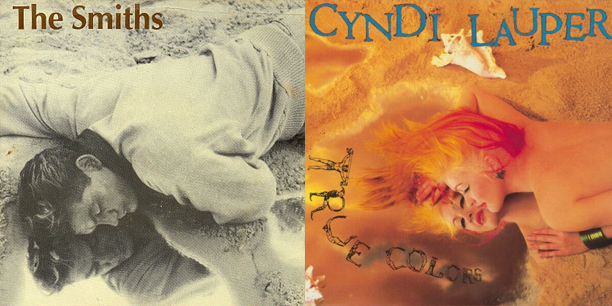 3. Byrds - Mr. Tambourine Man (1965) / The Rolling Stones - Big Hits [High Tide and Green Grass] UK pressing (1966)
They say if you don't remember the 60s through a fisheye lens, you weren't really there: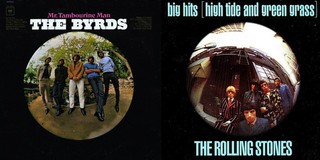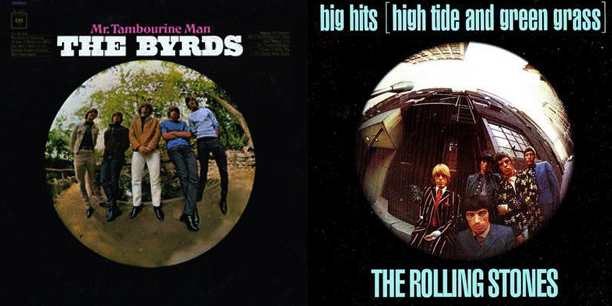 4. Loverboy - Get Lucky (1981) / Eagles of Death Metal - Death By Sexy… (2006)
As if there weren't enough album covers that focus on asses already, here are a couple strikingly similar derrieres: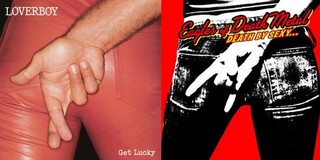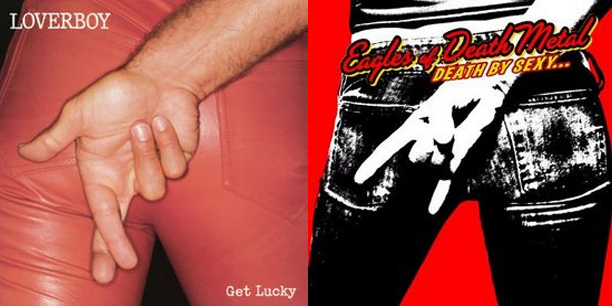 5. Tango - S/T (1973) / Franz Ferdinand - You Could Have it So Much Better (2005)
When you borrow elements from Russian constructivist art, be prepared to encounter similarities… even if it takes thirty years or so: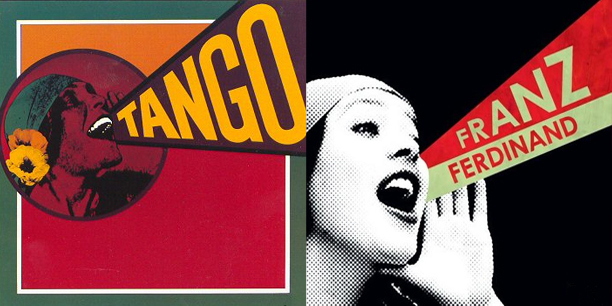 6. Grand Funk Railroad - S/T (1969) / Mooney Suzuki - Electric Sweat (2002)
These two bands finally share something in common besides equally amazing names: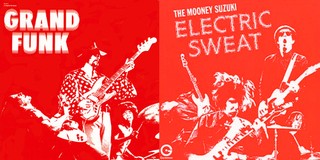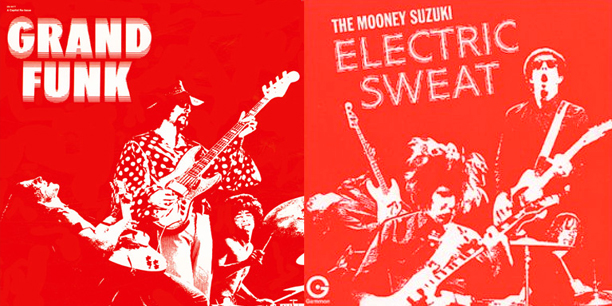 7. Mayhem - Live in Leipzig (1993) / Darkthrone - Transilvanian Hunger (1994)
Much of the black metal scene shared similar elements, but the likeness between these two records is uncanny. Some say there is a story behind the parallelism of the cover art, but who knows. All those BM dudes are crazy church burners: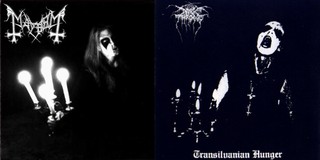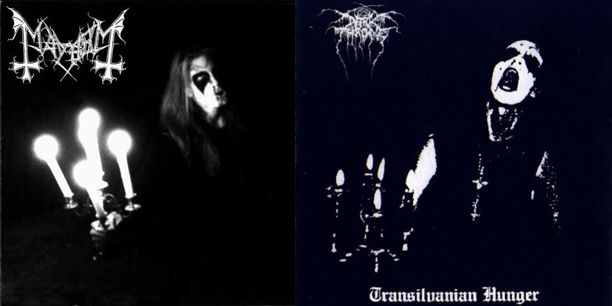 8. The Clash - (White Man) In Hammersmith Palais 45 (1978) / Ride - Tarantula (1996)
British shoegazers Ride had a pretty similar idea to the classic cover design on this famous Clash 45: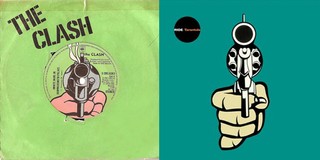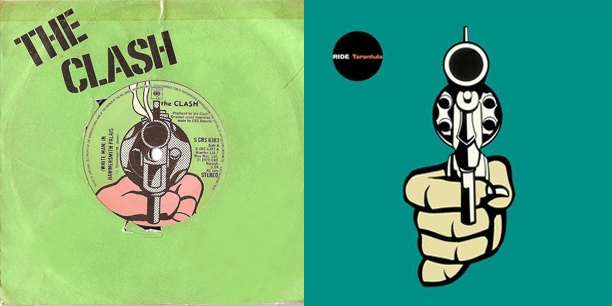 9. Pussycats - S/T (1967) / Slint - Spiderland (1991)
It doesn't matter if you're a Norwegian mod or a Kentucky post-punker. A band that swims together, stays together: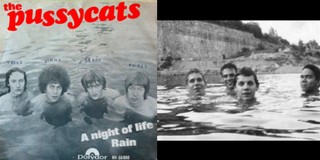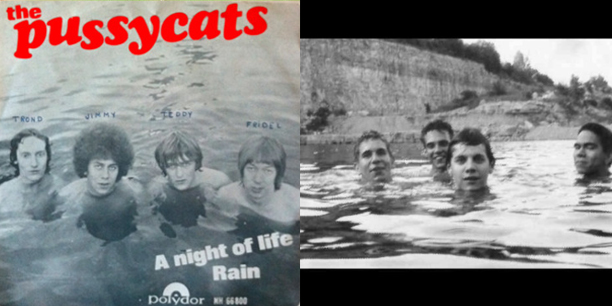 10. Wes Montgomery - California Dreaming (1966) / Anne Murray - This Way is My Way (1969)
Sorry Anne. Coincidence or not, this way was Wes Montgomery's way three years before you tried to claim it.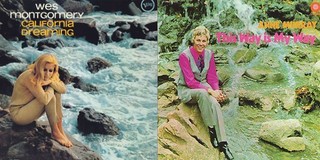 11. Lionel Hampton - Air Mail Special (1953) / Pointed Sticks - My Japanese Fan 7"(2007)
At least Pointed Sticks was modest about it. Hampton definitely has more than one Japanese fan: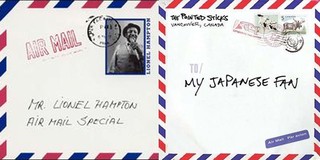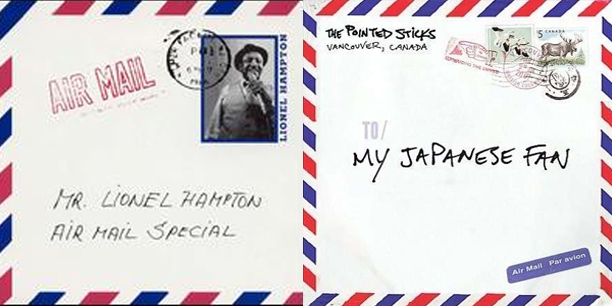 12. Talking Heads - Little Creatures (1985) / Adam Again - In a New World of Time (1986)
Howard Finster's art was inspired by God, as was Adam Again's music. It makes sense that these releases (which dropped only one year apart) have a similar theme, but I'd love to hear the honest opinions from the guys in Talking Heads. Kind of a major rip: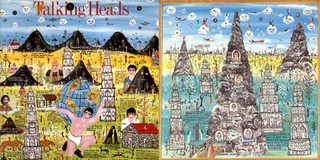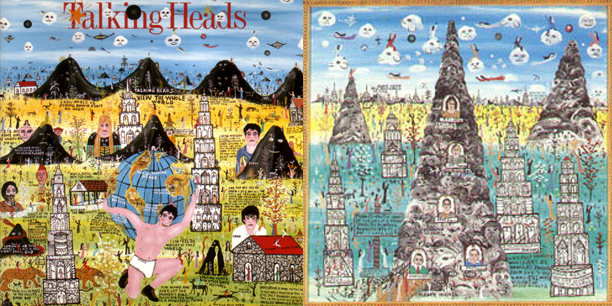 13. Led Zeppelin - In Through the Out Door (1979) / Pantera - Cowboys From Hell (1990)
Apparently both Zeppelin and Pantera wanted to go where everyone knows their name…in sepia: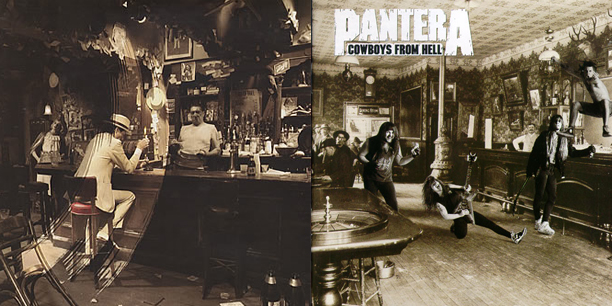 14. Hank Mobley - The Turnaround! (1963) / Beatnuts - The Intoxicated Demons EP(1993)
Not only did the Beatnuts borrow the incredible graphic design of this early sixties jazz classic, but they even adopted a tweaked version of the "Turnaround!" arrow as their permanent logo: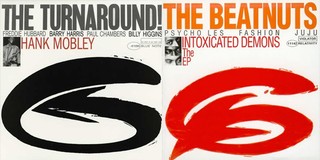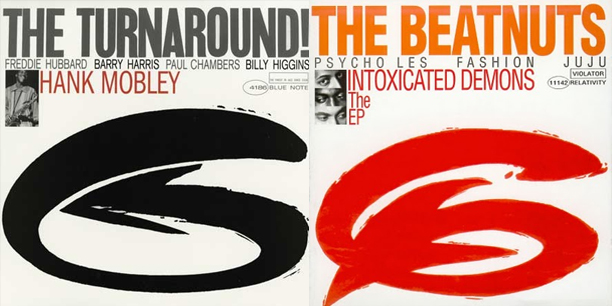 15. Back From the Grave Vol. 1 (1983) / Jon Spencer Blues Explosion - Jukebox Explosion (1997)
Jon Spencer and his Explosion pay homage to the first volume of Crypt Records's infamous garage compilation series.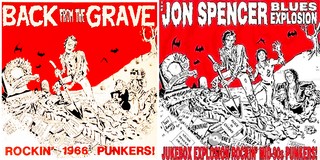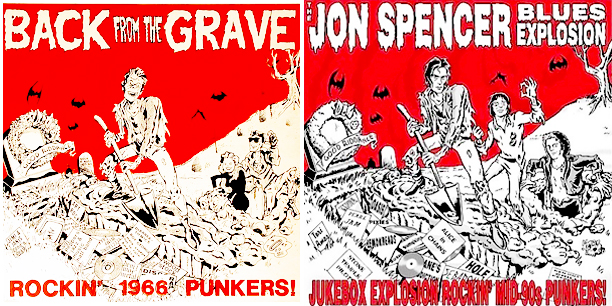 Previously - I Reversed A Bunch Of Songs With Satanic Messages In Them
If you live in New York, you can go bother Jeff at Black Gold Records in Carroll Gardens, Brooklyn. You can also follow his (mostly) music-related thoughts at @jeffogiba