I Spent 48 Hours in LA with King Krule
It's 4am… Archy has disappeared again.
It's 3am in Los Angeles and I'm standing on a roof in Echo Park. A few hours earlier, Archy Marshall, AKA King Krule, played his second sold out show at the Echo. Now, he's being led away by a woman.
As she takes his hand and they disappear down some stairs, I hear her say, "I need to give you something." Warning signs go off—he's only 19, lady!—but ten minutes later, he comes up wearing an evil eye around a chain. Also around his neck is a charm necklace in the shape of Africa that we picked up at a dancehall night earlier, and someone has drawn a square in eyeliner around his eyes. Sitting at the center of a circle of admirers in starlight, he looks increasingly shamanistic.
At some point I look at my watch. It's 4am, Archy has disappeared again. I decide to head home, dropping off Archy's manager, Theo, at his hotel on my way. The next morning I head over to Archy's hotel to say goodbye before they fly back to the UK. I can't find Archy, but I see Theo. He says he's just got a text: "Is Archy in the desert? lol."
"Oh, that's weird," I say. "I got a text this morning to ask if I was in the desert with Archy."
We look at each other, realising quickly that it's not weird at all, and it's an hour before they leave for the airport.
/ / /
48 hours earlier I met Archy at Amoeba Records in West Hollywood. It was supposed to be for a quick, 20 minute interview (although I was hoping to push my luck and get a photo of him on a boulevard of some sort). Archy's face is currently to be seen every block for five miles on West Sunset Boulevard. His shows on both coasts were sold out far in advance, and he had a solo New Yorker feature that ran with his record release (6 Feet Beneath the Moon was released on August 24th). His return tour has a promo schedule booked that means I get to use the word "unprecedented," and his current buzz is on par only with Lorde, but he doesn't even have a radio single.
So I had this idea for a piece, about how King Krule was blowing up in the States, and how this is a big win for South London, an area that, to me, his music embodies. When I sat down with Archy, I told him that I was from London, and that I missed it, and I wanted to talk about it. He got that.
Noisey: Is this your first time in LA?
Archy: Yeah.
People seem to be really getting your music over here, have you noticed?
I think that's strange. My music is dark, it's metropolis-y. Out here it's bright, I know there's a lot of weird vibes going on but still. It's hard to feel trapped in a place like this.
I thought that originally too, but on the way here I was listening to your record and driving, and I see why it works. There's this crooner quality to the songs, a romance, which suits these big roads and a country that grew up on rock and roll.
The romance is definitely there—I see romance in everything. I don't think you could point anything out to me that I couldn't find romance in, whether it's an object, a situation, an idea.
I think that's something you develop if you're from certain parts of London. You're not given a lot of beauty to work with so you are forced to find it in stuff like concrete.
Yeah, like bricks. The fact that someone stood there for ages laying this brick. That's romantic.
Have you noticed how super sold out all your shows have been?
Yeah. I mean, I love my music myself, I love it. It doesn't surprise me that someone else loves it too. I make it for myself. I make it for my own desire to want to be able to perform these songs. Or not even that, for self-therapy, to be able to alleviate stress, to be able to get to sleep.
There's a lot of threads running through the record, musically.
It's very messy. It's miscalculated. There were so many months in my life spent on this record when I was really trying to formulate some kind of hidden, weird narrative going through it, then I realized it already has that on a natural basis as it is.
Because you wrote it?
Yeah, I reference a lot of different metaphors for a lot of different states of mind.
Do you mean that musically or lyrically?
Both. Musically, it's supposed to flow.
Yeah, it's cool how many different styles you can find in the songs as you keep listening…
That's a London thing as well. Growing up in south London and being exposed to a lot of different cultures at a young age, my knowledge was so broad by the age of ten. I had all these different friends who educated me in different cultures. Like my first girlfriend, who was deported, was from Nigeria. I learned about Nigeria through her, when I was seven. That's Peckham, that's south London man.
Did you pick up a lot of musical influences from your parents?
I lived with my mum. When I'd go to my dad, I'd listen to Led Zeppelin and all that, but my mum was into a lot of ska, reggae, rocksteady, hip-hop, dancehall. So much African, Caribbean music. I got most of influence mainly from my mum.
That's the kind of music from London that I long for when I'm here. Being away from it, I'm starting to realize how much of our culture is Jamaican, especially music.
London's the second Babylon man, for sure.
Thinking about punk too, kind of an event horizon for London culture—that merged with ska and reggae almost immediately.
It's nuts. People associate far right politics with the skinheads, but they listened to ska and rocksteady from the 60s. It's a clear symbol of, "Shit this place is as a melting pot of different ideas."
Yeah, even the racist people listen to black music from the 60s.
And in West London especially. Not as much anymore, but the roots are definitely still there.
I think of carnival as the pulse of West London.
It's the pulse of the whole of England right now, it offers unity.
Do you think unity is something we're lacking at the moment?
The tension in South London right now, between the white working class and the working class Muslims, is insane. I was doing an interview a few months ago, and as I was saying this—I live pretty much on the same road as the Woolwich Killing— and as I was saying it, there were all these extreme Muslims in the middle of the road. And I live opposite a Millwall pub—the white working class hub—and all these Muslims were just on speakers just gunning the white man. And I was saying "Look at it, it's literally in front of us."
I guess in the UK people are generally depressed, so they start to look for other people to blame.
Here [in America] it seems different. A lot the aggression is individual aggression, not a collective aggression.
There's some crazy race stuff going on here too, Trayvon Martin and Oscar Grant are probably just the tip of the iceberg. We don't hear about a lot of stuff happening in the US because it's so spread out, it's easy for news to get lost.
In America it's based on the individual. You're never gonna get a revolution here because you've got Fat Joe there saying, "Yo why are these guys coming over here?" and those guys will say "Why are those guys sitting on their arse?" It's based on the individual and everyone is against each other on their own. They have their little empire they have their job and their dream.
Especially here in LA. This city is all about the pursuit of your individual desires. Which can be amazing, until you have a medical emergency…
It's fucked out here as a whole.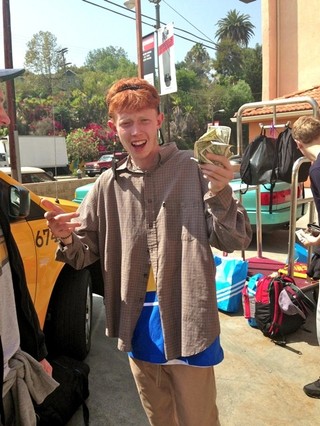 Are you still living in Peckham?
I live in Bermondsey now. Closer to the river, nicer than Peckham. A real good vibe. I'm moving soon though. Don't know where yet, maybe New York.
I love New York, but you really have to buy into the idea of New York to survive there.
I'm down for it. I'll buy into that.
When you first started making music, did you think it would lead to this lifestyle, and all this traveling?
Not really.
Why did you first start making it?
I done it cause it was the only thing for me that was cool, except maybe art. Art and music. That's the coolest thing I could do, so I wanted to do it. Music is my love. I didn't expect to be here, naw, I didn't expect to be all over the place, but the more and more I done it, the more and more I believed in it. The more I knew it was going to do well. That's why we spent the last two, three years really building up the King Krule thing. We had all these offers to blow up, but we held it down, and I think that's how we got this reception out here, all across the world. It's been three years since I first released a release, and now I can look at my discography and say I'm four records deep and I've worked on a lot of stuff, but now is my debut. I'm ready to perform. We've got fire in us, we've got aggression.
You seem really friendly with your band. Are they your friends as well?
We've been through some tough times. They're good friends, for sure. Matt's not even in the band, he's just a mate. It's good to roll around with your boys. But you can also liaison with other musicians. I think this generation is really popping. I've been going across the world meeting different people my age, who are making really good music.
Anyone in particular?
Like Ratking, Sporting Life, Earl Sweatshirt—I was with him the other day. Tyler as well. And just a ton of people from South London.
Have you noticed that the cool kids of London are all hanging around in Peckham these days?
Which I'm pissed off about, yeah. Peckham's become the new Shoreditch. It used to be one of the biggest shitholes in London. I go back—all my mates are in Peckham—I walk around there's like hipsters everywhere. I see my mates on the corner, we're like "What's happened?" Everything's turned into a high price joint.
How did you and all your friends from Peckham end up coming together and making music?
I think it's not even Peckham, I think it's the whole of South London. There's a lot of people like me out there, who don't fit into being a dealer, or fit into being dealt to. There's a lot of people my age who are young calm people from humble backgrounds, but their minds are so open, like so open. There was an event called Steaz, and it was put on by a guy called Luke Newman. There are so many well trained musicians in this area, so it became a jam night at first, like a jazz jams, play standards or whatever, or play some hip-hop or something. Then it sort of became an open mic. There were a lot of poets down there too, spoken word, which surprised us..
I get a poetry vibe from your music.
Yeah for sure. I've never actually done it in person. I've never read my poetry, but I've written a lot of poetry. I see my work, I'd love to see it in a book. i think it would be quite nice.
Do you write by hand?
[Makes hand movement] Do this man. Get rid of it like this. Scribble it out
I have so many ways of writing things down now that I keep losing my process.
I had the same kind of thing. For "Out Getting Ribs" I had a shitty setup. I had a four track and a laptop, and my laptop had only a certain amount of battery, so it always had to be plugged in. The program I was using on was a trial of FruityLoops, but on the trial you could only open it, you couldn't save it. So I would spend nights—literally six in the evening to six in the morning—to try and finish a track. If I fell asleep, anything, I lost it. It was so temperamental. I had to write and mix and master in the same night. But I wrote the best songs ever. Then my process got fucked up cause 679 Records funded me a new laptop and a new interface. At first I was like, "Fuck yes." Then I realized I could save shit. I was like, I've written 300 tracks now but none of them are complete.
After this interview, we made a plan to hang. Archy and his band are too young to go to a bar, so we ended up in their room at the Comfort Inn, Silverlake, ignoring no smoking signs, and looking up jazz on YouTube.
Here's a picture of that room. Note the stash of English Breakfast tea, which Archy would later start handing out as presents: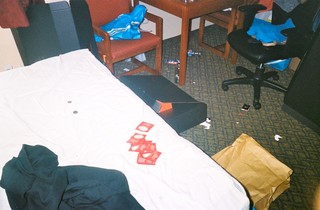 In that room, I found out that Archy's mum had been in a punk band in the 70s, with a clarinet section. She'd hung out with a punk-reggae band called The Ruts. He had a grandfather in New York who was an artist. All this went some way of explaining where he gets his mashup of inspirations, and how, at an undeniably young age, he has such an assured and distinct ethos on music. He sat on his bed that night holding court, leading debates on PiL versus the Mescaloros, blowing his bassist's mind with Sade (apparently there are people who haven't heard of Sade).
I had an inkling at this point that Archy might be more than your average jobbing troubadour. Maybe he's the real deal. The next night, at the Echo, I knew.
The band played loose, live jazz, and Archy yelped and crooned over the top of it, sounding at once familiar and so, so fresh. There's a lot of styles within what they we playing—even the jazz hops and skips from New York to South America—so you'll be forgiven if you only think of the artists that mean something to you. For Sasha Frere Jones in the New Yorker, it was Tom Waits; for me, The Roots and Billy Bragg. I also caught a hint of the raw excitement that must have been in the air at an early Jeff Buckley show, a collective sense that we witnessed something special.
I still see King Krule as a reflection of his South London roots, but now I realize that you can find whatever you need in it. If I wondered why the music makes sense over here, I don't now. America, LA in particular, is overrun with talented people. There's no room for fakers, and they crave the exceptional.
We moved from the party and ended up on this girl's roof in Echo Park. Everyone was drinking spirits from Smart Water bottles, members of the band were draped in the Rastafarian swag that we just bought, having randomly found that dancehall merch table. If the boys were strangers here when they arrived, then by this point they are at one with the city, and this warm California night. As I left, I remembered Joe Strummer at his Glastonbury campfires, the way he stood at the center and invited people to join him on his level. Archy, who doesn't actually rate The Clash, does that too. Real deal, I thought to myself.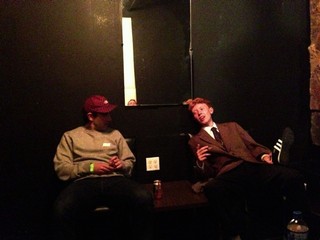 So it's the next day and me and the manager are freaking out. Where is Archy? l text a few people and eventually find out that Archy drove to the desert at 6am with two girls and his drummer George. No one can get hold of him. We head back to the hotel and eventually find Jack, a member of the King Krule band, in his room. "Oh yeah," he says casually. "I thought I'd hang back so you didn't think Archy had disappeared. He's earned it though, you know?"
Eventually, Archy appears, without explanation or apology. He's back in time to catch his flight, although he is late for checkout. The manager of the Comfort Inn doesn't tell him off, though, instead stepping in and helping him fold clothes and throw away pizza boxes and tiny ziplock bags. She, like the rest of us, is charmed by the super vibey and charismatic young singer.
Oh and here's a picture of them just as they left for the airport. As you can see, America got did.
Follow Emma on Twitter @Emmy_The_Great
For more like that:
Searching for Archy Marshall (AKA King Krule)
Rejjie Snow's Rejovich Beat Kanye West and J. Cole on the iTunes Charts