Hear Bomb the Music Industry!'s Jeff Rosenstock Go Solo on "Hey Allison"
Not bad for a total slacker.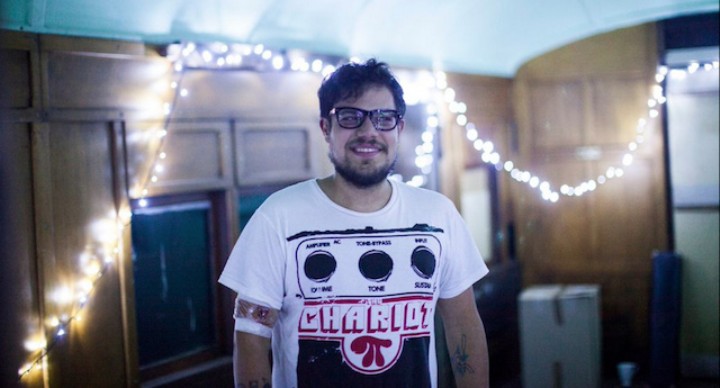 Photo: Andy Johnson
God almighty, Jeff Rosenstock is one lazy bastard. What has he even done this year when you think about it? Sure, he immediately kicked 2014 off by throwing two wildly successful and tearful final shows for his beloved band, Bomb the Music Industry! But then after that, he's pretty much been coasting, if you ask me. I mean, yeah, he then quickly started a new project with Chris Farren called Antarctigo Vespucci who have already put out an album that people have instantly fallen in love with, and the band is going on tour this fall. Oh and also, Jeff and Chris host a Lost-themed podcast on the side which is having another live episode soon. But after all that stuff, what has the guy really done? I guess I forgot about his work with The Smith Street Band, who he's been touring with in Australia and whose recent album he produced. You take away all that stuff (plus the record label he runs, plus the freelance work he picks up on the side, plus having a lovely fiance) and what does the guy have, really?
The Brooklyn-based slacker is finally, FINALLY getting off his ass and doing something with his talents and is releasing some new solo material via SideOneDummy. All that time sitting around doing nothing must've given Rosenstock the chance to really focus on this material because it is killer. Since Rosenstock was the main writing force behind Bomb the Music Industry, you might expect it to sound largely like a carbon copy of the band's trademark blend of poppy/folky/ska-y punk, but Rosenstock has a surprise for you: It doesn't. On "Hey Allison," he cranks up the distortion and speeds up the pace, giving a nod to classic, good old-fashioned punk rock, but with Rosenstock's own distinct weirdo twist on it.
Check out the song below, which is available on an exclusive tour seven-inch and a full-length album out early next year.
Oh, and Rosenstock will actually leave his couch to tour this fall:
Monday October 6 – New Paltz, NY – SUNY New Paltz (solo)
Wednesday October 22 – Brooklyn, NY – Death By Audio (full band)
Sunday October 26 – Oneonta, NY – Oneonta Theatre (solo)
Sunday November 2 – Gainesville, FL – The Fest (full band)
Antartico Vespucci w/ Hard Girls:
Monday November 3 – Orlando, FL – Backbooth
Tuesday November 4 – Atlanta, GA – Wonderroot
Wednesday November 5 – Nashville, TN – Café COCO
Thursday November 6 – Columbus, OH – Double Happiness
Friday November 7 – Lansing, MI – Mac's Bar
Saturday November 8 – Chicago, IL – Beat Kitchen
Sunday November 9 – Cleveland, OH – Grog Shop
Monday November 10 – Pittsburgh, PA – Roboto Project
Tuesday November 11 – Richmond, VA – Strange Matter
Wednesday November 12 – Washington, DC – DC 9
Thursday November 13 – Asbury Park, NJ – Asbury Lanes
Friday November 14 – Philadelphia, PA – Golden Tea House
Saturday November 15 – Brooklyn, NY – Palisades
Sunday November 16 – Boston, MA – Middle East Upstairs
Monday November 17 – Hamden, CT – The Space
Just look at this lazy-ass artwork. A marker, dude? Soooo lazy.