Let the Copyrights Remind You What Pop Punk Should Sound Like
Listen to the first side of their new record, 'Report.'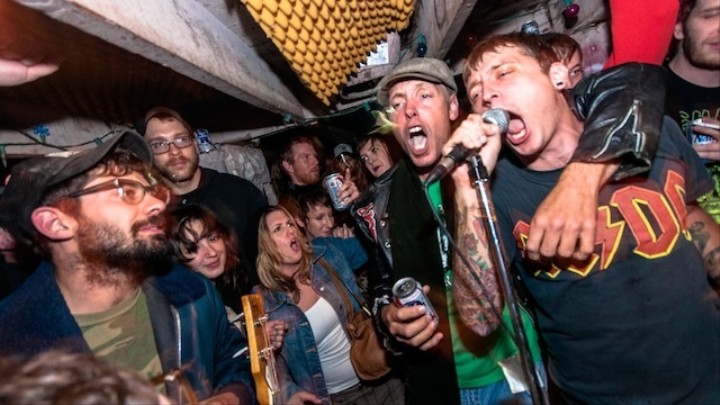 As most people will tell you, there are two sides to the current state of pop punk. There's the side that proudly carries the torches of the genre's pioneers like the Riverdales, the Queers, and Screeching Weasel. And then there is the uh, "other" side—the side with hairstyle-focused bands who milk a radio single for all its worth until they marry d-list celebrities and fade into obscurity. The Copyrights proudly stand on the former side.
More than just a pop punk glory days nostalgist band, the Illinois-based fourpiece now has over a decade of jam-crafting under their belt and it's starting to show. With each release, they seem to get a little more polished, while still maintaining that lightning fast scrappiness. On their new album, Report, the Copys really swing for the fences–more of their trademark sing-alongs about being proudly and helplessly broke and/or in debt but with songs hitting harder and the melodies landing like powerful punches. It's the stuff that keeps pop punk alive. The good pop punk, anyway.
Report will be released digitally tomorrow via Red Scare Industries (who are celebrating their tenth year as a record label/bunch of jerks). You can listen to the first side of the record below. That's right, baby, side A, old-school style. You have to order the thing to hear it all . Oh, and if you're in Europe, catch the Copyrights on tour at the below dates.
03.09.2014 FRA / Besançon / Les Passagers du Zinc
04.09.2014 FRA/ Selestat / Le Tigre
05.09.2014 NL / Rotterdam / Worm
06.09.2014 B / Vorselaar/ Veusseleir Calling w/ Mickey Erg
07.09.2014 GER / Bonn / Bla
08.09.2014 GER / Osnabrück / Substanz
09.09.2014 GER / Hannover / Rattenloch
10.09.2014 GER / Berlin / Wild at Heart
12.09.2014 GER / Nürnberg / Coal Club
13.09.2014 A / Wien / Das Bach w/ Dee Cracks
14.09.2014 A / Graz / Sub
15.09.2014 A / Innsbruck / PMK
16.09.2014 I / Genova/ Terra di Nessuno
17.09.2014 CH / Geneva / L'Ecurie
18.09.2014 FRA / Lyon / Warm Audio
19.09.2014 FRA / Morthormiers / Festival l'Automne de Morthormiers
20.09.2014 FRA / Clermont Ferrand / Raymond Bar
21.09.2014 FRA / Toulouse / La Dynamo