What I Learned About Style from Cycle Sluts From Hell's "I Wish You Were a Beer"
Heart-shaped cleavage, flame-emblazoned leather hot pants, troll hair and more, as explained by White Lung's Mish Way.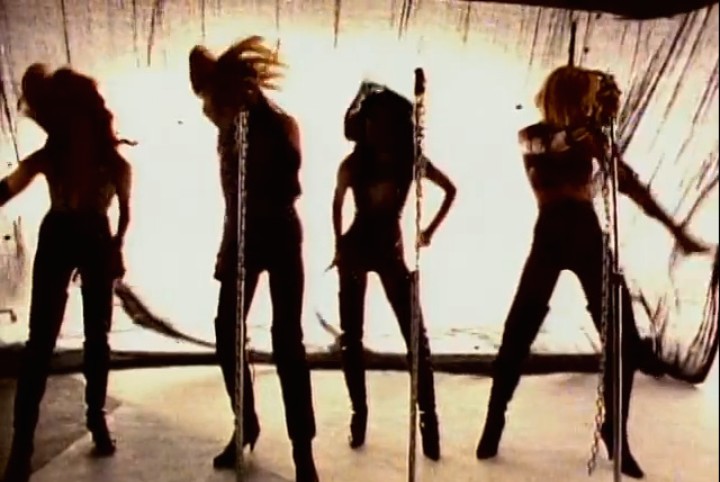 Cycle Sluts From Hell were a New York heavy metal band with too many members: four leather clad ladies who sang (kind of like The Wanted, but dressed metal-BDSM and named Queen Vixen, Venus Penis Crusher aka Better Kallas, Honey 1%-er and She-Fire Of Ice) and a bunch of men with Metal Zone pedals. I only know about this band because I once played in a "supergroup" called Eating Out and when we would get extra drunk at practice, we would cover Cycle Sluts From Hell's big hit "I Wish You Were a Beer" because, man, it's a really good song to cover when you are extra drunk.
Cycle Sluts From Hell toured with Motörhead, Danzig, Jane's Addiction and some other men in leather, but only released one album until the band broke off in 1991. Apparently, they are back to playing shows now, but that's neither here nor there because today we are focusing on what Queen Vixen, Venus Penis Crusher and the girls taught us about cleavage, curls, leather, troll hair and bodily weapons.
SHIT GETS REAL IN THE METAL WORLD, KEEP YOUR WEAPONS ON HAND (PUN INTENDED)
Metal men are really hard to handle sometimes. They are always stealing your make-up and hair products and making it look way better on them. It's really annoying. Sometimes it becomes, "Enough is enough" and you have to violently protect your beauty products like a mother bird guarding her nest of eggs from predators. Cycle Sluts suggest dagger nails of steal perfect for gouging out eye balls or clipping the tip of a penis or just simply pulling long, teased hair.
LIVE LIFE THROUGH A SKINNY MIRROR
Some days you wake up and feel all, "Urgh, this body? THIS body?" Fight the feeling by living life through a skinny mirrored lens. It's even better when you are standing next to three of your girlfriends, surrounded by chains and microphone stands, because power is thin is pretty is hot is skank. You know, like mommy taught you!

CLEAVAGE AND CURLS
Not even kidding on this one, nothing beats cleavage and curls. It's easy to maintain for women (wonder bra and dirty hair, no shampoo just chuck a little conditioner on the ends and scrunch) and keeps those heterosexual meatheads happy. Throw a cross around your neck and Tumblr is your oyster.
NO CLEAVAGE, GO FOR THE HEART
I love hearts. My mother collects heart-shaped items and that stuff is all over our family home. I have five hearts tattooed on my body. It's just... my shape. And now what do Cycle Sluts teach us? It's your shape too, especially if you happen to have a surfboard chest. No tits is no problem. Show off that breast bone, crazy straw. A gorgeous chest is a gorgeous chest is a gorgeous chest (and they are all gorgeous.)
GOTH ANDROGYNY
Imagine Paul Westerberg dressed like Marilyn Manson (circa yesterday). "Something meets boys and something meets girl/They both look the same/They're overjoyed in this world/Same hair revolution/Unisex evolution...."
HIGH-WAISTED LEATHER PANTIES
Forget control tops. That stuff is for secretaries and your mother. You know what keeps the tummy tight while posing and exposing the best parts of your body? High-waisted leather panties! Cycle Sluts are big fans and they look amazing wearing them. It helps glide down the microphone stand or wiggle around when you are trying to dance in public, all the while, keeping your tummy in check. Man, being a woman is sure tough! Sigh.

WHEN IN ROME, MAKE LIKE A TROLL DOLL
Because, my God, it's cute.
Mish Way is probably one of the only people who can actually pull off this look. She's on Twitter - @myszkaway.
__
Want more music video style lessons? Check out these.
What I learned about style from Britney's "Work it Bitch"
What I learned about style from Beyoncé's 17 Videos
What I learned about style from Shakira's "Can't Remember to Forget You" ft. Rihanna
What I learned about style from Enrique Iglesias' "I'm a Freak" ft. Pitbull