Protomartyr Are Just Some Ugly Guys from Detroit and They're Cool with That
The no-frills band don't really give a shit what you think about them.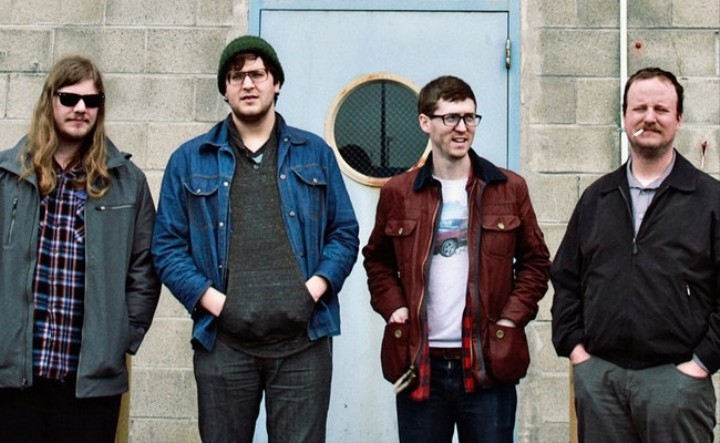 If you grew up along the Rust Belt, you probably knew a local rock band who was out-of-this-world good, but whose members would kinda shrug off the compliment if anyone ever brought up their talent in conversation. Not that they lacked self-awareness—of course they were awesome—but what of it? The attitude wasn't so much the classic DIY punk ethos of independence (although the music itself could be punk) as much as it was about just doing your thing, having fun with your pals, and getting on with life. Artists from grimy, economically-turbulent urban centers don't have an exclusive on this mindset—and not all artists from those areas share it—but it is certainly a pervasive spirit.
So it's an ironic twist that one of these bands, Protomartyr, a four-piece from Detroit, would bring a sense of light and hope to an increasing number of fans around the world, especially given their music—a moody blend of regionally-influenced proto-punk (think Pere Ubu, not MC5), post-punk, and rock 'n' roll—is about as uplifting as the aforementioned mentality (even your parents would appreciate the dose of common sense frontman Joe Casey dishes out in lyrics about everyday situations, corrupt politicians, and flexible family values). Their recent appearances at South by Southwest caused a small shockwave throughout the music press not only for their impressive tunes, but because of the lack of beauty, posturing, or identifiable pretense with which they presented themselves onstage. Back home, that's just how it's done, but admittedly it does stick out in the increasingly slick atmospheres of music festivals. It's not that the world has never known a band like Protomartyr before, but they're delivering the goods very well in a time where music desperately needs a little more realism.
I spoke with Casey from his home on the northwest side of Detroit (turns out we grew up about a ten minute drive away from each other) just before the release of the band's second album, Under Color of Official Right (Hardly Art). Protomartyr celebrates the new record and kicks off a month-long US tour with a release show at The Lager House in Detroit today
Noisey: When I lived in Michigan, it seemed bands didn't tour there as often as they did in other places, and it seemed to make the music community more insular. Do you guys feel that with other bands in the area? Or have you seen more of an influx of groups coming through town?
Joe Casey: Well, the Canadian border got harder to get through. When I was younger, a lot of bands did come through on their way to Canada or the way Chicago. Or they'd dip down to Ohio and skip Detroit. I hear from other bands that the reputation of the city precedes it. "People don't come out, you're going to get your stuff stolen, so don't play in Detroit." There are enough local bands that it is kind of insular, and I like it for that. I think we've got our own sound, you know?
Along with that reputation, there's also this romanticism about Detroit that people want to visit and they want a piece of it. Is that what the song, "Come and See," refers to?
Whenever we're on tour, people have heard all of these stories about it and ask our opinion about it, and then there is a lot of, "Oh, I hear it's great for artists." It's slowed down a bit now, but around the time that Detroit declared bankruptcy, there were a lot of op-ed pieces and things online about, "How to fix Detroit." When I was younger, the idea of someone moving to Detroit seemed completely absurd, but now you'll meet people who used to live in Portland or another hot spot and now they're moving to Detroit. So it's an interesting time. I'm a little suspect of it, but there's nothing I can do about it. There's plenty of room, so people can move here, but I wonder what their intentions are.
Have you seen a lot of changes in the music community in the last couple of years with the influx of people moving there?
It's slowed down a bit, but maybe five or six years ago there were a lot of bands in Detroit—and it's probably because of the internet—where it seemed like a lot of dilution of the sound. "They could be from New York. They could be from anywhere." I think that was partially because people wanted to sound like what was popular or what they thought was cool. That's always a problem with Detroit, I suppose with any city with a chip on its shoulder, that bands want to sound just as cool as New York or someplace else, but there are enough little micro-scenes in Detroit where you can sound like whatever you want and be left alone.
It was interesting to see the buzz around your band at SXSW, where you guys kind of came across as the SXSW antiheroes in the press afterward.
Yeah, that was weird. Last year we played SXSW and we played four shows. This year we played 11, with four on the last day. I noticed that every review was like, "This guy's not dressed right. That guy looks old and ugly." I think a lot of writers have to say something when they write about SXSW because there's all the Lady Gaga stuff and things like that. I think the other guys in the band are ugly too, it's not just me. We don't look like we're trying too hard. We don't really have a style, as far as our appearance goes, and I think that was something people could latch onto. "Here's a group of ugly guys, but the music is something different too." I really don't know how that happened, but I got a lot of of I "look like a teacher," or I "look like a dirty old man." It's just the way it is.
That's got to be weird to read those kinds of things about yourself. What I latched onto was that you had the air of a Midwest band who doesn't really give a fuck about the rest of the world and you're just doing your thing.
Yeah, I think that's a very Midwest thing. In Detroit there are a lot of great bands, but there aren't a lot of people to see you, so you're really playing in a vacuum and doing whatever you want. There are a lot of bands in Detroit that are really good, but no one's trying to please anyone because there's no one to please. So going to places where there are big crowds and things--it's not being cocky or anything, but you're so used to playing for nobody that when you play for groups of people you take the same sort of attitude.
Obviously SXSW is a very extreme example, but is that the type of reaction you've gotten on the road over the last couple of years?
The underground shows we've played have been very receptive. At the bigger shows, there are a lot of confused faces. This year, we're doing a lot of touring, and it will be interesting to see what the crowd is like.
The first record [last year's No Passion All Technique] came out on Urinal Cake. How did you come to work with Hardly Art?
A couple of years ago, the band Tyvek, who is from Detroit, was nice enough to let me go on tour with them, just to kind of hang out. They had extra room in the van, so I went on a couple of tours with them. So I kind of saw how a band works and how much fun it was. When we were in Seattle, we met Reuben [Mendez] and Lacey [Swain], who were in other bands. You meet cool people in every town, and Reuben was one of them. When the record came out, I made sure he got a copy. I guess I knew he worked at Hardly Art at the time, but he was really one of the earliest fans of the band. He'd tell other people about it. He and his wife Lacey sold records out of a van, Gold Van Records, and he was the one who got us signed at Hardly Art, but he doesn't work there anymore.
Are you pretty excited to get the music out to a wider audience, or in the internet age do you think it even matters that much to have a bigger label?
Well, yes and no. I think what Hardly Art does is get the record to places where it hasn't been before. Even seeing the response online, there are people in Russia that know about us that wouldn't have before. So, that's exciting to see. But yeah, we actually have to physically go out there and tour, because now in the internet age, it seems like bands are pretty disposable. The songs will be free on the internet. You listen to it, you like it, and you go on to the next one, so it's kind of a challenge. Bands have to tour a lot to remind people they still exist.
It's interesting to talk about singles. Both your first record and this one sound like complete albums, in the classic album sense. Is that something that has been important to you to do?
I'm worried that it's kind of archaic and nobody does it, but I always liked a record to have a lot of different moods on it. I definitely think about a record as side A and side B. We've already got songs for the next record and we're trying to find out how we want to do it. The new stuff is more of the same, pretty much. I still have to come up with some lyrics. I always put that of 'til the end, but I've got some ideas.
I don't know anything about music at all as far as notes or how to play, but the band will come up with song or a basic structure and I try to plug with gibberish, singing along to see what works. In my head, I have different things I want to put into a song and I try to figure out, "OK, this sounds good here. This goes with this." Sometimes it doesn't work. On the new album we have a song called "I Stare at Floors," but I've had those lyrics for a very long time, and it finally seemed like they went with that song. I've got lyric ideas, but I don't really write down things. I figure if I forget it, it's not really worth it.
As far as side A and side B, how would you describe this album?
I'm always curious to hear what other people think. I think that's just as important. We always knew we wanted "Maidenhead" to be a first song on an album, and we always knew we wanted "I'll Take That Applause" to be the last song on an album, and then we kind of figured out what goes where.
So it's all about the pacing?
Yeah, pacing. I was worried there were a couple of songs in a row that had "bad dads" in it, or characters who were fathers who were bad and I thought I should probably break that up, but now I like that they're all lumped together in one part of the album. "Dark Interact" on side A. It's about trying to find a flow. That's the fun of it.
How did bad dads become a theme? It seems pretty relevant in terms of our society, but it's not something you hear that much about on a rock album.
Yeah, and it's weird, because on the first album there's a song about my dad, who died fairly recently. I had a great relationship with my dad and liked him a lot, but [on this album] "Scum Rise" is about what I've noticed about people my age and younger having kids and just being shitty dads and really more into themselves than their kids. I don't have kids, so I don't know, but I always thought that once you have kids your life was kind of over. You've got to devote your time to what you've got. I see a lot of guys that have kids that are still boozin' it up in bars, worried an insane amount about what tattoo they've got, and what the cool bands are. When you have a kid, it's time to worry about that.
Then "Bad Advice" is about Kwame Kilpatrick when he was the mayor of Detroit. When he was finally found guilty on corruption charges they were interviewing people on TV and one guy was like, "You know, I feel bad for him because it was his father who led him astray." I thought that was an interesting thing, that his father corrupted him in a sense. Another bad dad.
Maybe if Kwame Kilpatrick was the mayor at 17, but it's crazy to think that as an adult man someone would blame his father for that kind of mess.
I voted for Kwame the first time because I thought, "Here's this young cool guy who's going to change Detroit." I was mad when people would say, "He's in a hip-hop band, he's got an earring." I thought that was stupid and semi-racist. But he really let me down. He got corrupted by the system.
I heard you've worked for theater companies. Are you also an actor? Since we were talking about pacing a record, I was wondering if there was another art you work in or were inspired by.
No, I'm actually the opposite of an actor. I work in a comedy club at the door, taking tickets, and I think the reason they like me is because I'm humorless. I'm the one person there who isn't trying to get up on stage. I think a comedy clubs kind of need that kind of person, to not be funny. People always ask if I'm in the show and the answer is "No, I have no desire to." Not to knock [the comedians]. I appreciate what they're doing, but it's not my cup of tea. I wouldn't say I'm completely humorless, but when I'm there I just take the tickets.
One reason I wanted to be in a band, and I used to do this even before I was in a band, is I like doing posters for shows and flyers. That's what I like about being in a band, there are a lot of different things to it. If you want to focus on the business end and try to get as much money out of the shows, or if you want to focus on singing, or if you want to focus on designing art and all that kind of stuff, or if you want it to take over your life completely, you can do that. There are enough aspects of being in the band to do it.
Is that where you're at now?
I think it may be a Midwestern thing that you never let it. The music that we're making is never going to be super popular. I don't see making a living off of this. You can be focused on it, but you have to be realistic about it. Enjoy it for what it is. Now is a time where we're doing a lot of touring and everyone in the band is like, "Let's devote our time to get this done." But you know, there are still bills to be paid and life goes on.
Protomartyr Tour Dates:
Tue. Apr. 8 - Detroit, MI @ The Lager House (RECORD RELEASE SHOW) w/ Spray Paint
Wed. Apr. 9 - Pittsburgh, PA @ Howler's Coyote Cafe w/ Spray Paint
Fri. Apr. 11 - Cambridge, MA @ Democracy Center w/ Spray Paint
Sat. Apr. 12 - Brooklyn, NY @ Death By Audio w/ Spray Paint
Sun. Apr. 13 - New York, NY @ Cake Shop w/ Spray Paint
Tue. Apr. 15 - Philadelphia, PA @ Kung Fu Necktie w/ Spray Paint
Wed. Apr. 16 - Baltimore, MD @ The Gold Bar w/ Spray Paint
Thu. Apr. 17 - Raleigh, NC @ Slim's Downtown w/ Spray Paint, Whatever Brains
Fri. Apr. 18 - Atlanta, GA @ 529 w/ Spray Paint, Whatever Brains
Sat. Apr. 19 - Tallahassee, FL @ Liberty Bar w/ Whatever Brains
Mon. Apr. 21 - New Orleans, LA @ Circle Bar w/ Whatever Brains
Tue. Apr. 22 - Birmingham, AL @ Bottle Tree w/ Whatever Brains
Wed. Apr. 23 - Nashville, TN @ Stone Fox w/ Whatever Brains
Thu. Apr. 24 - Cincinnati, OH @ MOTR Pub w/ Whatever Brains
Fri. Apr. 25 - Cleveland, OH @ Now That's Class w/ Whatever Brains
Sat. Apr. 26 - Columbus, OH @ Cafe Bourbon Street
Tue. Apr. 29 - Kansas City, MO @ The Riot Room w/ Cloud Nothings
Wed. Apr. 30 - Iowa City, IA @ Gabe's w/ Cloud Nothings
Thu. May 1 - St. Paul, MN @ Turf Club w/ Cloud Nothings
Fri. May 2 - Madison, WI @ High Noon Saloon w/ Cloud Nothings
Sat. May 3 - Chicago, IL @ Lincoln Hall w/ Cloud Nothings