Perversely, We Talked to Blouse about T-shirts
And other things too, obviously. We caught up with the Portland trio to discuss style aesthetics, smashing busts, and the importance of working with pals.

Blouse: Patrick, Charlie, and Jacob. Clearly do not suffer from hayfever.
If Nico fronted Galaxie 500 and roped in a synth player for the odd song, it'd sound a little like whimsical Portland trio, Blouse. Since shaking off rumors that their glacial synth songs made it onto the Drive soundtrack (seriously, they insist that wasn't them), they released their eponymous, Twin Peaks-esque debut album, which made everyone with ears really happy. That was in late-2011 and they've clearly wasted zero time because now Blouse are back with Imperium, which drops on Captured Tracks on September 17. Plus they hit the West Coast for a mini-tour that very same day.
After a line-up change, singer and guitarist Charlie Hilton, bassist Patrick Adams, and multi-instrumentalist Jacob Portrait (of Unknown Mortal Orchestra, with production credits for the Dandy Warhols, Starfucker, and others) now comprise Blouse. They sculpt tracks that span from lovesick dream-pop ballads to danceable post-punk, all done with a classic, made-for-35mm-film visual aesthetic, which makes total sense now we know Charlie and Patrick met at art school on a graphic design course in 2010. We chatted to them both on their recent trip to New York, where they celebrated the imminent release of Imperium, and Captured Tracks' fifth birthday.
Noisey: Hey guys, let's talk about the more organic sonic direction you've taken on Imperium. What made you turn away from 80s-inflected synth-pop towards warmer, fuzzier alt.rock?
Charlie: Jake had the idea of us trying not to "do" anything. We didn't want to compete with our last record and make another thing that sounded the same. When you do something new you just want to curate it and make it feel challenging, fresh, and interesting. Our influences definitely come from a lot of post-punk, guitar-based stuff—which we didn't really get to explore on the last record. It was nice to restrain ourselves little bit.
Patrick: Yeah, I do feel that they're sonically different, but that the nice consistency is Charlie's vocals. There's always that fear of the sophomore slump and I think in order to completely break out of that, we just wanted to get a crisper, bigger, better sound on record.
What interests bonded you two, or made you think you'd want to work together creatively?
Charlie: He was giving me rides home from school and he put on Leonard Cohen on a rainy day [both laugh].
Patrick: Yeah, you always liked the heater in my car. It was cold, rainy, and we'd crank up the heater and listen to Leonard Cohen. I remember listening to a lot of Galaxie 500…
Charlie: Our favorite!
Patrick: And Jesus and Mary Chain. Just good music for that weather.
Charlie: Every time we gave each other music, we always thought it was amazing. It's nice to be working with people you trust sonically. A song can be so many different things and can completely go the wrong way and be cheesy and awful. There's nothing worse than that! So trusting each other has been the thing we've always had going for us—having those checks and balances.
I've been listening to the record, and there's a kind of cinematic quality to it that I admire but can't quite describe. When you play and write music, how much do you ever "see" it?
Charlie: I'm glad you feel that way!
Patrick: Yeah. That'd be awesome, I hope we can score a film someday.
Charlie: The nice thing is that it's pretty open-ended. A lot of the music feels poetic to me, and like words you might be reading, music can also take you to an almost inexplicable place. I think a video director we've recently worked with did an amazing job of hearing "A Feeling Like This" and putting together a treatment of the most surreal little scenes that almost had nothing to do with each other. It was almost like a beautiful, psychological thriller. It was amazing to see what someone else pictured.
So walk me through the creative direction of that video. The screenshots posted to your Facebook look intriguing and film noir inspired.
Charlie: We'd spent a little bit of time on tour with Doldrums and Bear In Heaven and the video director, Angus Borsos, was on tour too, working with Doldrums. He seemed to have really nice energy, so I contacted him to see if he'd want to do our video. I sent him the record, and he came back to us a few weeks later with a treatment for "A Feeling Like This." We talked on the phone, and I think he was expecting me to have notes and changes. But I felt like it's so specific and insane that I just wanted him to do what he saw. It was full trust. He did two days in Montreal, then came out to Portland for two more days. And a four-day shoot feels pretty ambitious now.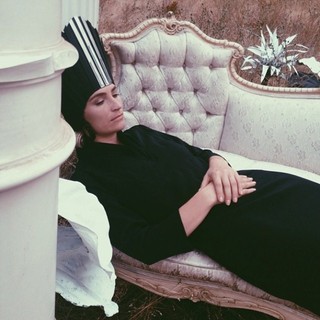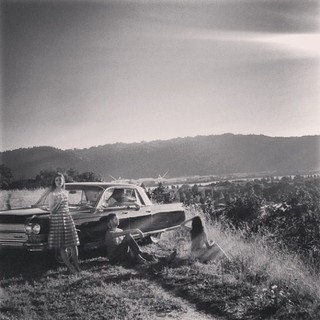 Scenes from the video for "A Feeling Like This."
Yeah, that's more the timeline I'd expect from the MTV Making the Video days: the sort of big budget, big star shoots. Now it's like everyone wraps in about 30 hours.
Patrick: Yeah, definitely.
Charlie: Angus shot this on 35mm and spent so much time on it. It was a labor of love.
And this is a different direction from your found footage videos from Blouse.
Patrick: Yeah, those were all fan-made. Even the most legit one, which was "Ghost Dream," was still kind of fan-made. They reached out and said "Hey, we want to make this for you." I don't know if you saw the video?
The donut one?
Patrick: Yeah. That's how we describe it, the donut one [both laugh]. Helmut Ash Kaway and Gusti Fink, these cute French guys, made it.
"Ghost Dream" "donut" fan-made video.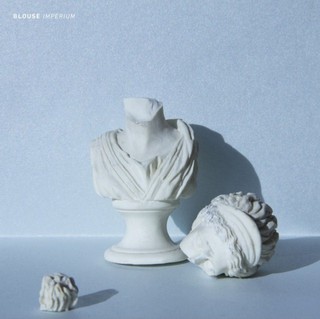 Talk me through the album artwork, and that shattered bust cover shot.
Patrick: My girlfriend—photographer Anna Ignatenko—and I actually shot the photo, and all the photos in the layout for the artwork. We wanted strange things happening to normal objects. Like pouring milk into a gold high heel, lighting plastic flowers on fire, and smashing the bust. And then the bust itself had other connotations to it.
Charlie: Yeah, it has some connections to the imperium metaphor. I think Imperium as a title for the record can be kind of deceiving, because it resembles an authoritative feeling. But that's not what we mean. We're not saying: "This is it, this is our commanding record." It's more about deconstructing imperium and pointing to the fact that imperium is an illusion. I have a friend who's a romantic literature professor and when I showed her the headless bust picture she told me it looked like a metaphor for pure thought. And I liked that, I thought it came together nicely.


There's a crisp aesthetic, and a quiet beauty to the artwork. If you were going to turn your eye to style and design a little t-shirt collection for Blouse, what would it look like?
Patrick: It's funny, we were actually just talking about this because we need to come up with band shirts to sell on tour [laughs]. We liked the idea of just using some of the album images…
Charlie: Classic stuff.
Patrick: That always seems to do well, yeah. Our best shirt from the last tour was the one of the album cover.
Charlie: I really wanna make scarves. If we had endless money, we'd probably do that.
In this scenario, there's endless money. What would the Blouse scarf and tee capsule collection be like?
Charlie: Beautiful silk on the scarves, full color on the shirts.
Patrick: Yeah, you always have to scrimp on the color [laughs]. And we wanna do crew necks, not just the black hoodies. The heather gray sweatshirt with an image.
Charlie: That's a good question. I'd wanna sit in a room for a while and do some sketches.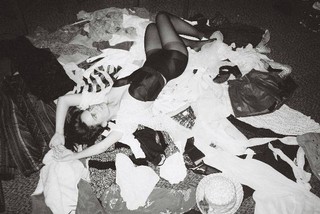 What about some of the shoots you've been doing, Charlie? Tell me about the styling and the feel that you're trying to portray. Let's start with one posted recently, where you're in a bustier and tights and there's a heavy dose of flesh.
Charlie: That's one I did with some friends, at a cabin. It was really playful. We all spent the night, and got kind of… had some drinks [laughs]. It was great! Ideally I would spend 24 hours with anyone I was shooting with, and we'd hang out and sit by a fire. That would be in a perfect world, because it's always a little awkward. I'm pretty shy, and like most people I don't feel comfortable having my picture taken. So for that shoot in particular I pulled most of my clothes, and Patrick's girlfriend Anna helped style it.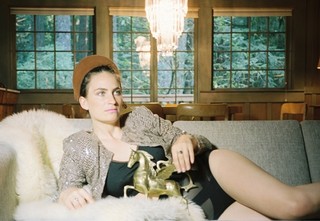 She's done a few of your band shoots too, right? What's it like working with people like her and Shayna Fontana, with whom you seem to have both personal and professional relationships?
Charlie: Shayna was someone I met on Facebook who was a Blouse fan. We were coming to Austin and she asked us to come over and take pictures while we were in town. I love her work, it's so beautiful. But we try to be pretty picky about who we work with and curate everything.
Patrick: Yeah, Anna has a great creative eye so we brought her in to help us out. It's been great.


Who else would you like to work with, visually? Or what kind of aesthetic do you want to portray?
Charlie: We like that Technicolor touch, when photos almost look like they've been painted. We're pretty into classic stuff, and that look from old magazines that looks hand-painted. I'd love to shoot with Toilet Paper magazine too, to make something really creepy.
Blouse Tour Dates
9.17 – Seattle, WA – The Vera Project
9.18 – Vancouver, BC – The Media Club
9.20 – Portland, OR – Star Theater
9.21 – San Francisco, CA – Bottom of the Hill
9.22 – Los Angeles, CA – The Echo
9.25 – San Diego, CA – The Void
9.26 – Costa Mesa, CA – Detroit Bar
Tshepo can't wait to be creeped out by that potential collaboration. She tweets - @NeuThings.
Style Stage is an ongoing partnership between Noisey & Garnier Fructis celebrating music, hair, and style.