Hear Roger Harvey's Debut Album, 'Twelve Houses'
The hard-touring Harvey is here with a long-awaited LP. It will give you feelings.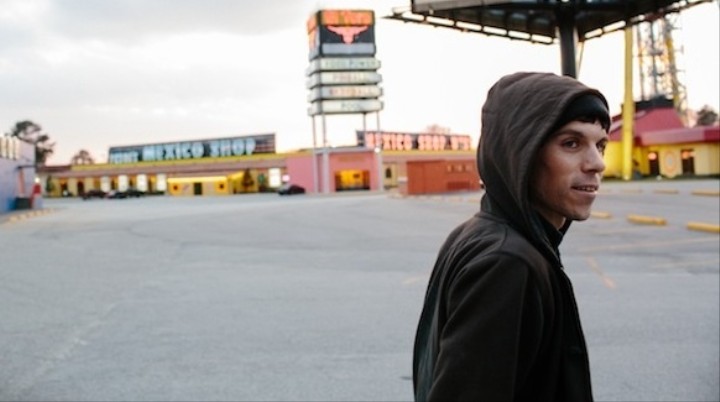 When I reach Roger Harvey by phone on a Thursday afternoon in mid-September, he asks me to hold up for a second. "Sorry, I had to walk outside of this bar," he apologizes. "It's… well, it's 12:30. That's an appropriate time to be at a bar."
It's a little better than it sounds. This particular bar, The Lodge in Williamsburg, is where Harvey worked for a time after he moved to Brooklyn from his quiet, unvarying farm town near Erie ("Now it's more like a meth town," he laments) to pursue music under the moniker Dandelion Snow. It's also where he received a call one day from Chris Barker, a.k.a. Chris #2 of Anti-Flag, asking him to move back to Pittsburgh to start the band White Wives. He quit his job on the spot—he admits being to bit drunk at the time—and moved the next day.
White Wives recorded a full-length on Billie Joe Armstrong's Adeline Records and toured heavily for a couple of years, but Harvey yearned for an uninhibited songwriting process that, by nature, can't be achieved in a band where several people are involved in writing the songs. Now, he has returned to a more independent, solo style of songwriting, but it feels more like a new beginning. The first record under his own name, Twelve Houses, is an expansive, atmospheric album that combines the lessons learned in a wild youth with a sound that's got more than a little in common with the likes of indie giants like Neutral Milk Hotel and Bright Eyes.
Harvey said he discovered Neutral Milk Hotel around the same time he was entering high school. "I had this friend Steph who was an anarcho-punk, trainhopper, and believed in this lifestyle I was super romantic about, and I thought she was so fucking cool," he remembers.
"She made me this cassette tape, and I remember we were hanging out with this homeless guy in Erie who said his name was Robert Palmer, and one night we listened to this cassette tape and 'Two-Headed Boy' played."
"And at the end of the song, this guy looked at me and went, 'You know who that is?' And I said, 'No,' and he said, 'That's Bob Dylan.'"
Harvey's adolescence is chock full of stories like this. He did his first tour with Pittsburgh punk band The Code when he was 12 years old, spent his teenage years in trouble with the cops and teachers (some of whom changed his grades in order to make sure he failed), and Harvey homeschooled himself in high school before moving to Brooklyn at 18. Now, Harvey is 28, and recently moved to Philadelphia.
In some ways, Twelve Houses was as hard to make as it sounds like it was. Harvey and his producer, J. Vega, spaced out the sessions for it at Vega's Wilderness Recording Studio in North Hills, Pittsburgh over the course of a year. The lineup was rounded out by Vega, bassist Josh Hovanec, and drummer Erik Pitluga, and in the fall of 2014, they finished the album.
On the strength of just one Fest seven-inch (containing two songs he would re-record for the LP, "Halloween" and "Three Wolf Moon") and a couple of Neutral Milk Hotel covers, Harvey and his band have toured extensively ever since—an East Coast tour with Dads and Runaway Brother in the winter, Europe for five weeks with Against Me! and Caves in the spring, and the Midwest and Canada with The Menzingers and Chumped over the summer. A daunting task for any band, but made all the more difficult by the fact that he only had two songs released.
All the while, he was trying to find a label willing to release the record. He found one when Black Numbers' Dave Frenson saw him at last year's Pre-Fest in Gainesville. "He played the same show as my band, Banquets, and I thought his set was incredible. After I saw him again in Brooklyn back in March I asked if he had found a home for the record and he hadn't, so we decided to release it on Black Numbers."
It took Harvey over a year to get the final product released, but it's been well worth the wait. The music is beautiful and soul-searching, characterized by Harvey's intensely personal songwriting. With songs like "City Deer" illustrating the push and pull between growing up in an isolated rural community and growing older in major cities like New York, Pittsburgh, and Philadelphia, where he currently resides. "There's something desolate about the country that aligns very well with being reflective upon something that you've lost," he says. "The experience in the city is a little more helpful, because something's always happening and you can look around and see life happening. In the country, you just don't have that support system."
Jalisco, a mountainous state in western Mexico, is another common thread on the album, despite Harvey never having visited. "I don't know what it is that drew me to [there]... but it just seemed like an appropriate setting for the things I was reflecting upon and the story I was trying to tell." He laughs and promises me that he does plan to go.
For now, however, Harvey is just happy that Twelve Houses is finally seeing the light of day.
"We took an unconventional approach making this record, which in a lot of ways I've liked, but in some ways, I've sort of felt held back," he admits. "Some of the experiences I've had… like Laura [Jane Grace] asking me to go on tour [with Against Me!] in Europe with no record, and to support them, was such a powerful experience to me. I kind of feel like I'm starting this project now, but I've already done all of this pretty amazing stuff."
Twelve Houses is out October 9 on Black Numbers. Listen the album and see tour dates below.
OCT 27 - Atlanta, GA @ The Masquerade w/ The Sidekicks, Cayetana, Beach Slang
OCT 29 - Ybor City Tampa, FL @ Pre-Fest
OCT 30 - Gainesville, FL @ Fest

w / Frank Iero & Jared Hart

NOV 01 - Boston, MA @ Cuisine En Locale
NOV 02 - Hamden, CT @ The Space
NOV 04 - Greensboro, NC @ The Blind Tiger
NOV 05 - Atlanta, GA @ The Loft
NOV 06 - Jacksonville, FL @ Jack Rabbits
NOV 07 - Gainesville, FL @ High Dive
NOV 08 - Orlando, FL @ The Social
NOV 11 - New Orleans, LA @ The Parish at House of Blues
NOV 12 - Houston, TX @ Walters Downtown
NOV 13 - Dallas, TX @ Gas key Bar N' Grill
NOV 14 - Austin, TX @ Stubbs Jr. Bar-B-Q
NOV 16 - Phoenix, AZ @ Joe's Grotto
NOV 17 - San Diego, CA @ Voodoo Room @ House of Blues San Diego
NOV 18 - Los Angeles, CA @ Teragram Ballroom
NOV 19 - Pomona, CA @ The Glass House
NOV 20 - Fresno, CA @ Strummer's
NOV 21 - San Luis Obispo, CA @ SLO Brewing Company
NOV 22 - San Francisco, CA @ Slim's
NOV 25 - Denver, CO @ Hi-Dive
NOV 27 - Lawrence, KS @ Granada Theatre
NOV 28 - Columbia, MO @ Rose Music Hall
NOV 29 - Chicago, IL @ Metro
NOV 30 - Pontiac, MI @ The Crofoot
DEC 01 - Cleveland, OH @ Grog Shop