Bet They Know Me: Tate Kobang Is Ready to Be Baltimore's First Rapper to Blow
The Baltimore rapper's song "Bank Rolls" became a breakout hit and an unlikely anthem for a city in the spotlight. Now he's looking at what comes next.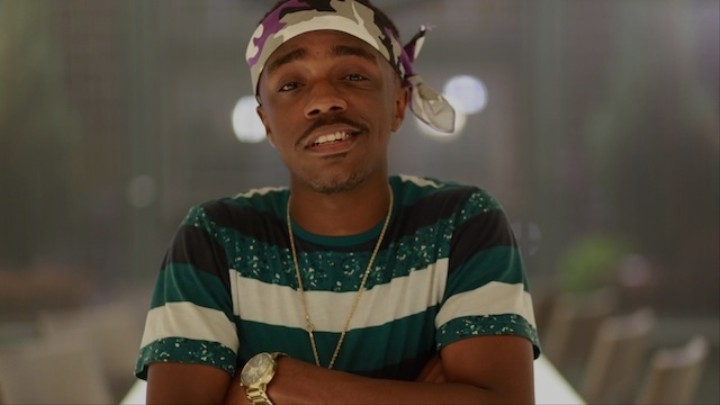 Tate Kobang / Photos by Keem Griffey
"This apartment building long af," Tate Kobang texted me as I stood outside the high-rise luxury apartment complex, letting me know he was almost at the door. When he finally arrived, he greeted me in a striped tee, gray jeans, and a purple camo bandana tied to the left of his head and we embraced as if we'd known each other for a while. We were meeting in Baltimore's Canton neighborhood, a waterfront area where most people from Tate Kobang's side of East Baltimore rarely travel. Equally unfamiliar with the area, I'd depended on my phone's GPS to guide me.
Inside the complex, crystals sat near the windows as good luck charms, marble surfaces seemed to fill every corner, business rooms were decked with a computer lab's worth of iMacs, and TVs were mounted on the wall literally every ten feet. Outside, tropical plants surrounded a pool area with grills built into walls and more TVs across from each other, blasting Martin and Sportscenter simultaneously for no good reason. We both laughed at the setting. It was far from the Baltimore we've known and seen for most of our lives.
Born Joshua Goods, 23-year-old Tate Kobang was Baltimore's undisputed king of the summer, thanks to his track "Bank Rolls." With its nasal harmonies and Baltimore club beat, it was and still is played on the radio and at parties non-stop. A remake of rapper Tim Trees' 2000 local smash of the same name produced by Bmore club artist Rod Lee, Tate's 2015 "Bank Rolls" hit YouTube on April 19. The day was notable because it was the same day that 25-year-old Freddie Gray died after resting in a week-long coma from complications with injuries allegedly caused by the Baltimore City Police Department. The following week, the city rose up in protest against the racial inequality and police brutality that they had been facing for most of their lives, attracting international news coverage and sympathetic activists from around the country. The protests sought to keep the public from forgetting Gray's name and that of anyone else who has suffered a similar fate.
"We honestly wasn't even gonna put the song out but it's a feel good record and we was trying to bring some happiness to the city," Tate told me as we reclined on couches facing the complex's pool. "Baltimore been a depressing place for years now. The world just got wind, but we been going through this shit forever. All this just going on? No! Niggas die everyday." The real reason for "Bank Rolls" dropping April 19 was to celebrate his late mother's birthday—something that's he's done each year since her passing in 2013.
Tate's foundation in music can be traced back to the same place where many black artists started: the church choir. Once he began school, he was learning to play the saxophone and how to compose music, but it wasn't until attending high school in York, Pennsylvania that rap became a passion of his: "I started getting serious about rapping when I realized I could get paid off of it and I could get pussy off of it," he said, plainly. "That was it for me. My uncles and cousins were always into music, so I sat back and learned from them. I actually got in trouble for writing my uncle some raps because my mother found them and found out I was spelling all the cuss words right but I wasn't spelling shit right in school. But that's when I realized I had something to say. She told me 'If this what you gonna do, I'm gonna need you to do it to your fullest capabilities and stick with it.'"
It wasn't until his mother's untimely death and his father's subsequent passing just months later that Tate took that plea to heart. "Going through pain is what put me in the mind frame of, 'I'm gonna talk some real shit,'" he told me. "Everybody don't got my story. It might be bits and pieces of mine in other people's stories, but it's still mine. I'ma give it to them real."
That combination of focusing on his own unique narrative and successfully shopping a regional hit was a key factor in Tate inking a deal with Lyor Cohen's and Baltimore native Kevin Liles's 300 Entertainment this summer, giving him a chance to be a pioneer in Baltimore music. Even with the global influence of Baltimore club still permeating through today's music and Dru Hill arguably claiming legendary status in R&B, the city has yet to have a rapper embody its essence on a mainstream level. Keeping that fact in the back of his mind is what Tate leans on when he looks at his career, post-"Bank Rolls": "The world don't know shit about Baltimore except it's a lot of killings, it's a lot of drugs, we got The Wire and the Ravens," he said, fist-in-hand. "That's it. Now they're seeing we actually have a culture."
Part of the city's distinct culture is obviously the club music that it bred in the late 80s and early 90s. That music is a leg up on the competition and a definite reason for the success of "Bank Rolls" from the way Kobang sees it: "I'm a dancing nigga," he admitted. "I know killers that's really out here that get to moving whenever they hear that beat. That's why I feel like if it ain't gonna move you, it ain't music. I don't like when people act like they too gangsta or too hard to dance. Man, fuck that! Enjoy yourself! It's about moving. As somebody from Baltimore, it's in you to dance. Embrace it."
This isn't a new realization for Tate, though. Some of the first beats he rapped over were from standout Baltimore club producer Matic808, with whom he, along with some other dancers and producers, had a group called Dem808z at the start of the decade. While we strolled around the pool area talking about our favorite Baltimore club records and artists, he explained, "club music is everywhere. DJ Class was right there with it. So hopefully, this will open up the market for club music because that's all we got." He added that over the past few months he's been working with club producers ranging from teenage newcomer DJ Juwan to Mighty Mark to "the motherfucking god" Blaqstarr.
Since the summer ended, Tate has been either releasing or teasing new music on his Instagram feed, where he frequently reposts videos of people dancing to his music. The night before we met, he dropped a video for his new track, "I'm The One (Freestyle)" where he does less harmonizing and more post-Migos triplet flow rapping, flaunting his new situation: "I signed to a label and nigga I'm still me/ I took that 300, you took that 360." A few days later, he re-released his self-produced "Eat Da Pussy," which has him rapping through bed squeaks reminiscent of Trillville's "Some Cut," as a follow up single to "Bank Rolls." The song was on his April-released project Live Hazey, but he's pulled the tape from most streaming sites. Evaluating what he's released since April and taking into account his plans to further embrace club music, it's not so easy to gauge where Tate is headed musically, but he seems to be sure that whatever he does will work.
Before we parted, we walked back through the complex towards the entrance and gazed at more ridiculously expensive shit, revisiting the prospect of him being Baltimore's "first to blow." Pausing, Tate summed it up with an unwavering assurance: "Everything happens for a reason. I might die tomorrow but I made the biggest record out the city and now my family gonna be good. I can finally get my mother a headstone for her grave, and eyes are on the city."
Lawrence Burney is a writer living in Baltimore. Follow him on Twitter.
Keem Griffey is a photographer living in Baltimore. Follow him on Twitter.