Agoraphobic Nosebleed's Kat Katz Brings Darkness to Light on 'Arc'
Stream the surprising new album from grind-turned-sludge noiseniks Agoraphobic Nosebleed, and get inside vocalist Kat Katz's head.
As anyone who's come across the various trailers and teaser tracks Relapse has scattered across the 'net like early Easter eggs will already know, Agoraphobic Nosebleed's new EP, Arc is a total about-face from what we've come to expect from them. The same band that brought you the infamously spastic audio speed trials known as Frozen Corpse Stuffed with Dope and Altered States of America (as well as 1998's Honky Reduction, of course) first took fans by surprise with their most recent LP, 2009's uncharacteristically melodic Agorapocalypse. I use "melodic" as a relative term, obviously—it still shredded, there was just seemed to be bit more method to the madness, and an emphasis on writing recognizable songs instead of multi-second blasts.
The addition of new vocalist Kat added yet another new dynamic to the proceedings, especially onstage—because, in another abrupt switch, Agoraphobic Nosebleed actually started playing live. Their schedule remains sparse—they're only played twice to date, both times at big American festivals—but it's become obvious that AnB is an evolving entity, and one that's committed to keeping fans guessing. Arc is so completely different from anything else they've done that it almost feels like a rebirth—or at least, a new phase in their long, strange trip.
Arc's liner notes thank Eyehategod, Black Sabbath, Melvins, and Crowbar, and it's easy to find their influence stamped on every note of the record's three supersized songs. The mere thought of AnB writing a song that scrapes twelve minutes would've seemed laughable only a few short years ago, and yet prolific producer, Pig Destroyer axe-slinger, and bonafide government man in black, Scott Hull—who handles the lion's share of the songwriting for AnB—seems perfectly comfortable dredging up swampy sludge riffs and lumbering melodies, while Kat seems right at home roaring atop the shuddering doom she used to peddle in her past band, Salome. It's a raw, brutally human effort from a band whose sixth member is a drum machine.
Kat and I have been friends for a good while, since I went on tour with her and her former Salome bandmates five or so years ago. She's a quiet, thoughtful person, who chooses to exorcise her demons onstage and spend the rest of her time focusing on her yoga practice, her education, and other creative pursuits. She doesn't do a ton of interviews, so I was really pleased to have the chance to pick her brain a little bit here, and get a read on what Arc means to her.
As is perhaps fitting for an album that draws so heavily from the most miserable of genres, the lyrics for Arc are deeply emotional, written as Kat cared for her mother during the final days of her life, before cancer claimed it. The lyrics on "Deathbed" cut to the quick, and feel uncomfortably familiar to anyone who's lost a loved one—"I cried your name / Forgive me / For not being there / Too late." "Gnaw" deals more in the raw abstract, while "Not A Daughter" goes straight for the jugular with lines like, "I am nobody / Not a daughter / My face, empty / Empty as your eyes when you asked me / To end you."
We also talked a lot about identity; her unsurprising hatred of the term "female vocalist" came up right quick, as did her steely resolve to stay true to herself and refuse to conform to feminine stereotypes. Read on for our conversation, and be sure to snag a copy of Arc from Relapse Records come January 22.
Noisey: The sludgy doom influence on this album is a whole new look for AnB, but will make a lot of sense to those people who are familiar with your history with Salome. What made you want to go back to your slower roots on this album?
Kat Katz: Doom is my favorite metal genre, so I was excited to have the opportunity to write for it again. Scott actually wrote Arc's "Gnaw" years before he introduced the EP series idea. I think he was excited by the challenge of writing an entire doom/stoner rock album. He and I exchanged our favorite doom/stoner rock songs, and he wrote all the music; I provided him feedback, but that's it. I was in charge of the artwork and all vocals and lyrics for this EP.
Why did you guys decide to pull a KISS and release these EPs as predominantly solo efforts?
Writing a series of EPs that explores different music styles was a fun way for Scott to challenge himself; also, the solo concept allowed each member to exercise a certain amount of creative control. There is no special significance to Arc being released first, though—Scott just had material for it already completed.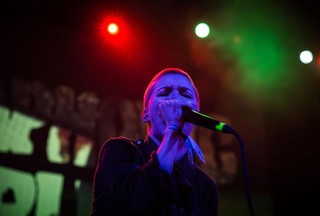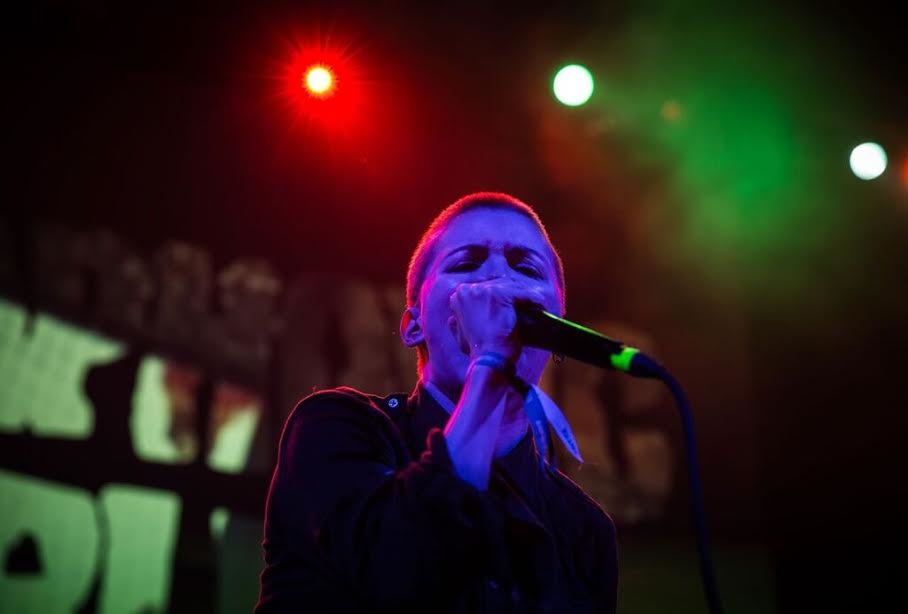 When you were in Salome, the metal media fell all over itself to talk about you and the image they had of you—describing the picture of a petite blonde woman doubled over doing incredibly harsh vocals as if it were some unheard-of phenomenon. Was your post-Salome shift towards a more androgynous personal style and more openness about your queer identity a kind of response to that?
I've always hated when the metal media focus on my gender and appearance; consequently, I abhor being referred to as a female vocalist. My shift in appearance (really, just shaving my head) was essentially a big "fuck you" to anyone who thinks I should conform to feminine stereotypes. I've been fairly open about my gender and sexual identity since high school, but attending Smith College, a school with a huge queer population, has certainly made me feel more comfortable with being out— it's a very supportive environment.
Have you seen the conversations in metal around things like racism, misogyny, homophobia, and transphobia shift since you started playing in bands?
When I began playing in bands, I encountered a great deal of misogyny—I was often denigrated and dehumanized by the metal community, including my own bandmates. Yet, how I was treated didn't differ much from how I was treated by men in general. It took years to undo the damage done by our sexist culture and find value in who I am and what I do. I don't know if there's been a shift in metal's culture—these days, I rarely play or attend shows. However, if I were to judge based on the comments I read online, I would conclude that the metal community is full of bigotry. In order to change the culture, I think we need more well-respected men in metal who are confident and secure enough to openly discuss discrimination and diversity and challenge bigoted attitudes and behaviors.
Getting back to Arc, I was struck by the lyrics to "Deathbed" and "Not a Daughter." Was writing those words and the music behind them part of your grieving process for your mother? Do you hope that they'll resonate with people who are also dealing with loss?
Arc characterizes my relationship with my mother and her passing. I began writing lyrics for it when I was providing her hospice care. My mother developed schizophrenia, a severe neuropsychiatric illness, when I was a child. When she was dying of cancer, her schizophrenia worsened, which made caring for her extremely difficult mentally, emotionally, and physically. At the time, I couldn't have written about anything else. Writing did help with the grieving process—in general, writing about trauma and affliction is a way for me to process and make sense of experiences. I write about emotionally charged events over and over until I've said all that I want to say about them. I do hope that my honesty about mental illness and grief will resonate with someone.
How important is music—listening, appreciating, creating— to your mental and emotional health?
It's imperative—my mental and emotional health declines without it. In general, I absolutely need to have a creative outlet. Music, art, and poetry are central to who I am.
How would you describe your state of mind when you're onstage performing with AnB? How do you decompress after it's over?
Focused, present, and vulnerable. I listen as intently as I can to the music and let whatever I feel come through. In a world where stoicism is valued above vulnerability, I consider revealing who you are and what you feel as evidence of true strength.
After I finish a set, I like to have 10 minutes or so alone to process and relax, but that's not always possible, which is perfectly fine.
I've seen first-hand the way people try to swarm you at AnB shows. What's your level of comfort talking to fans? Does the amount of attention you get still feel weird, after all these years in the public eye?
Because I have anxiety disorders, including social anxiety disorder, it's always somewhat uncomfortable for me. Despite that, I greatly appreciate when someone approaches me to create some kind of connection. Yes, I think the attention will always feel weird. However, it's not like the attention continues beyond metal shows, so it's not a big deal.
What part does your yoga practice play in your daily life now? I know it's always been important to you, and that you work as an instructor. What do you listen to when you teach/practice?
Yoga remains a vital part of my daily life—it's important for every aspect of my health, and I often use it to find clarity and objectivity. When I teach, I listen to music that's created for yoga and meditation practice, like Anugama. When I practice on my own, my music choice depends on my mood. Sometimes I listen to metal, sometimes I listen to classical, and sometimes I practice in silence. I think that yoga and metal go great together. Many people I've spoken with seem to think that yoga is about only embracing the positive facets of life, but I think it's about much more than that. My practice includes integrating every facet of life, including the depressing and maddening ones. It's an opportunity to bring light to the darkest corners of yourself.
What are your plans for the rest of the year? Is AnB planning more shows?
We're excited to be playing Netherlands Deathfest in February and the Southwest Terror Festival and California Deathfest in October. There's talk of additional shows and fests, but we shall see. We also plan to work on a full-length later this year.
Kim Kelly is an editor at Noisey. She's on Twitter.