On top of showing you this neat video of pretty images and music, I also did some Qs and As with JJ Herrema and Kurt Midness. It was cool.
Black Bananas have a new video and we are premiering it, here, on this blog. That's it above these words I typed. You can watch it. It's for BB's song, "It's Cool," which is the first song on their old album. On top of showing you this neat video of pretty images and music, I also did some Qs and As with JJ Herrema and Kurt Midness from BBs. Jennifer was in Royal Trux and RTX before this, and she's known for modeling, music-ing and general arting around. Kurt plays synths in the band and is also at Volcom's music department, which is how I know him. There's a third guy in the band who was suspiciously absent from this interview. Anyway, watch this pretty video and then read my pretty interaction with Black Bananas.
The video was directed by Brain Drain. How much input did you guys have into it? How did you get involved with Brain Drain?
Kurt: Brain Drain is really this guy Ian Kennedy who's been a fan of Jennifer's going back to Royal Trux. We have a VHS somewhere of a Trux show he shot in, like, a laundromat. He did this video himself and has done a couple other videos for RTX/Black Bananas. He's also called Ancient Domain.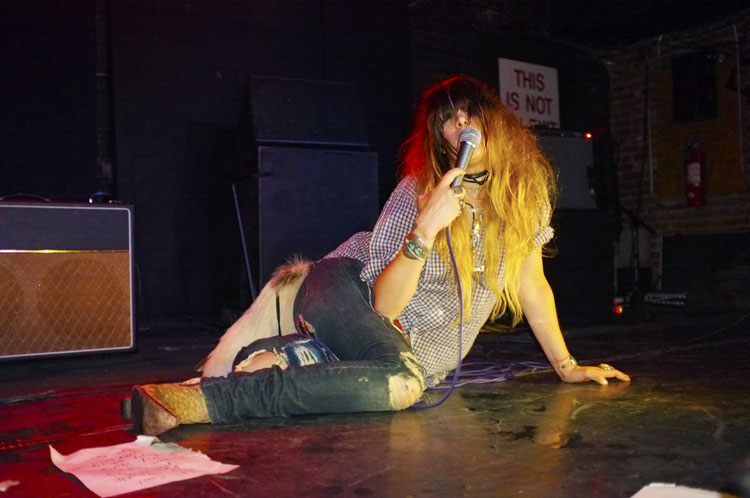 In a lot of ways this video feels similar to the "My House" video except that it seemed like all the footage in that video was shot for it and this one looks like was mostly found footage.
Jennifer: Yeah, all the footage for "My House" was shot specifically for that video—integrating my aesthetic, live performance, and literal lyrical references taken from the album (on "Foxy Playground," I mention my Monte Carlo—I had a 1979 custom V8 when I had my farm in Virginia). Jess, being one of my tightest friends, knows my taste, so she just kinda nailed it.
The "It's Cool" video is a sequencing of found footage. That mode of depicting a sentiment or "story" has been a huge part of my repertoire since my teenage years, and all of my Royal Trux collages, art work, and TV ads...Lots of Drag City bands have co-opted the visual collage for ads. (Ty Segal has a new Trux/Black Bananas-style TV ad. It's interesting seeing shit Trux did 14 years ago being used as a fresh approach, but we kinda knew that would be the case. "Follow the winner," babe!) Ian "Brain Drain" incorporated the visual collage method into his videos for us as an homage to my mode of working, but the story is told from his point of view via his choices and decision-making, which tells an entirely fresh story...so to speak.
Kurt: The Brain Drain videos are found footage mixed in with some live footage. The "My House" video was made by our friend Jess Holzworth. She gets paid well to do videos for people like Beck and major label-type musicians, but she's our homie and hooked us up for free. She had a filmer-guy shoot the video in three different cities. "My House" was shot in Seattle, Costa Mesa, and Tucson, so it ended up being kind of a production. All these videos are inspiring to me; I'm moved that these guys took the time and energy to make these videos as a result of being inspired by the music. Without that, we wouldn't have these rad videos.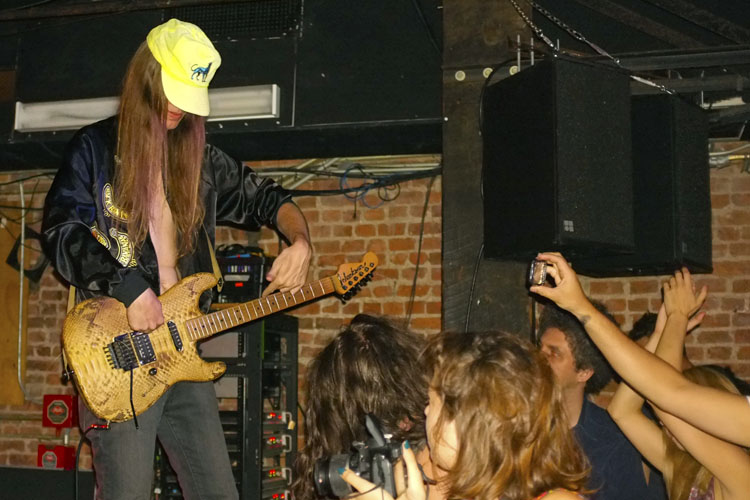 What are your favorite videos or films? What are the most striking visuals that you've seen in film/video?
Kurt: To be honest, I'm really into watching TV. Sometimes, there is nothing better than a marathon session watching a TV show that you like. Like, when you realize you've watched four seasons of Trailer Park Boys back to back, it's like, "Wow...I guess I've spent the last 16 hours watching TV."
You know what's tight? There's this commercial now that has ZZ Top, and they're, like, surprising people that come into this liquor store and they're playing their version of a Z-Ro song about selling crack. ZZ Top's the best. This guy Whitey made that commercial—He made some cool videos for this band Red Fang.
I like John Carpenter movies too. He soundtracked a lot of his own movies with synthesizers and sequencers. I'd like to soundtrack a movie.
Jennifer: I love John Carpenter but I'm also into Jodorowsky, Anger, and Kubrick. Pink Floyd's "Live at Pompeii" was really intense for me the first time I saw it, One of my faves is A Boy and His Dog, based on a Harlan Ellison story and directed by L.Q. Jones. There's lot's of new stuff, like FX, up in the mix, but I prefer the more so-called "pedestrian" shit like TV....America's Funniest Home Videos is awesome.
I see the Anger influence the strongest. A lot of his films remind me of your videos in the way that they feel fetishistic or like you're curating all your favorite things to share with the audience.
Jennifer: Yeah, that's def been my musical and visual M.O. from the start: creating my own aesthetic or "language" out of existing current and outdated material, rendering it exclusively my own—tthe lyrics to the RTX song "Black Bananas" explains some of that process. The "It's Cool" video is rendered by Brain Drain but using my M.O., so it's his personal "piece" that was informed and influenced by our song "It's Cool," but ultimately, it's his vision in the end
You've been interviewed a million times and I didn't want to make you retread your resume. What are the things that aren't covered in most interviews that you'd be psyched to talk about? Someone told me to ask you about your drawings
Jennifer: Shit, I don't know…I used to draw and paint constantly when Royal Trux was active, but when I started RTX, I chose a partner (Andreas Jenne) to realize my album art. I've started doing more artwork lately, but they're fairly large-scale pieces that have yet to tie into my albums. I kinda like the separation.