Here's Conveyor's New Song: "Pushups"
This song 100% contains the lyric: "I'm smart and I've been told I have a more than average penis size."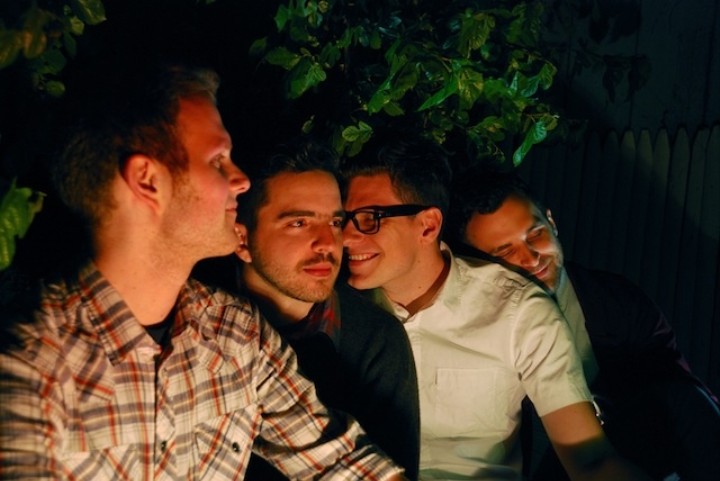 Photo by: Sarah Gainer.

Imagine the fret-abusing angles of early Battles plus some sunny surf-pop melodies fed through 49 distortion pedals and compressors and you're coming close to the sound of Conveyor's new track. Out on 7" and digital on December 10th, this release marks the first entry in an ongoing series titled GOLD, where Gold Robot presents a limited pressing on gold vinyl, featuring minimalist packaging and a common visual thread. (Pre-order here!)

The Brooklyn-based band's second full length will be out next year, but in the meantime enjoy "Pushups," a song that TJ wrote about THE BODY. Maybe his body. More specifically, he would like you to note that he's been doing pushups (come on then, show us your guns), and he probably thinks that we won't be able to hear this because the vocals are shrouded in so many layers of cacophonous noise, but he 100% says: "I'm smart and I've been told I have a more than average penis size."
Just FYI, in case anyone was wondering.
Or as TJ puts it, the two songs on this release "are brusque, physical—violent and sexual id-based reactions to a surplus of structured, adaptive thought." You can read a more expansive explanation here.
Conveyor Tour Dates
10.14 - New York, NY - Pianos (WLFY CMJ Kickoff Party)
10.15 - Brooklyn, NY - Silent Barn (Acoustic CMJ show)
10.24 - Winooski, VT - The Monkey House (w/ Coke Weed)
10.26 - Providence, RI - AS220
10.29 - Washington, DC - Velvet Lounge (w/ Pree)
10.31 - Atlanta, GA - Star Bar (w/ Little Tybee)
11.1 - Gainesville, FL - Flacos
11.5 - Louisville, KY - Zanzabar