Bask in the Disturbing, Skeletal Candlelight of OBN IIIs' "No Time for the Blues" Video
The Austin punks share a creepy video for this garage punk thriller.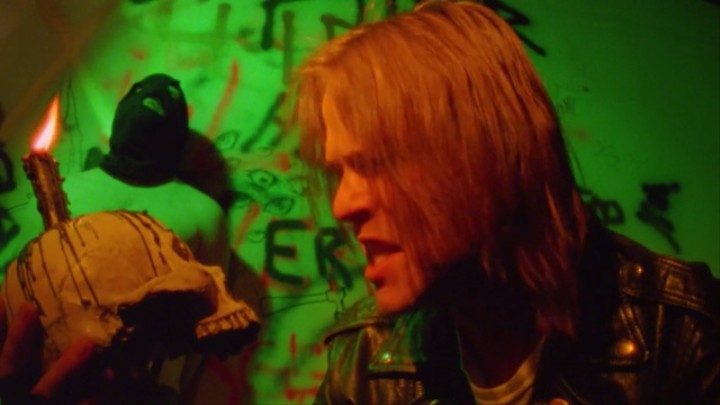 The blues are great and all, but sometimes you just want someone to howl at you at a little bit higher tempo, and you want it to be a punk song. Okay, basically sometimes you just want a great garage punk song delivered in what could almost pass for a swampy, bluesy snarl. Fortunately, there are few artists better at capturing that kind of snarl right now than Austin's Orville Bateman Neeley III, whose band OBN IIIs has been grabbing our attention all year. After debuting the single "No Time for the Blues" in March, we're excited to share the video, directed by Matt Clark, above. With lots of blood, an ominous masked man with "No Time" written in blood across his stomach, a skull candle holder, and plenty of other grotesque images, it, true to the song's promise, ignores the blues in favor of far more disturbing emotional worlds.
OBN IIIs just came off a CMJ where they dominated the conversation, and they're heading back on the road for another month this week, so make sure you catch their killer live show if you have a chance, and check out the video for "No Time for the Blues" above.
OBN IIIs Tour Dates:
Nov 8 - Austin, TX - FFF Nights
Nov 14 - Albuquerque, NM - Burt's Tiki Lounge
Nov 15 - Denver, CO - Hi Dive
Nov 16 - Salt Lake City, UT - Kilby Court
Nov 17 - Boise, ID - Neurolux
Nov 18 - Missoula, MT - Stage 112 #
Nov 19 - Calgary, AB - Palomino Social Club #
Nov 21 - Seattle, WA - Lo-Fi Performance Gallery #
Nov 22 - Vancouver, BC - Electric Owl #
Nov 23 - Olympia, WA - Northern #
Nov 25- Portland, OR - Dante's #
Nov 28 - San Francisco, CA - Brick & Mortar Music Hall #
Nov 29 - Los Angeles, CA - Los Globos #
Nov 30 - San Diego, CA - The Hideout #
Dec 1 - Tempe, AZ - Yucca Tap Room #
Dec 2 - Las Cruces, NM - Train Yard #
Dec 3 - Austin, TX - Red 7 (Inside) #
* w/ Ex-Cult
# w/ Pampers