Stream Briana Marela's 'All Around Us' and Have a Good Ol' Shameless Cry into Your Keyboard
We talked to the Seattle songwriter about her upcoming record on Jagjaguwar, streaming on Noisey ahead of its August 21 release.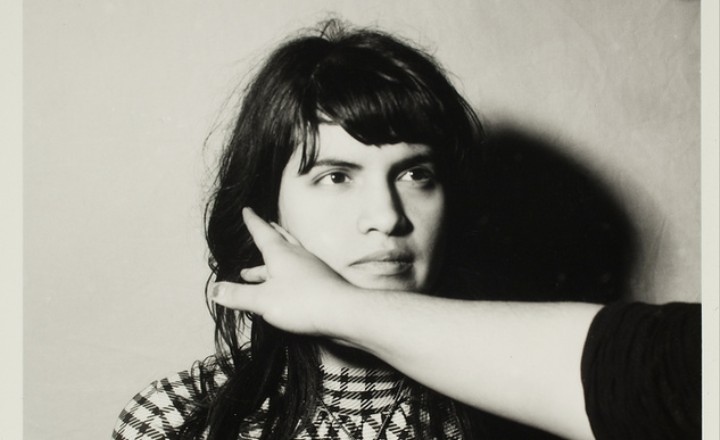 Photo by Juliet Orbach
Briana Marela's new record is called All Around Us, a title that's derived from a children's book, but it's as far from childhood as you can get. The album—which releases on August 21 via Jagjaguwar and Noisey is streaming exclusively below—is a collection of stitched together sounds, exploring how far you can go with vocal manipulation. It's a bit funny, too, because the Seattle native prides herself on being straightforward with her lyrical content. With Sigur Rós producer Alex Somers as her guiding light, Marela recorded her album in Iceland—a place she thanks for inspiration but jokes that people romanticize a bit too much. This attitude is one that's indicative of Marela as a whole. She's serious, yet playful. When she speaks in conversation, she's quiet and reserved, and finds herself talking in circles while somehow being extremely clear with her message. It makes sense her record would be one of full of swirling, chaotic sounds clashing over lyrics that are driven by emotion, yet plainspoken in their delivery. In prep of her album stream, we called Marela up to chat about what went into making All Around Us, and what it's like to write and record in such a vulnerable manner.
The record is finished. What's your headspace like?
I'm really excited it's coming out I feel like I've been kind of waiting a little while just really wanting to share these songs with people and have it be out in the world and also just to have that closure and to also move on and make new music too.
How long did you work on this record?
Kind of a long time, I wrote most of the songs in 2012 and 2013 and then the album was recorded in late 2013 and I pretty much mastered in early 2014 and then it took close to about another year to get it released.
What was the reason for the delay?
With being such a new artist, I had recorded this album and I felt really passionate and proud of and I felt like it deserved more than just putting it up on Bandcamp. And just also there was a really big endeavor and project and I just wanted to try and find people who would be really excited about it and I feel so lucky to have joined the Jag roster. Everyone there is so sweet and really believes in the album and me and it just feels really great.
How do you feel now, performing and touring songs that were written so long ago? What are you feeling?
It's always changing. For example, I have a backing band and I feel like they give new energy to some of the songs and they've allowed me to play a couple of songs that I've never been able to play solo because I would like need more parts. Any interaction breathes new life into it—like getting to shoot music videos for a couple of the songs it kind of breathes new life into the song. I don't know, playing in front of a new audience is really exciting, too. I've played these songs with all my friends and people in the community for so long that I wanna share them with people who haven't heard them before. It helps give them new meaning, too.
Continued below.

Is it weird going back and revisiting your emotional state of mind when your recorded this record?
I've almost kept myself in this limbo—like, I'm still experiencing a lot of those things [I wrote about]. Maybe it's because I haven't been able to get the songs into the world, so I'm hanging onto these old emotions and feelings maybe longer than I should be. That feels hard, sometimes. And when I'm doing new writing, I'll tell myself I need to put that on the backburner and focus on practicing these songs and get ready for touring. It's definitely confusing, and I think that's why I've been excited to move on and record something new. [Laughs.]
What do you hope a listener gets out of the record?
I just want to create an understanding between me and the listener—I want them to understand what I was feeling and create their own meaning from it. I just want them to feel.
Do you have a favorite song on the record?
[Laughs.] I think it changes everyday. One of my favorites is the first song on the record; I think it's one of the best songs I've ever written.
Is it difficult for you to write in such a personal way?
I think I go into it without much of a filter, and a lot of times it is a painful process to reveal certain things. I just do it anyway. A lot of my lyrics are pretty plainspoken because that's how I communicate. If you're having a conversation with someone, you're not going to use a bunch of vague, flowery language. You'll get to the point so they can understand. That's what my voice is.
Catch Briana Marela on tour.
Fri. Aug. 14 – Rochester, WA @ Helsing Junction Festival
Thu. Aug. 20 – Sun. Aug. 23 – Brecon Beacons, UK @ Green Man Festival
Tue. Aug. 25 – San Francisco, CA @ The Chapel *
Thu. Aug. 27 – Portland, OR @ Mississippi Studios *
Fri. Aug. 28 – Vancouver, BC @ The Cobalt *
Sat. Aug. 29 – Seattle, WA @ Barboza *
Tue. Sep. 1 – Minneapolis, MN @ 7th St. Entry *
Wed. Sep. 2 - Iowa City, IA @ The Mill *
Thu. Sep. 3 – Chicago, IL @ Constellation *
Fri. Sep. 4 – Toronto, ON @ Drake *
Sat. Sep. 5 – Montreal, QC @ Bar le Ritz *
Sun. Sep. 6 – Brooklyn, NY @ Rough Trade *
Tue. Sep. 8 – Philadelphia, PA @ Boot & Saddle *
Wed. Sep. 9 – Washington, DC @ DC9 *
Fri. Sep. 11 – Richmond, VA @ Strange Matter *
Mon. Sep. 14 – Atlanta, GA @ The Earl *
Wed. Sep. 16 – Austin, TX @ Holy Mountain *
Thu. Sep. 17 – Dallas, TX @ Three Links *
Sat. Sep. 19 – Phoenix, AZ @ Valley Bar *
Sun. Sep. 20 – Los Angeles, CA @ The Roxy *
* w/ Jenny Hval