Listen to "T.V. freestyle," the First Track from SaveMoney Member Sterling Hayes's Upcoming Debut
After dropping a bunch of Soundcloud loosies, the Chicago rapper is gearing up to release 'antidepressant.'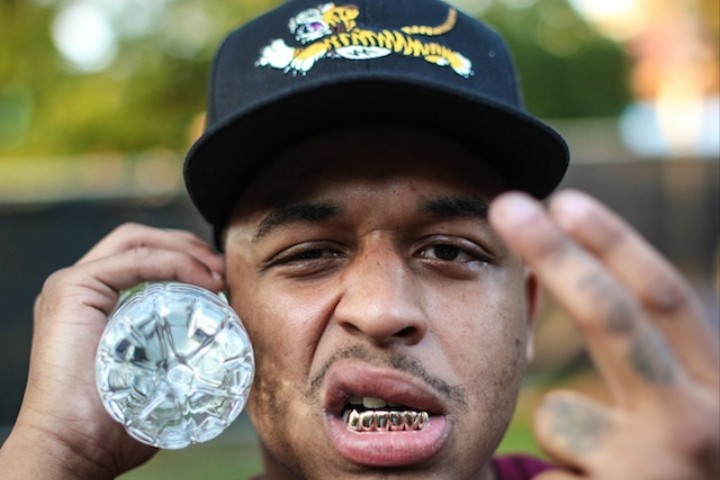 Photo courtesy of Sterling Hayes
The SaveMoney family is beginning to look like Chicago's hip-hop farm league, producing a laundry list of talent that includes not only breakout stars Chance the Rapper and Vic Mensa but also the likes of Towkio, Brian Fresco, and Joey Purp, among others. Next to the plate is 22-year-old Sterling Hayes, who's sharing "T.V. freestyle" off his forthcoming project antidepressant. After releasing tracks sporadically on Soundcloud, Hayes is prepping his debut mixtape, which will feature SaveMoney members like Leather Corduroys (Joey Purp and kami's collaboration) as well as production from Knox Fortune, Diego, and Ugly Eddie.
This first taste of that project is an anthem about rubbing your success in the faces of everyone who wasn't cool to you when you were a nobody. And what better way to gloat than by, say, "fucking all their hoes"? I've personally played out a similar revenge fantasy every day since my high school graduation. Gloating, of course, is not a new theme in rap, but Sterling allows for a bit more introspection than your typical "I get paper / bye haters" banger with lines about self-loathing. And Treated Crew members Nez & Rio's production adds to that depth. It's propelled by some requiem-style synths that start to sound like a choir chant over Sterling's half-sung flow. He's at a ten for the entire track until the hook where he's takes it down to a deliberate one, echoing exactly what he's saying lyrically: I don't give a fuck.
Zach Goldbaum is a Noisey correspondent. Follow him on Twitter.