I Went to Battioke, Miami's Premier NBA Player Karaoke Charity Gala, and Was Profoundly Moved
In which Erik Spoelstra sings Michael Jackson, Shane Battier sings Oasis, and Pat Riley is maybe probably drunk.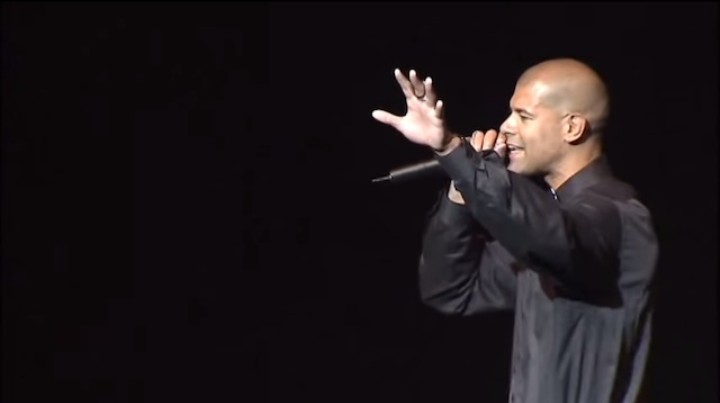 Shane Battier performing, via YouTube
Shane Battier is a retired NBA player best known for his not-just-your-regular-athlete affability and intellect, his championships with the Miami Heat, and his laser focus on game preparation and defense. For the past four years, Shane Battier has been appeasing the basketball gods with a charity event like no other: Battioke. Heat players, management, and random celebrities perform karaoke like monkeys in front of a crowd of Miami "elite." The press blurb for the event sells the idea that purchasing tickets to the event will have you hanging with the who's who of Miami's Gatsby world, and, from what I could tell, it was not an exaggeration: I heard one person ask another person casually if they knew Jeffrey Loria, owner of the Miami Marlins. In addition to watching the karaoke, Miami's elite can bid on Heat-themed swag in an auction to raise money for Battier's Take Charge foundation, which identifies and assists at-risk youth with financial support for education. The event is strange, and it is awesome.
Heat owner Mickey Arison was walking around shmoozing with the crowd, so I asked him what he thought of Battier's karaoke. He was hesitant to answer questions until I assured him they would not be basketball related. Then he spoke enthusiastically. "I always like when Shane sings the Love Boat theme," he said. "It always makes me happy." He added, "I love Motown and I love the Beatles."
I asked Arison if who he would like to have perform at half time of a Heat game, if he could pick anyone. He told me: "I wish we could bring John Lennon back from the dead."
Lately, with the rise of websites like The Player's Tribune and Grantland, athletes have attempted to fully humanize themselves to their audience. It can be a difficult thing to do. There's only so much of yourself you can bare in an interview or a documentary. What they don't realize is that they could just do something as simple as participate in a karaoke festival. A person's soul is never more truly on display than when they are doing karaoke, no holds-barred (except for bleeped out cusses), with no safety net. It's just them, the word monitor, and us.
Each song would be a window inside the mind of these tortured basketball souls. I asked Shane Battier what he wanted out of the night from the singers, and he told me, "Raw emotion."
I also asked if he would sing Alanis Morissette's "You Oughta Know" to LeBron James, if James were in the audience. Shane responded, "That's my boy. I would pick 'Memories.'"

The author and Shane Battier, photo by the author
The night opened with a pre-taped blurb including a green screened Battier performing "Blank Space" in front of the judges from The Voice. Then the sing-alongs started, and it was my turn to evaluate the performances:
Shane Battier – "I'm Too Sexy"
Battier launched himself onstage in a bomb-ass pair of chrome pants and a fedora. "Miami, you thought I was retired! But South Beach Battioke will never retire!" he announced to the crowd, who were hungry for top tier karaoke. He sauntered and lunged around to a fully committed rendition of Right Said Fred's "I'm Too Sexy." He couldn't fully hit the high notes of, "So sexy it huuurrts," but it was nice to know he was trying. He threw out his hat to the crowd during "Too sexy for my hat." Hat throwing would become a motif of the night. It was also heart-warming to see that Michigan's Mr. Basketball of 1997 had to check back on the word monitor every now and then just like the rest of us.
Karaoke Score: 10/10
Shane Battier and Jon Secada – "Just Another Day"
Battier confessed that the first song was just him messing around. What did that mean? How could karaoke improve beyond, "I'm Too Sexy?" We were about to find out.
He said that he'd been working on the next number since he retired, and he began a rendition of Jon Secada's, "Just Another Day," a cheesy early Miami classic. Secada has lingered around this city forever, and he even has his own room at the Magic City Casino. He's around. So it was no surprise that he came out to perform a duet with Shane. The crowd went crazy. However, their harmonies were a little off, and Shane didn't keep the singing up for the entire song.
The song's meaning for Shane seemed obvious: He is troubled and saddened by retirement. He longs for the days of playing winning basketball. He doesn't want to spend another day without us, his city and his fans. When he sings, "Why can't you stay forever / Just Give me a reason / Give me a reason" he is begging us to beg him to come back. To play just another game. Just another day.
Karaoke Score: 7/10
Miami Beach Mayor Philip Levine – Brief Remarks
The mayor of Miami Beach, Philip Levine, came up next to thank Battier for keeping Battioke on South Beach. Unfortunately, Levine did not perform any karaoke. However, Battier said the sentence, "We're glad we can add to the chicanery of South Beach," so there was still entertainment to be had.
Battier then introduced the MC of the night, Miami Heat sideline reporter Jason "Jax" Jackson, a funk-obsessed and weirdly sexual personality who is well known around the 305. Jax led the philanthropic crowd in singing Pat Riley, iconic basketball personality and president of operations for the Heat, "Happy Birthday."
Erik Spoelstra – "Billie Jean"
The next performance, which went kind of viral, was an awkward as fuck rendition of "Billie Jean" by noted goober and social robot Coach Erik Spoelstra and his girlfriend. Spoelstra is considered a very straight-laced, by the numbers guy, and he's not known to be as humorous or personable as coaches like, say, Phil Jackson or Greg Popovich. So it was nice to see him let loose and "smile." But also kind of creepy. But still adorable. He wore a fedora below his eyes, MJ style.
This performance was genuinely awful. His voice cracked here and there. There would be a second hat casualty, as the fedora was thrown out to an adoring crowd. There were times where his timing was off and, like the rest of us, he apologized to the MC and made excuses. At one point, he kept pounding the top of the microphone to the beat, creating a loud thump on the speakers.
Karaoke Score: 5/10
Pat Riley and His Angels – "Twist and Shout"
Jason Jackson returned to the stage with a gaggle of ladies. He noted that Pat Riley had said he would perform on stage if Jax were able to recruit the most beautiful ladies at the event. I can't say for sure, but Riley seemed absolutely lit when he came up on stage. Perhaps it is just season fatigue or old age, but he seemed to be slurring his words and talking extra slowly. "These are more than the most beautiful women...The reason I wanted to come up and sing is that Shane promised to play the rest of the season [if I did]. We need a 3-point shooter, and he doesn't have to travel with the team. We need his defense. We've seen him on TV, and believe me he can come back." The last part seemed to be a joke mocking Shane's television presence.
Jax chimed in: "Ladies and Gentleman, Pat Riley and his Angels!"
Pat started off completely off key and couldn't get the timing of the song right. He started the twisting and the shouting during the instrumental intro, and he never really caught up. This created a hilarious doubling effect throughout the song. The "angels" in the background didn't know what to do and kind of stood around until near the end. Pat practiced his sideways slide and tried to do that "awwwwww...aWWWWWW...AWWWWW AAAHHH" part (see: 1:25). It was also clear that he expected to be bailed out at some point, but the song kept going. Mad props to Battier for providing no bailouts. This is real karaoke. A must-watch.
Karaoke Score: 1/10
Various Artists – Assorted Tunes
Some shenanigans happened in between this and the next highlight of the night. An assistant coach performed "Sexual Healing." Battier's wife did "Shake It Off" with her friends. A compilation of NBA Finals moments played. New Heat point guard Goran Dragic was called up to perform but never showed up. A lucky patron bid $14,000 on a dinner with Shane where they would watch Game 7 of the Finals with the Spurs and analyze every moment together. Et cetera.
Michael Beasley and Bill "Henry" Walker – "A Thousand Miles"
Finally, sweet-shooting stoner Michael Beasley came up to perform with his former Kansas State teammate and current Heat Bro, Bill "Henry" Walker. Beasley is often seen as a disappointment: He was 2008's number two draft pick, but he never became a standout NBA player. However, it seems he's finally found a skill worthy of his high pick status: Karaoke. Beasley came out in a cowboy hat and flannel shirt and absolutely crushed Vanessa Carlton's "A Thousand Miles." While Walker was present, this was really Beasley's jam. He did the solos and high notes.
The song also carried a certain emotional weight, as Beasley recently came from playing in China to attempt his third stint for the Heat. The thousand miles Beasley has to cross to see us Heat fans is not just the physical barrier of the ocean separating North America and Asia, but the chasm between the expectation of the fans and Beasley's reality. Beasley wants to show us he can help contribute to the Heat and tells us that he's worth it. This is the perfect example of a karaoke song pitch. Raw emotion. A match of subject to singer. You can't ask for better karaoke. At the end of the song, Beasley dropped the mic and threw his hat out to the crowd. He would later walk around asking for his hat back.
Karaoke Score: 10/10
Shane Battier – "Don't Look Back in Anger"
Battier would close out the night singing "Don't Look Back in Anger," by Oasis, with his "lake house boys"—ostensibly his OG friend group that goes to some lake house every year. He told me this was his favorite song to karaoke. It makes sense. It hits on pretty much every facet of Battier: his reluctant celebrity status, his regrets at retiring, and the importance of memory to him. It was also just an excuse to messily rock out with his boys to some Oasis.
Karaoke Score: 8/10
Battier then announced Beasley as the winner of Battioke 2015, the night ended, and we all went home knowing more about each other than any game of basketball could have ever shown us.
Jonathan Peltz is Noisey's Miami nightlife correspondent. Follow him on Twitter.