The Awkwardness of Oh Land
We talked to the Copenhagan-born, Brooklyn-based singer about perfection, hacking radio stations with Dave Sitek, and that time Rihanna was shocked by the word "shit."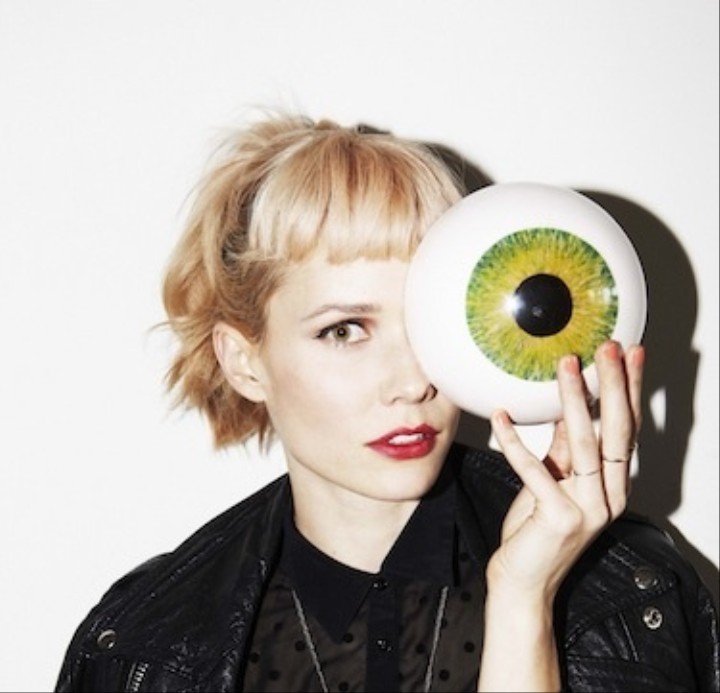 Nanna Øland Fabricius says she feels awkward all the time. As a girl who spent 10 years as a ballerina and now nimbly skips across stages performing songs as Oh Land, this is a surprising admission. She consciously threads her songs with her own uncomfortable experiences because "it's like celebrating all the things in life that you actually want to erase." She explains that one of her most embarrassing moments is woven into "My Boxer," a sparse, rhythmic, sing-speaky song on her third record, Wish Bone, which came out last week.
"There was this one time where I had to take a blind lady across the street and I'd never done that before," she says, sitting on the couch in her label's Midtown office, her dancer's legs tucked underneath her. "I took her hand which is so obviously wrong! You don't take a stranger's hand! Like a 45-year-old woman! But once you take someone's hand you can't just let go because then you're admitting your own awkwardness. I just held her hand and in the middle of the street she turns around and is like, 'Do you mind if we don't hold hands.'" The Copenhagen-born, Brooklyn-based singer giggles at the memory.
When Oh Land was just Nanna, a 19-year-old student at the Royal Swedish Ballet School in Stockholm, she slipped a disc and fractured her spine, her teenage invincibility splintering around her in one twist. She returned to Denmark and spent the next two years in rehabilitation, trying to make her way back to ballet, her back thwarting her every time. Today she says, "I'm still recovering. I still have problems with my body from the accident every day, but I now know how to make it work."
It was during this period that the songs that make up her 2008 debut, Fauna, began to take shape. A jostle of Disney sweet harmonies, oddly juxtaposed beats, elegiac piano ballads, and Björk-ian enunciation, the Crown Prince of Denmark announced himself a fan. But much like when, at 16 and she told her parents she wanted to move to NY to study ballet (they said no), Oh Land had itchy feet and they were pointing West. She admits that what followed next sounds like a movie, with Nanna cast as Oh Land, the plucky heroine in an ongoing starring role. Determined to make it to the States she booked herself a small—by pretending to be Oh Land's booker—which included a show a gig at SXSW. The script dictated that only seven people attended this show, but one of them was Amanda Ghost, songwriter for Beyoncé, Shakira, and the woman responsible for James Blunt's "You're Beautiful." She was also newly minted as the president of Epic Records and she took one look and one listen and signed Oh Land on the spot.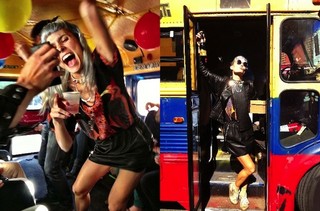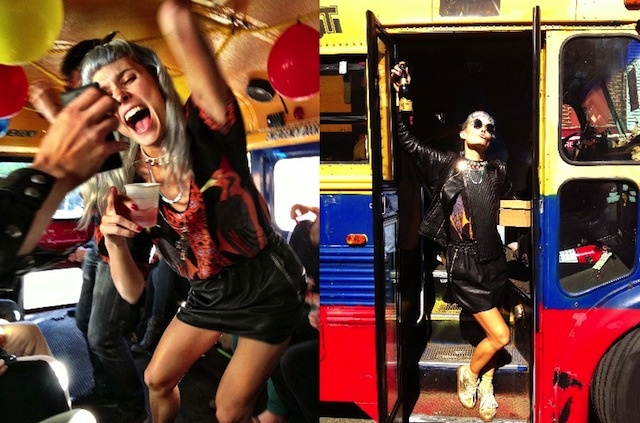 Oh Land celebrating the release of her LP 'Wish Bone' on a party bus!
How do you look back at this time?
I collect snow globes and you know, it's like there's an isolated universe with sparkles, and that time in my life is like a little snow globe I can look at. It also feels so far away from where I am now. It was very exciting and scary. It felt unreal and I think you can hear that in my [self-titled] album. I love that album because it was so a time in my life, but you can also hear how everything's romanticized and dreamy.
Wasn't it soon after this that you had an encounter with Rihanna? Were you songwriting with her?
It was a manager from Roc Nation who saw my very first show and he then invited me to the studio in London where Rihanna was recording. He played her a few songs from Fauna. It was amazing. She was like, "Oh wow, did you write that yourself?" Back then it was "Pon De Replay"-era, she had long hair and she hadn't gone "bad." I remember on one song I said something about "this shit" and she was like, "Woah! Did you say shit?" It was so funny.

Given that you wanted to move to the States at 16 and you willed yourself over here years later, it seems like America has always had a magnetic draw for you. Why?
I think it's just something really primal, some kind of settler, Columbus-thing. I just want to go out there on the seven seas and explore new land. America's become the picture of that. Also because it likes to advertise itself as that kind of place. It is, in many ways, a land of opportunity, although the opportunities are so rare. You can get to the top in this country, but also the system is hard.
I feel like America sells it so it seems more possible than it really is, which is dangerous.
Absolutely, you get infatuated with the message, but you also know that in reality it's one of the hardest places in the world to break through. It's easy to fall in love with words and America has those words. They dare you to say things out loud. A lot of Americans use the phrase, "I love you," more than Europeans.
For sure. You say: "Goodbye—love you!"
Exactly and it works! I really feel loved! It's awesome, but you also have to get to know the mechanisms of it.
/ / /

For Wish Bone, Oh Land decamped to LA to work with TV on the Radio's Dave Sitek. When they finished recording the album's lead single, "Renaissance Girls," they hopped in a car to cruise around the city. Dave had an antenna and apparently, some kind of technical know-how, because they managed to hack into radio stations, and patch the song onto the airwaves. They then continued to drive, spinning their wheels while listening their newly finished collaboration."It's probably illegal," says Oh Land. "But it's just the kind of thing we did. Together we definitely had this very fuck you-like mentality where we just did whatever we wanted. It was awesome."
While her last album was all head-in-the-clouds, this one, she says, is more rooted in the world she's living in now, "with all its cracks, and you know, the bad side, the mistakes." There's still a whimsy to her compositions, but the weight of real life pressures keeps Wish Bone grounded and relatable.
Let's talk the inspiration behind "Renaissance Girls." In it you seem to address the very modern condition of trying to do everything and be everything to everyone at once. There's not enough hours in the day!
It's very much an ode to my friends who achieve on so many levels in life and they're really good at doing everything at once. But also they can never sit down and relax. I can be a little bit like that as well: I beat myself up if I don't make the perfect broth, and sing a concert in the evening, and go home and walk my dog, and then talk to my friend for two and half hours on Skype.Renaissance man is used for people like Leonardo da Vinci and Michelangelo, who were super high achievers. I just wanted to make a female version of that.
I loved the lyrics for "Love You Better" where you think it's all about the girl who is perhaps incapable of love and commitment and then at the end you flip it and it's the guy who is the asshole.
Yeah, so it's like, "Fuck you!" Haha!
Do your lyrics come from direct experiences or are they more broad strokes?
They do come from direct experiences, but all experiences go through lots of processes. First you're angry and then you forgive, I feel most experiences that make an impression on you have a lot of different faces. Sometimes I'm able to step aside and look at it as a story, but mostly on this album, I've been very in the middle of it—in the middle of the chaos and trying to get it out there. In "Love You Better" the last verse is also about accepting that things will never be perfect. And that there's also a huge love in forgiving someone, even though you know you don't accept all their…
Flaws?
Yeah. Even though you don't accept that or what they've done to you, but by forgiving that, that's a huge relief. There's a huge love and compassion in that.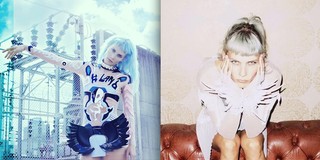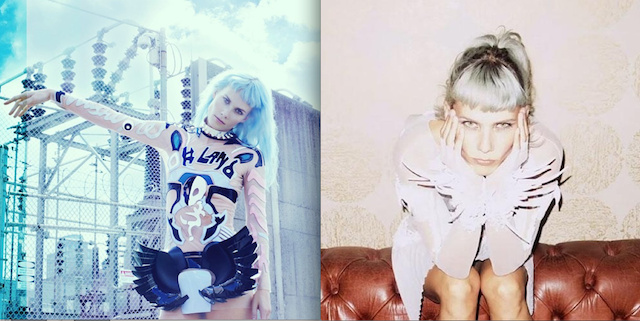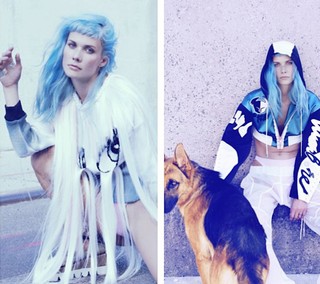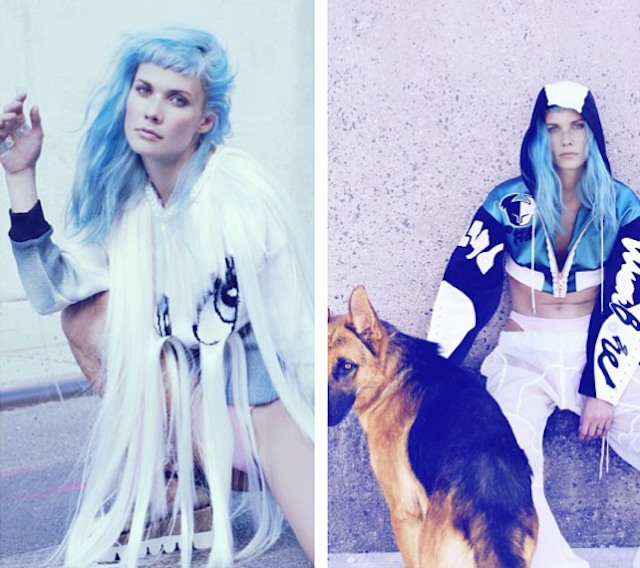 It feels like perfection and trying to achieve it all is a something you frequently return to. For instance, on "Cherry on Top."
It's just that story that I see everywhere: that you keep dreaming and chasing something. Every person I know, they just want to be happy, but they have different ways of doing it and we all want to survive somehow. But it's rare that it's something you can find somewhere else other than right here. That song is just about how tempting it is to chase all these very material things and think that they can make you happy. It's so simple, but it repeats itself all the time, in myself too. I think, "Once I get a Number One I'll be super happy!" I don't think so!



Outfits by Sofie Ann Madsen on the set of the "Pyromaniac" video.
On a completely separate note, how do you dress for stage? Is this part performance important to you?
I guess it's like a priest who puts on his shirt before he goes to church. It's ceremonial. I couldn't just step onstage with my own clothes; it would feel too informal.
What have been some of your favorite outfits over the years?
Anne Sofie Madsen created these outfits for the "Pyromaniac" video.She's such a talent: she worked for Alexander McQueen for a long time. I think she's going to be a superstar. The outfits are very outer space ballerina and it's got a darker edge to it as well, and a little bit 90s. I like that. I grew up in the 90s.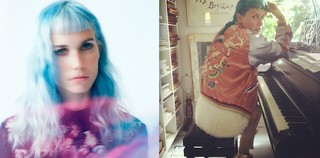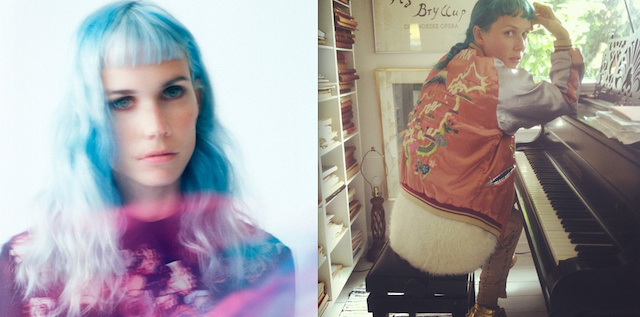 Any others spring to mind?
I like the fringe dresses I wore by Cushnie Et Ochs. They're super cool and crazy, but such good craftsmanship. I also love Phillip Lim. I'm wearing a lot of Phillip Lim in the "Renaissance Girls" video. His stuff is so simple and clean, but still has a playfulness to it.


I've been enjoying your hair and all the different shades of blue you've been going through. What was the impetus?
I just got bored with classic beauty. Because once you give into that, you have to maintain that and it makes you…
Crazy.
Yeah! And it makes you insecure if you have to live up to something that beautiful. I couldn't care less about this hair because it's so damaged. It's obviously not a pretty color and that's what I love. It's not about the hair or the way you look. I'm drawn to things that are a bit messier at the moment.

When you first came out you were like a hair commercial and had a very 60s look about you.
Yeah! Ballet is all about beauty, all about standing in a room with 360 mirrors and checking yourself out and trying to live up to a certain ideal. No person should be in that situation, particularly when you're growing up and your body is changing every day. I got bored with trying to live up to a beauty ideal.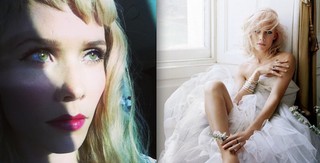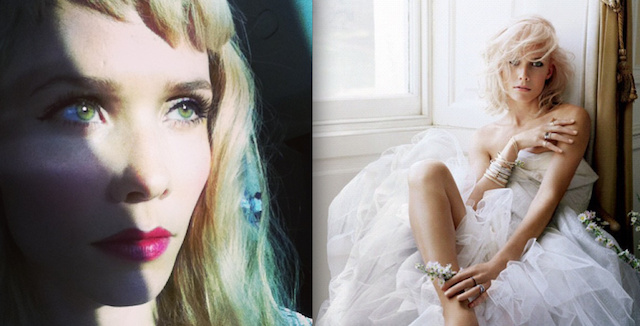 How does it feel to be onstage performing? Does that fill the hole left by ballet or are the two not comparable for you?
Melody and movement are two very combined things for me. When I sing it's very physical visual: I can see the little trips and jumps and leaps. So in that way it's not very different because I use my voice as an instrument. That's part of my body and I'm always carrying my own instrument. The same way I was as a dancer.Thereal difference is now I'm using words to express myself and that's something very vulnerable, because it's a direct language that people understand. Dance is more abstract; you can be more subtle about how you say things. With a language you pretty much can't take it back once it's out there.
I read an interview where—because your mom was an opera singer—as a child you were always at the theater, and how the dresses in the costume department would babysit you. It's such a beautiful image. What are you memories from that environment and what was it like seeing her transform onstage every night? How did that impact you?
It was quite magical. I just loved seeing grown-ups play the way I played as a child. As a child the worst thing you can possibly imagine is growing up and growing old. So when you see grown-ups still being childish, still playing and putting on wigs and costumes and everything, you're a little relieved. Growing up in that environment made me believe more in adults. I remember the smell of the linoleum floors and the ballet shoes, the costumes and the make-up. There was just something very sensual about it. I loved that onstage, things were silent. When they entered the stage there was this magic hush and you could see all the dark faces out there and the reflections in their glasses. I liked looking at people being so focused on one thing.
/ / /
A week after our chat Oh Land takes the stage to at New York's Gramercy Theatre. She is impish and giddy, cavorting between her synth and center-stage, at once gawky and graceful. Her between-song-banter consists of anecdotes about her inspirations such as the boring Copenhagen suburb she grew up in ("Sleepytown"), and musings on why birds would congregate at the airport ("Bird In an Aeroplane"). The audience is rapt: pin-drop silent when she speaks, peals of laughter at the punch lines, singing and swaying at her beck and call. Boiled down to reductive comparisons Oh Land's songs recall in the glacial frisson of The Knife, the Scandi-pop brass of Robyn, and Bat For Lashes' starry-eyed mysticism. But her music is, of course, unequivocally Oh Land. They're the prism through which we see her, and—as with all the most moving music—a reflection of ourselves too. Awkward moments and all.
Kim is Noisey's style editor and she's on Twitter - @theKTB.
Style Stage is an ongoing partnership between Noisey & Garnier Fructis celebrating music, hair, and style.