This Is Stones Throw Records: A Conversation With Jeff Broadway and Peanut Butter Wolf
Get the behind-the-scenes take on the behind-the-scenes look at the upcoming documentary, 'Our Vinyl Weighs A Ton.'
I might've first heard about Stones Throw Records back in 2004, when sick-funk backed Madlib and super-villain MF DOOM threw down on Madvillainy, a blast that blew the straps off of backpacker hip-hop and stuffed it with vamp jazz/funk and an endless run of DOOM's cleverer-than-thou rhymes. In 2006, J Dilla's magnum opus dropped to tremendous acclaim three days before his death. Donuts was bleak and raw, a dying soul manifesting as postmodern sound, an unheard of existential honesty. It was an instant classic.
This tiny alt hip-hop label—which started 17 years ago in San Mateo, CA as a way to Peanut Butter Wolf and the late MC Charisma's first album—has blossomed into an international talent-catch, producing hit after hit, expanding the brand with artists from Quasimoto to Mayer Hawthorne to Vex Ruffin. But despite their wide-reaching successes, Stones Throw Records continues to hold underground status, evidenced by their relative obscurity in mainstream hip-hop circles.
This summer, that might change. Our Vinyl Weighs A Ton: This is Stones Throw Records, a documentary releasing at LA Film Festival 2013, will give fans an inside look. I drove down to their studio in Los Angeles on my birthday to sit down with director Jeff Broadway and the co-founder of Stones Throw Records, Peanut Butter Wolf.
Noisey: In short, what are we in for?
Jeff Broadway: This is a feature-length documentary. The film draws on live concert footage, never-before-seen archival material, inner-circle home video and photographs, and in-depth interviews with the folks who put Stones Throw on the map to delve deeper into the label's enigmatic artists, history, culture, and global following.
Wolf, what's your take on this?
Peanut Butter Wolf: I see this as a way for the full story on the label to be out, rather than just the handful of artists we're more known for. And even with those [popular] artists, it's a way to tell fans some of the behind the scenes stories on how things fell into place.
Jeff, you started filmmaking with The Mark Sandman Story about the jazz-rock band Morphine's frontman, but recently you made a political documentary called Godspeed Taiwan. What drew you back to music and Stones Throw Records?
Broadway: Having been a Stones Throw fan for many years, I considered myself a member of a large community that, for some time, has wanted to know more about this rather mysterious—intended or not—collective of artists. I did a bit of poking around online and came across a several minute-long video that appeared to be a teaser for a feature-length doc on the label. I sent a cold intro email to the info account at Stones Throw inquiring about it, and heard back from Peanut Butter Wolf. When we met, Wolf explained that a production crew from Media TV in France had spent a couple of months in LA shooting for a doc. They had amassed a lot of good material, but were lacking a strong narrative direction. They agreed to turn their footage over to me in exchange for credits on my incarnation of the production, and I began shooting immediately. My primary goal was to expand the scope of the project and illustrate how and why Stones Throw has been so influential in the music industry at large over the past two decades.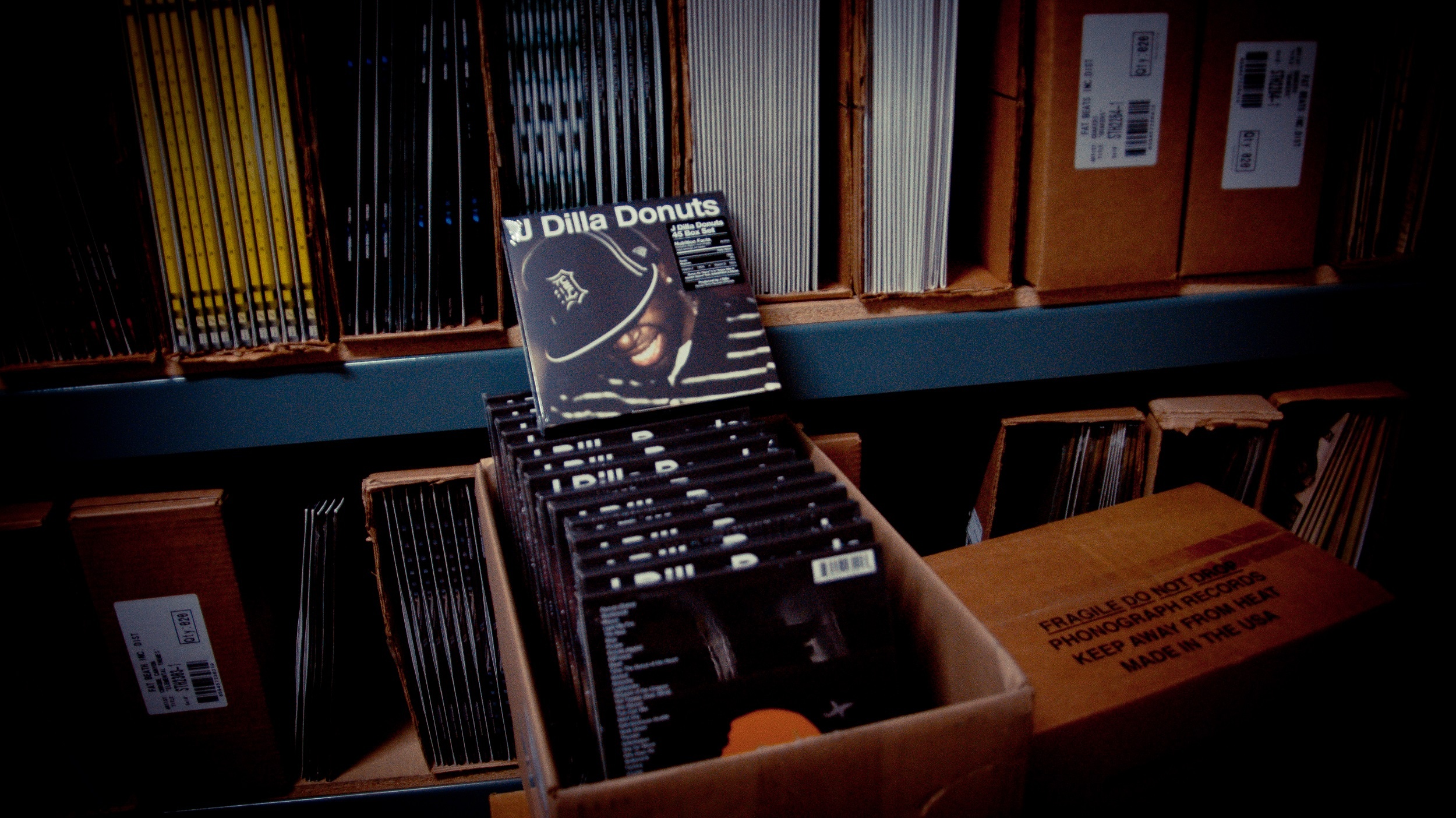 Have you run into any creative control problems with Stones Throw? What kind of a role are they taking in the process?
Broadway: Stones Throw has been very helpful throughout the process, but to be clear, this is not a film commissioned by them about themselves. This is an independently produced project which has been authorized by both Wolf and the label, who have been largely hands-off throughout the production of the film. That's not to say there haven't been a lot of meetings, but they've respected the space I, and my editor Rob Bralver, have asked for.
Wolf: I've been involved in helping speak to the different artists and helping Jeff coordinate some of the interviews, but really, they've done most of it on their own. I might help choose songs for certain scenes, like I did with Michael Rapaport for the Tribe Called Quest documentary that came out last year.
Speaking of artist interviews, who should we be excited to see represented?
Broadway: Outside of the core Stones Throw crew, which is very well represented by Peanut Butter Wolf, J Rocc, Madlib, Mayer Hawthorne and Dam-Funk, I was very pleased to have Questlove, Common and Kanye West join the cast. For people who aren't as familiar with the Stones Throw movement, their interviews really help to contextualize and frame how integral this subculture has been, and continues to be to the music industry and landscape.
Kanye must've been a hard get.
Broadway: Actually, as far as who took the most convincing, that'd be DOOM.
Isn't he on the label?
Broadway: Shocker, right? I'm still working to secure a shoot with the Supervillain, who currently resides in South London. We've been in talks for some time now. It's going to happen.
Has it been hard getting artists on board?
Broadway: To be frank, there has been a lot of uncertainty with this project. I assumed there would be a universal level of accessibility I would enjoy because of the label's authorization of the film, but that has not always been the case. When I took the project on, there was no budget for it, so I went out and raised $40K on Kickstarter and thankfully managed to attract subsequent private investment.
I believed any and all artists who have been affiliated with Stones Throw over the years would be automatic gets for the film—also not the case. I've had to relentlessly pursue a number of artists for their participation in the film and what I found is there has been so little known about guys like Madlib and DOOM because that's their modus operandi. They don't like publicity and they don't want to give interviews. So that has been difficult. That said, I've had a great time making the film. I've been fortunate to work with a number of inspiring artists throughout this process, and to make a great friend in Wolf. He and I have our differences—to be sure—but he's entrusted me with making a film about him and his baby, and I'm incredibly grateful to him for that opportunity. Now I'm just looking forward to taking this ride with him.
Wolf, why do you think the label continues to be seen as underground, despite its influence and success?
Wolf: I definitely look at us as "underground" 17 years later. Our successes were all without us pushing the music on people. It's always been more of a situation where people find out about it on their own and tell their friends.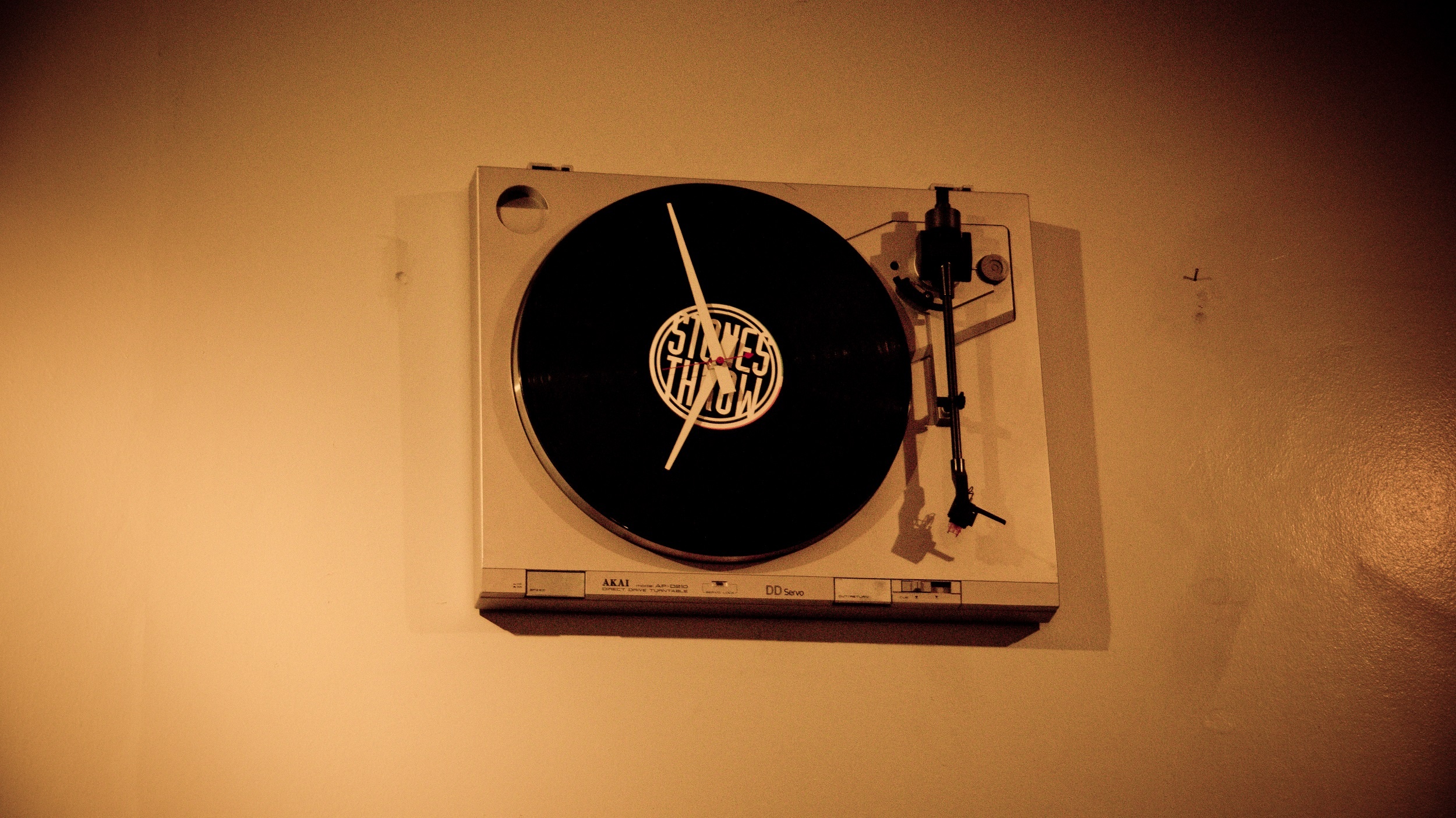 So what do you guys hope audiences can take away from this film?
Broadway: Well, first and foremost, the film is for the fans. For this dedicated core demographic, I wanted to provide an unprecedented look into the culture of Stones Throw and the key figures who have traditionally made it up—PBW, Madlib, J Dilla, MF DOOM, Jeff Jank, etc. These artists have quietly been incredibly influential to hip-hop culture and the independent music industry at large, yet there has historically been so little known about them publicly. Beyond that, I think the film explores a number of universal themes which anyone can appreciate and relate to.
Wolf: I hope for the diehard fans to learn more about how some of their favorite albums were made and also want the story to be engaging enough, and even for someone who'd never heard of Stones Throw to walk away feeling edutained.
Broadway: I don't want to reveal too much, but I think the working history of Stones Throw as it's explored in the film is a real testament to the importance of adhering to your core beliefs and principles, understanding how to channel tragedy into triumph, and remaining undeterred in your pursuit of whatever it is you are after in life.
When can we expect to see the finished product?
Broadway: Our Vinyl Weighs A Ton will be finished in the next month and then premiere at the Los Angeles Film Festival on June 21st.