YG: Krazy, Sexy, Kool
As he readies his debut studio album, the Cali rapper talks about just how krazy his life is.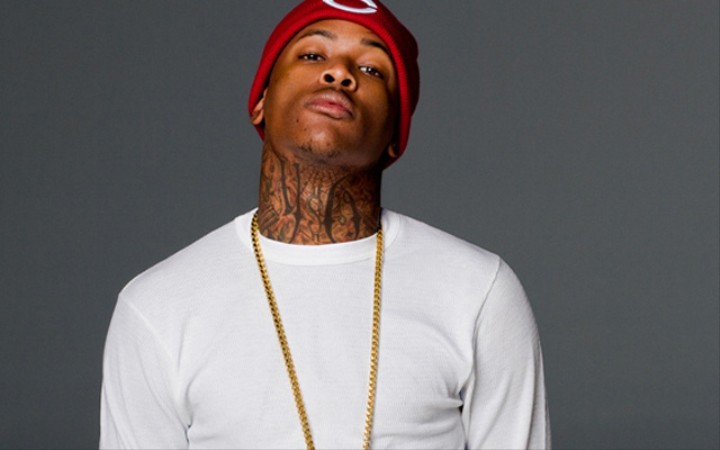 Photo by Ed Canas
There's something about YG that makes you feel comfortable. His demeanor—calm, jovial, infectiously confident—seems unmistakably Californian. He speaks with the occasionally drawn out Los Angeles inflection that makes everything seem less stressful ("vibe" becomes "vawhb"). You can imagine him being the perfect guide for a wild night out, the kind of guy who has a sixth sense for finding debauchery but is possessed enough to dutifully look back and check in to make sure his guests are okay.
When I go to meet him at the Def Jam offices in New York, we end up riding the elevator together before the interview, and even the regular tension of that setting evaporates. There's a track called "I'ma Thug" from YG's 2012 mixtape 400 Degreez, where the normally turned-to-11 Meek Mill manages to seem laid back, which is a pretty good representation of the way YG tends to project the feeling of cool onto everyone around him. That's it, basically: YG is cool. Cool enough to be cool to the entire city of LA—and, the hope is, the rest of the world.
There are other tracks on 400 Degreez called "Get Money & Fuck," "Cali Living," "Gangbang" and "Do It With My Tongue," titles that pretty much get at the appeal of YG's music, subject matter-wise. The Los Angeles/Compton rapper, whose name is short for Young Gangsta (and who is big enough now that he shouldn't be confused with YG Hootie, YC, YC the Cynic, YP or any other Y-Letter rapper), is one of the originators of the bouncy California subgenre widely known as ratchet. Working with collaborators like Ty Dolla $ign and go-to producer DJ Mustard (whose work with YG has facilitated breakout moments like Tyga's "Rack City" and Young Jeezy's "R.I.P."), YG has built his early career around relaxed, casually confident, occasionally sing-song rapping over elastic, minimal beats. Sex is everywhere, and turning up is predestined. There's often an undercurrent of violence or gangbanging, but even when these topics are the subjects of his songs, they are rarely menacing so much as incidental reflections of who YG is.
Building buzz on his MySpace and playing as many shows as he could around 2008-2009, YG's breakout moment came with the Ty Dolla $ign collaboration "Toot It And Boot It," a catchy celebration of one-night stands that landed on the Hot 100. Although he served a short jail sentence around this time for burglary—robbing houses, specifically—YG continued to gain momentum, landing a deal with Def Jam in 2009, a coveted spot on XXL's Freshman cover in 2011 and a recent place on Young Jeezy's CTE World roster. His steady rise has included a number of accomplished mixtapes full of minor hits, culminating in the excellent Just Re'd Up 2, released early this year.
While the tape had great moments like "Sprung" and "I'm 4rm Bompton," this summer's CTE mixtape Boss Up Yo Life Gang Vol. 1 included a song called "My Nigga." (White people take note: the clean version is "My Hitta") The song, featuring Rich Homie Quan and Jeezy, has slowly climbed the charts all Fall, and has created some appreciable excitement while offering a new direction for YG's upcoming album, My Krazy Life. The album, which I heard in part at Def Jam, is a bit of departure into more street-focused songs and follows a day-in-the-life narrative arc around the time of YG's arrest suggesting that his life is, in fact, krazy. There's a dream with Drake in it, a tutorial for robbing houses and endless amounts of people sleeping with other people. I spoke with YG to find out what to expect from My Krazy Life, what the scene that inspired his music is like, and just how great the sex is that he's having.
Noisey: Your album's called My Krazy Life. What's so crazy about it?
YG: It's a lot of crazy shit. My album is catered to my life, you feel me? Shit that was really going on in my lifestyle, coming from where I come from, the West Coast, the culture out there. Gang banging, drugs, parties, and, just like every other culture, the same shit. It's a lot of gang banging going on. It's shooting going on. It's robbing going on. It's fucking bitches. All that shit.
How connected are you to gang banging and stuff like that at this point?
[Points to other people in room one by one] He's a gang member, he's a gang member, I'm a gang member. But it ain't like—people make it bigger than what it really, really is. I mean, that's just the culture from where we come from, like Los Angeles, California, the West Coast. Our culture is gang banging. My people was always trying to move me away, so I wouldn't get into that, but the shit didn't work. But that's just because of the culture, like, if you don't gang bang, your homies gang bang. And if they're your homies you're going to eventually start gang banging too. Or, most of these people grow up in it. Their pops and their mama from their same neighborhood, so it's all type of ways. That's the culture though.
Were either of your parents involved in that?
My mama, she from Harvard Park. She grew up with Crips and shit. I ain't a Crip, but she from over there. My pops, he from Atlanta, so he ain't into that shit. But my mama knows what's up.
It seems like in LA right now, guys like you, DJ Mustard and Ty Dolla $ign have built up this very cool scene that's getting a lot of attention. But you guys go way back to like 2008. Tell me about starting out, how you first connected and how you've seen that movement grow.
Oh, it was all organic. We connected all through street shit, off knowing somebody that knows somebody. Especially me and Mustard, we both came up doing the same shit. He was DJing all the functions, and I was performing at all the functions, like the high school functions, the 18-and-over, the all-ages shit. At that time—I was supposed to graduate in '08, but I didn't graduate—it was a lot of high school parties and all that type of shit going on. I didn't know him at the time but I knew of him, but I personally didn't know him.
But a homie that was doing my street management—he wasn't my manager, but he was helping me with my whole movement and all that—he knew. He linked me up with Ty and with Mustard, because I was from the other side, like Compton. Mustard and Ty are from West LA., so I ain't know a lot of niggas from over there because I was never over there. So, Big B linked us up. Mustard did my first mixtape, and after that, he started DJing. I had this crew called Pushaz Ink. We was like a whole bunch of young niggas, crazy, at all the functions, beating up motherfuckers in shootouts, fucking all the bitches.
What would happen when you guys would go to a party?
We just had a lot of different people who was from different neighborhoods, it was crazy. It was like a mob. We had a whole bunch of people from different 'hoods with us, so we'd come to the club [and] somebody'd see one of their enemies that they don't get along with, and if they fight, we all fight.
And there's enough of you where somebody's always going to see someone?
Exactly. And then it was times I see niggas I don't fuck with, so I'm fighting and everybody else fights. Then it was times I was at functions damn near by myself. Niggas see me, and all their homies pack me out. They jump me. All that type of shit going on. And then you walk outside, there's shootouts and shit. That's the scene I came from as far as my music. That's the world my music came from, like started off.
And that's mostly in clubs versus house parties?
It was like house parties and halls and shit people would rent out. Not real life clubs. Like halls, hotel ballrooms, warehouses, shit like that.
And you were coming through some of those places and doing shows, too?
I was performing at all of them.
What was the most depressing show you performed at? Were there any where there were only like six people there?
Hell yeah, there's been plenty of them, especially back in the day. We did a New Year's Eve show in like 2010. We went to like Sherman Oaks or something way out far in the Valley. We get there, and the shit damn near empty. New Year's, though! We got the limo full of homies, we got bitches and shit, we like, "We finna go turn up. Y'all with us for New Year's." We get to the club, the shit's empty. It's fucked up, man. That shit made us look like we ain't have shit together.
Conversely, what's the best party you've ever been to?
I've been to a lot of parties, but the album is not based off of parties. That's what a lot of people know me as, they call it party music. I really don't feel like it's party music, but the beats and all that shit be like the uptempo shit, so you party to it. But when you hear what I'm talking about, I'm not telling you to dance. I'm talking about some street shit on them type of beats. But it go in the club and in the party.
What kind of obstacles have you seen breaking through from the West Coast, where you have a lot of attention, to a national audience?
You've got to make the right moves. You've got to align yourself with the right people. You've got to do features with the right artists that you can take some of their fans, and their fans start doing their homework and see what you're doing, if they like what you're doing. It's nothing to connect our lifestyle with the New York lifestyle. The only thing that connects that is probably the blogs and certain artists. That's why artists be hopping onto the songs because it brings them fans—after they hear a song [of] two guys with the next artist, they're going to go and check his shit. And if they fuck with him, they're going to fuck with other shit. So that's how you connect the two, and that's what I've been doing lately. I linked up with Jeezy and CTE, [I've] been in the studio recording.
Tell me about Jeezy. How did you guys connect?
Jeezy like a big brother. He came to LA a couple years ago . [DJ] Drama played YG stuff in the club. The whole club was going crazy, and he started like, "Who's that?" "Man, that's YG." He found out I was on Def Jam so he called up Def Jam and was like, "What's going on with YG? What's the play?" At the time, I was putting out mixtapes and all that, so that's what they told him, like "Yeah, YG, he's like a mixtape artist." He told me to "connect," so we connected. We had a conversation, and then he flew to LA. We had a meeting.
From them, he was just like, "Fuck with me," like basically he can help my situation at the label and all that. If I wasn't to fuck with his label like that, he was still fucking with me. So I was fucking with him for like two years, a year and a half, just flying to where he was at, recording, hopping on his mixtape. He flew to LA, fucked with me, recorded off of my mixtape. I put out my mixtape. Before I put out my mixtape at the top of this year—Just Re'd Up 2—before I put it out, I told him, "This is going to be my last mixtape, then I'm putting out my album." I put out my mixtape, and I looked at my situation, and I knew what I had and what I didn't have. What Jeezy brought to the table was what I was missing. The fact that he was still fucking with me for the whole time when I was just chilling, trying to see really what was going on, he was still fucking with me. That's real shit. I know he just wanted to see me win and all that. I went to Atlanta in the summertime, worked on my album. We had the beat for "My Nigga." They brought Rich Homie Quan to the studio, and this was before he blew up. I threw an idea out there, and then we just vibed out with that shit.
Did you know about him at all before that?
No, they played me his record up in the studio. I was like, "I fuck with this shit." Then he came to the studio. I stayed in Atlanta for like a week and I started hearing the song. I left for like two months and when I came back, that's when he had "Some Type of Way." So I had already had "My Nigga" recorded, so I'm like, "Aw yeah, this shit's incredible. This shit finna blow up." And then the "My Nigga" record, the plan for that record was to get the South and the East Coast and all that fucking with me. We accomplished that. We put the shit out and the shit blew up.
What have been the biggest changes since that?
A lot of people excited about my album because before I had a big single, I wasn't ready to put out an album. So after the single, there was nothing else there, so it was nothing for nobody to do or be excited for. Now I've got an album. I've got features. Shit's just right. I've got the right people on my team, so everybody's excited, everybody wants to turn up. It's time, you feel me?
Your music gets into really outrageous stuff, especially sexually. Do fans come up to and make really sexual requests?
Hell yeah, they be saying all type of shit. Like, they want to fuck me. When I go to their pictures, they look like they're young—like teenagers. This shit's crazy. They'll be on Twitter saying all types of nasty shit. Then at the shows, you feel me, they're flashing tits, throwing panties onstage, doing all that type of shit. It's love. That's all it is. They're in love.
You also always rap about how great you are at sex. Do you ever have really awkward sex?
What you mean, awkward? Nah, I mean, hell nah. A nigga done nutted quick a couple times. [Laughs]. You feel me? But that be on me.
People's impression of LA and Compton has probably changed a lot in the last year as Kendrick Lamar got so big. Do you feel like there are misconceptions you want to help correct or things you need to add in your music?
I'm just giving my aspect of it. It's a lot of people that come from LA and Compton, and we all not the same. We all live life different, or we all into different things. Or we all going to put the spotlight on different things. The homies, people around me, they know YG turns up. That's what he do. He's wild. He's in the streets. He's turnt up. That's what I do. That's what I'm into. I'm into all the bad shit. So that's what I'ma show you. I'm going to show you really what's going on, but I'm not going to show you all the bad shit just to get attention from it. I'm finna show you shit that I did, shit that I went through, shit that I do.
You're in a good situation right now, and your music sounds like you're having a good time. What are you worried about? Do you ever have doubts about your career?
Man, life. I just be worried about living, that's all. I've got high expectations for my album. I want my album to go platinum, so I be worried about that shit every day. I be tripping. My homies, they think I'm crazy. They tell me to relax. I'm like, "Fuck you, nigga, if you think I'm going to relax. Ain't no relaxing."
Everybody goes through life shit, so I really don't need to speak on that. I want the album to go platinum, so I'm worried. But I'm doing everything I feel like I'm supposed to do. I'm delivering A1 music. The concept's A1. It's creative. It's real. I'm giving you the culture where I come from. The production is on 10. I've been putting in my work.
Is it going to be mostly Mustard?
Mustard did like seven tracks out of 12.
How does it work when you guys work together?
We start from scratch. Mustard already knows how I work. It's easy. But it's really a vibe. Once we catch that vibe, it's over. We're going to make some banging shit, for sure. When me and Mustard get in the studio, nine times out of 10, I'm coming out with a single or something big. Off the top.
Is it the same thing with Ty [Dolla $ign] at all?
When me and Ty get in the studio, we make more, like, situation records. Because Ty makes a different type of beats, it's going to be a different type of music coming out. But we make bangers. Ty knows how I like to work. Ty, his music shit, he's on 10. Like, production-wise, Ty talented as a motherfucker.
He plays like a ton of instruments, too, right?
Yeah, he plays instruments. It'll be crazy. He do shit quicker than a motherfucker. He go up in the booth, sing some shit, come play the beat. He's like on some Kanye shit. I'm telling you.
Do you play any instruments?
I don't play no instruments, bro. If I did I'd be a cold-ass motherfucker. Real shit.
Kyle Kramer is krazy and kool, too. He's on Twitter - @KyleKramer