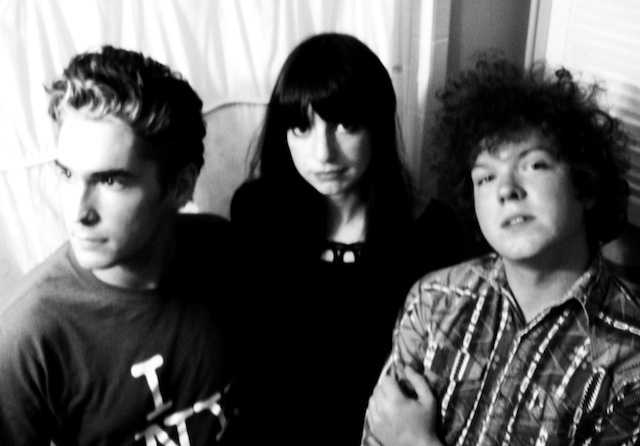 We chatted with singer/guitarist Elliot Frazier about 'Mauve' and life on the road.
A few weeks ago, I was roaming around my neighborhood when a few buddies and I decided to drop in on our favorite dive bar. At first, we weren't too thrilled to see a band setting up, because usually this bar has some pretty shitty lineups... But this time, we gave it a chance, and I was blown away. It turns out that the band playing that night was Texas shoegazers Ringo Deathstarr, and ever since catching them live, I have been hooked on their new record, Mauve.
I chatted with singer/guitarist Elliot Frazier about the record and life on the road.
Congrats on Mauve! It's such a good record. How has it been seeing all of the positive press and response it's been getting?
It feels pretty good to have people dig the album, because we tried to do it opposite of how we did the last record, so it's cool that people are responding well to it.
I was going to ask if you guys did something different during the recording process this time around.
Yeah, it was way different. The last record was kind of made in the studio as we went. We didn't really have songs or arrangements finished, so we would basically record several drum parts and fills and splice it all together. It was kind of like the way you would make a hip hop record or something; we were just taking samples of ourselves and assembling them. Plus, we did the mixing in the computer with a lot of plug-ins and all that shit. This time, we had the songs rehearsed before. There were a couple tracks that we had a few studio fun moments on, but most of it, the drums and bass were tracked together live and I was in the control room listening to make sure everything was okay because I mixed this record myself on an analog console.
Oh really? You did the whole thing?
I had assistance from our friend Jason, who was mix engineer on all of our other stuff, but this time, I did all of the engineering and he would help me if I had a problem. I just wanted to get my hands on some faders and knobs, because I would always be standing behind him at the computer telling him do this or do that; I wanted to get rid of that problem. On this record, if I wanted something to have some insane amount of treble, I would just do it myself. Even though you work with people that you really like working with and trust, sometimes your ideas are just too insane for them. It might be the wrong way that normal people would do it, but it might be the right way for the song. That's kind of how I went about tackling this project.
Did you find that this process was more stressful? You basically were putting the whole sound of the record in your hands.
I liked it. It was just something that I had to do. I'm interested in mixing and engineering stuff; it's something I've always wanted to do, so I thought if I can get this done and have it be released and played on radio and things like that, then it's only going to help me. I already have some people that want me to mix their stuff based off of that, so it's great.
You guys just got done touring?
Yeah, we did six weeks of the U.S. and two weeks before that, we were in Brazil and Japan.
How do they treat you guys abroad?
Like Elvis, man. It's really strange going to places like Brazil for the first time and people know your songs. Same thing happened the first time we went to Japan. It was just a big surprise how well received you are in a place you haven't ever thought about.
Do you have a favorite place that you have visited?
Definitely Japan.
So you guys are "big in Japan?"
[Laughs] There was this band in my home town called the Snacks We're Big in Japan. They dropped the "We're Big in Japan" part a long time ago, so now they are just the Snacks. They are still around, and they're pretty cool.
What is this tour of tacos?
We love tacos, so the whole tour, we were just looking for tacos. In Salt Lake City, they had these little taco carts kind of like the hot dog carts in New York, but they had a huge cooler with all the toppings, so you could put all the toppings you wanted on there. You would get two tacos for three dollars and you can just load up your plate with toppings and have a giant plate of food. Those were actually the best tacos, because they were cheap, good, and really filled you up.
Who would have thought Salt Lake City would hold the title for best Ringo Deathstarr taco experience.
I know, it's weird! Salt Lake City is right above Arizona, so it's just people making it up to the mountains to make some tacos. It's great. A good runner-up city would have to be Monterrey, Mexico. It was one of the best taco stands I had ever been to. There were three kids running this taco stands with no adults around or anything, plus they were super cheap—probably cheaper than Salt Lake City. These kids were just making tacos for everyone and they were super good. It was awesome.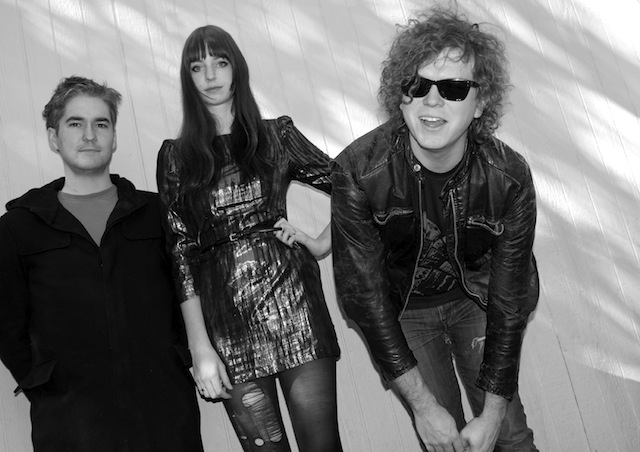 On Mauve, you guys do a really awesome job at establishing a specific sound that people can associate with. Are there any influences on you that people might not directly hear in Ringo Deathstarr?
There is this band that I have been into since I was in 8th grade called Starflyer 59. That band is kind of how I found out about all the other bands and that whole sound. Growing up back then, none of my friends were into it, because it didn't sound like Pearl Jam or rock hard with crazy fuckin' guitar solos. We grew up in a small town, so the only music you could get was at Wal-Mart or something like that. I could never be in a band like Pearl Jam, so when I finally heard Jesus and Mary Chain and My Bloody Valentine, I just thought that's what I should do, because when I sing, my voice kind of sounds the same. When I was a drumme, singers were always a problem, and since I couldn't sing like Kurt Cobain, I had to figure something out.
You guys are based in Austin, which is kind of like a tour and music hot spot. What is it like to have a homebase in a place like Austin?
It's pretty awesome, because you get to hang out with a bunch of great musicians from all kinds of bands. There is really something for everyone, so it's cool to have a bunch of friends that are in great bands and you just hang out, go to a bunch of shows, and drink a ton of beers. The problem is that no one wants to pay to get into any shows, because everyone is just going to hang out with their friends. Come to think of it, that's like the only problem with living in a town like this, but I guess it's not a bad problem to have?
Definitely not. Do you guys like playing at home?
It kind of gets to a point where you can't play that often or else no one comes to your show, because there are so many shows happening every night. There has to be some build-up time to make people want it more.
One thing about your live show is that you are able to pull off the same sounds you accomplish on the record. Is that a lot of prep work with your gear?
Yeah, we just rehearsed in a club for two days before the tour started, just tweaking our stuff so that no matter where we were playing or what gear we we were using as long as our pedals and stuff were dialed in the right way, we would have a consistent sound throughout the tour. I think it really helped. As far as pedals go, I really only want to use pedals that were available in 1987. If it wasn't available then, I don't want to use it.
Another awesome thing about your live set is that instead of playing your encore, you sometimes have people in the crowd come and play it for you.
Oh man, you should have seen the one we did in Maryland. I knew these kids had no clue about any of our songs or anything and it was being broadcast live over the college radio station. It was just insane. It was complete and utter chaos and so I was just trying to sing the melodies of the song over their chaos without any regard to what they were doing. We were just in our own separate worlds.
What are you guys up to now after the release and tour?
I don't know actually. We had to cancel our European tour at the last minute. We were suppose to fly out on Halloween, but there were a bunch of problems getting the tour booked and we had some things we held out on, so we had to cancel, otherwise we would have ran out of money two weeks in and been stranded somewhere in Europe. There was no one to absorb any of the losses this time around, so we trying to figure out what to do.
It's a pain to deal with everyday—being in a band is really risky business. People think today that bands make money touring. It's kind of like a myth that has been blown up by pirating websites that are corporate sponsored and drive in a ton of ad revenue. They want you to think that if you download Jay-Z's album for free, it's the same as if you downloaded my album for free, and it's not. That attitude that bands make all the money touring and not through record sales is shot down because we couldn't even go on this tour. It's not even about making money, it's about covering expenses first, and when you cant even do that, it sucks. You can't risk not being able to cover yourself. You can't risk running out of money for gas and things like that. There's this bridge that connects Denmark to Scandinavia and in a van, it costs 200-and-something dollars just to cross this bridge. Tolls and gas are just insane over there—that was, like, our biggest expense. We've never profited on any tour except the two U.S. tours, and that was probably, like, hundreds of dollars. After touring Europe four previous times and record labels going in the hole, it's just like there is no hole anymore, so we thought it would work out, but it just didn't. Right now, we are just trying to make people realize what happened. They are confused as to why we canceled.
It seems like you have a grasp on what it's like to be in a truly independent band. What sort of advice would you give to another band who is just trying to tour?
Touring works for people that have money in the bank. There's all kinds of different strokes for different folks and different kinds of people that are trying to be bands. When you're in a band that is trying to tour a lot and you can't have a job, you gotta be prepared to live an alternative lifestyle. You gotta try and build up great relationships with your landlord who lets you pay your rent late or a couple of months at a time. This whole world is moving into you are either going to be super rich or super poor, and it's the people in the middle that are being taken down. You're either going to be on American Idol or working at McDonald's if you are a musician, you know? You just gotta figure out ways to adapt in this new music business, which is one of the hot debates going on right now.
Be sure to grab Ringo Deathstarr's newest record, Mauve, out now on Sonic Union Records.