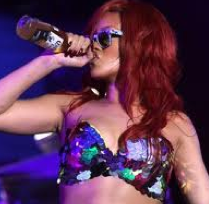 How do you reconcile being Rihanna's biggest fan with being Robyn Fenty's arch frenemy?
I love Rihanna.
I love the way she looks, I love her hair no matter what color it is or how much of it is shaved off, I love her dumb-ish/backwards tattoos, I love her Doc Martens and her Creepers (they're kinda over, whatever, she can pull it off), I love that she dabbles in Goth culture but doesn't really commit to it, I love her big-ass head, I love her sheer tops, I love her nail polish (I have worn some pretty garish colors to display my affection for her), I love how she probably smells like dew drops on a garden rose, I love her voice with its aggression and inherent Barbadian undulation. I love everything about Rihanna. I LOVE HER, ALL CAPS LOCK EVERYTHING.
But I can't fucking stand Robyn Fenty.
It's a cognitive dissonance I've wrestled with for a long time: Rihanna™ vs. Robyn Fenty. I'll be the first one to get sorta teary and emotional when "We Found Love" pours out the windows of a passing car because it's like, the definitive song of our generation and really sonically sophisticated and DID YOU SEE THE STYLING IN THE MUSIC VIDEO???, but I'll also be the first one to walk out of the room in a huff the minute she appears on a talk show and starts yapping some dumb shit about Chris Brown. "He's pretty dope," for instance. Like, uh, what? Robyn Fenty, I have no fucking patience for you.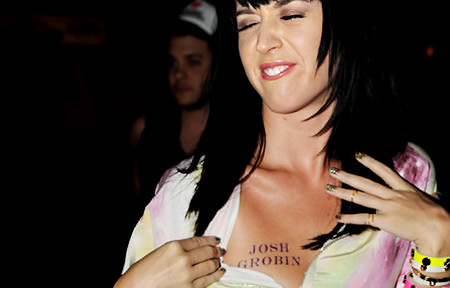 For starters, Robyn Fenty is friends with Katy Perry, which really sucks. Katy Perry is pretty loud and obnoxious and is basically like the adult version of those weird Fine Arts kids from high school, plus drugs. You know, the ones who broke out in song in the middle of class or like, wore a top hat "just because." So I assume that in order to tolerate the company of someone like that, you're probably pretty similar to them. As such, I'm making an educated judgement call here and concluding that Robyn Fenty is a lot like Katy Perry (who, as we have established, sucks unlimitedly).
But theeeeennnnn like, the "Diamonds" music video drops and I'll have to watch it immediately, full screened in high def with all the lights out in my room writhing around on my bed because RIHANNA is in a totally beautiful isolated desert thing and there are HORSES there. AND ALSO she is smoking a JOINT filled with DIAMONDS. This usually pulls me into a Rihanna YouTube vortex and all of a sudden my biggest priority in life is just to hug her.
From there, I'll eventually stumble upon some interview clips or behind-the-scenes stuff and get sobered up real quick. Let's just say that Robyn Fenty is not very articulate and likes to perv out quite a bit. Don't get me wrong, I love when Rihanna is all wet and drippy in her "Where Have You Been" video, but for the love of God (or your mother!!!) don't go on the Ellen DeGeneres show talking about how horny you are. Oh yeah, and she's a self-proclaimed "prankster". First of all, anyone who self-identifies as a prankster is really lame. Second of all, ugh just shut up Rihanna. On the real, I saw a tour documentary clip where someone in her tour crew like, splashed water on her, so she poured a mixture of soy milk, regular milk, Coca-cola, and pineapple juice in his shoes. Like wtf, that shit don't even out.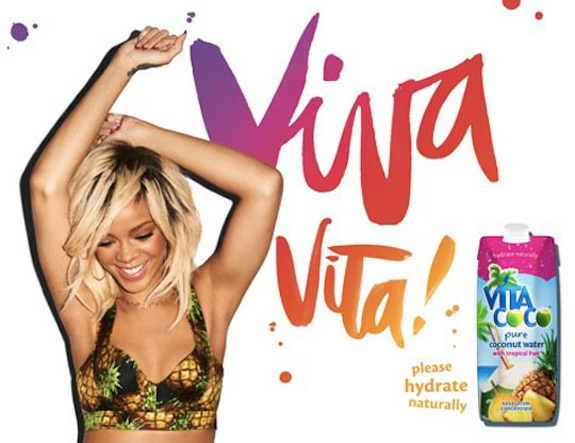 Cut to me walking to work the next day and crossing paths with a Vita Coco ad, though, and I'm Team RiRi all over again. Like, even if I were walking to work in the shoes that her gross concoction was splish-splashing around in, that Vita Coco ad would make everything okay. Her bleached hair and that pineapple print top—errr, bra??? One hand resting on her head and the other sorta carelessly flailing around. It's adorable. And it makes me want Vita Coca (which is actually really gross, but if Rihanna subliminally tells me to drink it then I totally will).
But then I'll remember that time when "Umbrella" earned her a Grammy in 2008 and she and Jay-Z went on stage to accept the award and she gave him "the hand" during her speech. Not to get all Stephanie Tanner here but how rude! The dude basically MADE HER and she's going to belittle him in public like that? That was a total Robyn Fenty move because Rihanna barely existed then.
And her social media presence just confuses me even further. Like, her tweets are pretty juvenile and her photo captions are dubious to say the least. I know the handle says @Rihanna but her feed's got Robyn written all over it. Her Instagram feed though? I'll "Like" every single photo she's got on there, even though it's like throwing a pebble into a bottomless abyss of social capital. Sometimes even the inspirational quotes. The unabashed "selfies" and photos of her in garters as she exhales a cigar just so. But then I'll look at the photos SHE'S "Liked" and they're all old paparazzi shots of her and Chris Brown that fans will post. It's so bizarre! I've even theorized that her personal inability to be completely "over him" is just being integrated into the sellable Rihanna™. It's gotten to the point where I don't even know where Rihanna ends and Robyn Fenty begins. She's like the Harvey Dent of the world of mainstream pop.
Anyway, all this means is that Def Jam is fantastic at branding, and also that I'm a sucker. I guess I'll never be able to reconcile being Rihanna's biggest fan and Robyn Fenty's arch frenemy. Then again, Drake and Chris Brown seemingly threw bottles at each other from across a club because of her so maybe there's something to The Fentster after all? I'll probably just have to meet her. So Robyn, if you're reading this you definitely have a chance to redeem yourself. By hanging out with me.