PREMIERE: Watch ROMES' Video for "Believe"
Take one epic snowstorm, one fierce girl boxer, and a suitcase of (melodic) hooks from this new Toronto based crew.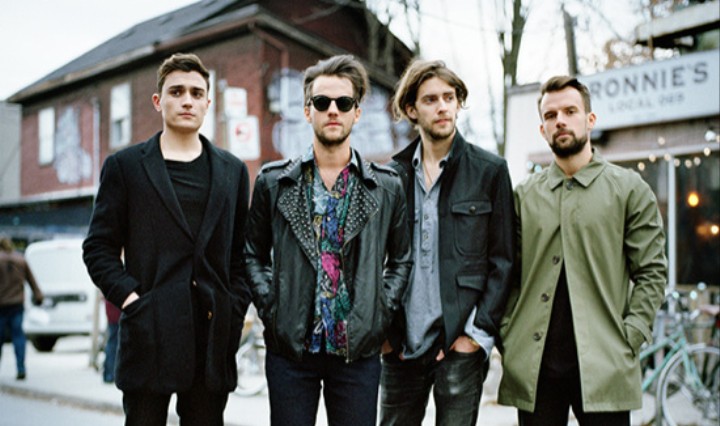 Photo by Chris Wahl
Meet ROMES—the Toronto-based quartet who have been busy beavering away for the past year in the basement of their pad in the city's Kensington Market area. The result is debut EP Believe, out tomorrow. Below is the premiere of the video for the title track—an indie-pop anthem replete with layers of unexpected percusssion and rippling synths. Meanwhile singer Jacob delivers a topline melody that's lithe and catchy as hell. Directed by Ben Kutchins, the video cuts between the story of a fiery girl boxer and the boys performing in flickering light and what appears to be an awful lot of snow.
According to Kutchins, as soon as he heard the track he felt compelled to create the visuals: "My goal was to make something that matched the energy of the song… something screaming out, that just continues to build right up until the very end."
Here's what ROMES had to say about the sitch: "'Believe' is a song for those who have poured their blood, sweat and tears into whatever their passion may be in life. It's a motivational song for the dreamers—to never lose hope or your self confidence. It was important for us, together with Ben, to capture this message visually. Filming 'Believe' in East Williamsburg, on the same weekend of one of New York City's biggest snowstorms ever, provided the perfect backdrop and inspiration We also wanted to evoke this sense of perseverance in the band's performance, and Ben nailed that by capturing the raw emotion and energy."
Watch the video below and if you're in Toronto—catch them live soon.
ROMES Tour Dates
April 23rd - Toronto, ON @ The Velvet Underground
May 4th - Toronto, ON @ The Velvet Underground (Canadian Music Week)